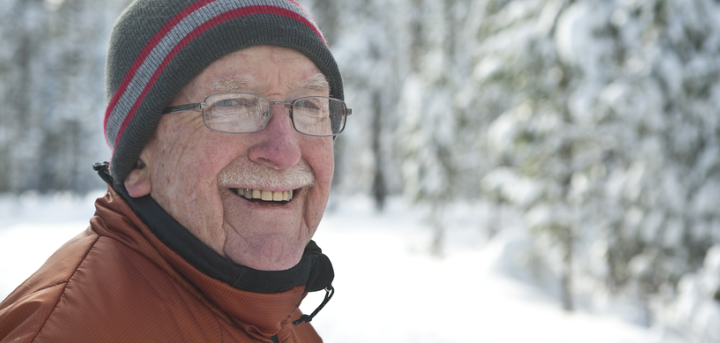 In periods of severe winter weather our Age UK Wakefield District's advisors will be available to guide older people and their carers.
There will be support to help:
Keep safe in your own home
provide links to Statutory Services
access approved local trades people
access 'Snowbell Responders' based in your neighbourhood

'Snowbell Responders' visiting on behalf of the Snowbell Scheme will always:
visit by appointment only
carry ID
visit in pairs
Preparing for winter...
Stock up your cupboards with food and essential household items
Stock up on nutritional foods that keep. If you have a pet, don't forget essentials for them too.
Stock up on your medicines
When you are down to the last seven days' supply of your regular prescribed medication, order a new supply from your GP.
Wear suitable footwear
Wear well-fitting shoes or boots with non-slip/non-skid soles and good ankle support to prevent a sprain if you slip.
Check your walking aids
If you use a cane or a walker, make sure the rubber tips (ferrules) are intact.
Top up your credits and payment cards
You will use more energy in the winter, so make sure you have credit on your payment cards or tokens in case weather turns bad. Top up your mobile phone credit
Keep warm
Several thin layers of clothing will keep you warmer than one thick layer. Always wear a coat, gloves,hat and scarf when you go out. Shawls or blankets will provide warmth when sitting. Wear warm clothes in bed.
Try to heat your main living room to around 18-21 degrees. Make sure you keep your living room warm throughout the day and heat your bedroom before going to bed.
For advice about heating your home contact:
The Home Energy Team Hotline on 0344 9 020 222
Contacts
While the weather is nice have a chat with friends, neighbours and family to see if they can help you in extreme winter weather. They may be able to bring you some milk, bread or be a friendly face for a chat.
Avoid unnecessary journeys
Plan ahead and follow the weather forecasts. If extreme weather is expected, avoid going out.
If you usually clear your path of snow be very careful to avoid falling - remember snow is hazardous. If you can't do it yourself ask a friend, neighbour or a family member requesting them to use salt or sand NOT water.
For more information visit - www.direct.gov.uk or call 0345 8 506 506
Age UK Wakefield District Advice Lines - 01977 552476 / 01977 552114
Wakefield District Housing tenants can contact:
One CALL - 0345 8 507 507
For Family Services' Homecare Support contact:
Social Care Direct 0345 8 503 503
Information and Advice
The Information and Advice service supports people aged 50 and over, and their carers who are resident in the Wakefield District.
Other information you may find helpful
Related pages on our website