Age UK 'lockdown army' delivers meals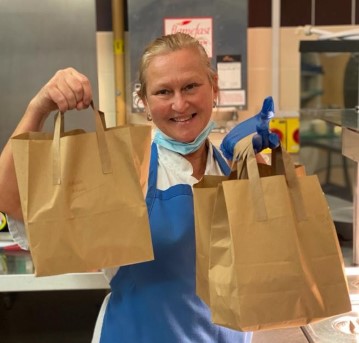 Published on 14 January 2021 09:48 AM
Age UK West Sussex, Brighton & Hove (WSBH) has teamed up with West Sussex County Council (WSCC) to deliver home cooked meals, wellbeing and energy advice to over 50s locally. The initiative, which runs until the end of March 2021, aims to ensure older people have nutritious food, a warm home and someone to turn to during the latest lockdown.
Funded by WSCC, homecooked frozen meals and desserts can be delivered directly to doorsteps for a suggested donation of just £2 (those on low incomes can receive these free of charge). The meals can be delivered 2 – 3 times a week by Age UK WSBH's army of friendly volunteers. Older people can also get information and advice over the phone on how to keep well and warm this winter.
Helen Rice, Chief Executive at Age UK WSBH said "This latest lockdown is so tough on all of us, but particularly on older people, many of whom live alone. Supermarket delivery slots can be hard to come by, so to help we wanted to deliver pre-prepared, nutritional meals to doorsteps. We also want to make sure that people have energy advice, so that they can heat their homes efficiently and keep their bills low. With phone advice for anyone facing difficulties rounding off the package, we hope we can be there for people, whatever they're are facing. Lockdown is hard, but we hope to make life that little bit easier for older people locally."
Duncan Crow, West Sussex County Council Cabinet Member for Fire & Rescue and Communities, said: "The funding that has been given to Age UK WSBH is part of the Covid Winter Grant scheme, which is money provided to us by the Government to help support projects that look after the most vulnerable members of our community.
"We are really happy to be working with Age UK WSBH in their work to make sure that some of the more vulnerable people in the county are kept well in both mind and body during these very trying times."
Meals are made by Age UK WSBH's in house chefs and menus change regularly. Those with specific needs or dietary requirements can contact the charity to discuss these.
Sample menu –
Mains:
Cottage pie creamy mashed potato, seasonal vegetables.
Chicken and ham in a grainy mustard sauce, seasonal vegetables, roasted new potatoes.
Roasted cannon of lamb, mint mousse, seasonal vegetables, lamb gravy.
Classic Lasagne , seasonal vegetables
Desserts:
Sticky toffee pudding, with toffee sauce.
Apricot bread and butter pudding with custard.
Rich chocolate brownie.
Apple crumble with custard.
Anyone interested in receiving meals, energy advice or other support should call 01903 731 800 or email info@ageukwsbh.org.uk