Local Age UK calls on people to become 'dementia friends' as pandemic lockdown takes its toll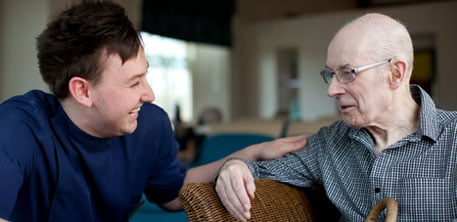 Published on 14 May 2021 10:10 PM
Age UK West Sussex, Brighton & Hove (WSBH) is calling on local people to become 'Dementia Friends' at sessions held during Dementia Action Week, 17th – 23rd May. The sessions will be held virtually via video call and aim to help people learn about dementia so they can understand the condition, raise awareness and offer support in the community.
Many people living with dementia have seen a decline in their condition during the pandemic. The isolation of lockdown has contributed to cognitive decline for some, as people's usual routines and social interactions have been impossible. With this in mind, it's vital that people with dementia, their families and carers get as much support and understanding as possible as lockdown restrictions are lifted.
Dementia Friends training highlights changes that both individuals and businesses can adopt in order to make life in the community easier for people with dementia.
Charlie Rayner, Daybreak Dementia Services Manager said "Dementia Week isn't just about raising awareness, we want people to spare an hour of their time to actually take action, by joining one of our virtual sessions and becoming a 'Dementia Friend'. Dementia can be incredibly frightening and people can feel misunderstood, even by friends and family. The Dementia Friends scheme is a practical way to show support and make a difference. You don't even have to leave your sofa, so why not sign up now?"
Age UK WSBH offers a number of services for people living with dementia and their carers. Later this year, the charity is launching a course to help people living with dementia fight back against its progress, using a range of activities which work on motor skills, memory and movement.
Dementia Friends sessions with Age UK WSBH will take place on:
Monday 17th May at 2pm, Wednesday 19th May at 11am and Friday 21st May at 2pm
To book a session please contact Alex Furber by email alex.furber@ageukwestsussex.org.uk or call 07563 382806.
Real life: the importance of social interaction for those with dementia
An Age UK WSBH client, Elaine* shared that her husband's dementia had progressed significantly during lockdown. He was no longer verbally communicating and just sat in his chair all day, looking at the same books. Staff were prepared for the changes during his first Daybreak support session back, but were amazed at how involved he got, calling out quiz answers and really interacting with the group. Elaine was moved to tears when she returned at the end of the session and saw him so engaged. He continues to attend sessions at Age UK WSBH and his wife feels she has part of him back that she thought was lost forever.
*name has been changed