My years as an Age UK Milton Keynes volunteer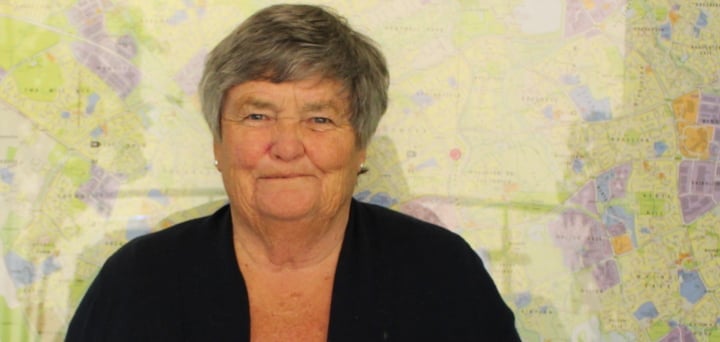 3/6/20
I was extremely honoured and surprised to receive my 35-year certificate and gift in June 2020. I can't believe it's 35 years since I was first asked to become a Trustee. I was manager of the Citizens Advice Bureau in the City Square and the Age Concern Milton Keynes cafe was on the other side of the square next to the bus ticket office and the public loos! The charity's offices were in Lovat Bank, Newport Pagnell. I have seen many changes over the years and quite a few CEOs.
As a Trustee I have had a number of different responsibilities. One of my first was to chair the Holidays Group. One of the best things we ever did. In conjunction with Souls Coaches we ran week long holidays in various seaside towns. The minibuses collected people from their homes, usually on a Saturday morning, and they met up with the coach at a convenient place. Beaverbrook Court in Bletchley was often a pick-up point as it had excellent toilet facilities which were pretty necessary before a long journey!
The drivers were all known to us and one of them used to bring his wife. They stayed with the coach and we also had a 'courier', the most vital part of the deal. They dealt with everything. We sometimes had two, depending on numbers, and they were brilliant. The only difficult part of the operation was negotiating the deals with the hotels. Sadly, we were eventually driven out of business by the big boys like Sheerings who could get so much better deals than us due to their numbers. It was a really sad day when the Holidays ended; many of our clients had travelled with us for many years. The Day Trips continued for more years and only ended last year, again because the commercial companies could do it so much cheaper than us.
I also took on the role of Managing Director of our bus company when we joined forces with the Ealing Community Transport to run the minibuses. We took turns to be MD for six months. Running a minibus business was hard work, and the problems never ending, but we survived for about three years before deciding it was altogether too hard and too costly.
During most of my time as a Trustee I have also been a fundraiser, regularly rattling collecting tins in all sorts of cold and draughty places but the smiles and stories you get while doing it make it very worthwhile! My family haven't escaped either and regularly get roped in to help. I well remember the gawky 16-year-old twin grandsons bag packing at Waitrose. One old lady came back into the store to put a £5 note in the bucket because "that young man was so good". He had taken her shopping to her car and unloaded it for her.
We ran an amazing car boot sale at Mill Farm, Gayhurst. It was the hottest bank holiday Monday ever and thousands of people turned up. The Age UK Milton Keynes van had to go back to Kiln Farm to get more stuff to sell and we sold over 1,000 bacon rolls which had meant two extra trips to Tesco.
In 2001 I devised my first Christmas Quiz. This is still going strong and I now get requests from all over the country for copies. It has featured all sorts of subjects from cars to towns. The theme of the 2020 Christmas Quiz will be "Cooks and Cooking". In the early months of the coronavirus pandemic Lockdown I compiled a fundraising cookbook called the 'Lockdown Cookbook' which has about 80 pages of tried and tested recipes and is selling well at £5. So far it has raised over £1,000.
So, I'm still a Trustee and should probably now retire, but I have enjoyed my time and now is not the time, as we are all going to have to work hard to get everything back on track.
Diana Payne MBE