Lockdown Cookbook
Published on 15 June 2020 11:59 AM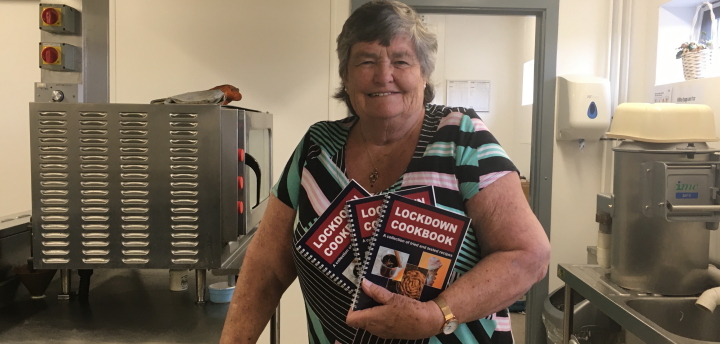 84 tried and tested recipes
Long-term volunteer Di Payne was one of many people who received a letter from the NHS in March telling her to stay at home and shield because of the coronavirus pandemic. Di, who is not only a trustee but an active fundraiser for Age UK Milton Keynes, said her first thought was: "What on earth am I going to do to keep busy?"
She says having access to a computer and a large list of contacts meant she knew she could do something to help raise funds for Age UK Milton Keynes. Di, who recently received a certificate to thank her for 35 years of volunteering, attended a meeting where she learned the charity's finances were suffering, how the shops had been forced to close, and she was determined to do something to help.
With the support of friends, family and people she knew "all over the world", Di has put together a Lockdown Cookbook of 84 exquisite recipes. Each one has been tried and tested and appreciated over the years. "People tell me they love the little story that accompanies every recipe, with a brief explanation from the contributor of why it has been shared and what it means to them," says Di.
We would like to say a huge thank you to Katie Jordan and Matt Storey of Storey Homes who have generously sponsored the printing of the Lockdown Cookbook. Their support has been essential and the project would never have happened without their valuable support. Di would also like to give a mention to Minuteman Press Milton Keynes who did an excellent job of printing the cookbooks during these difficult times.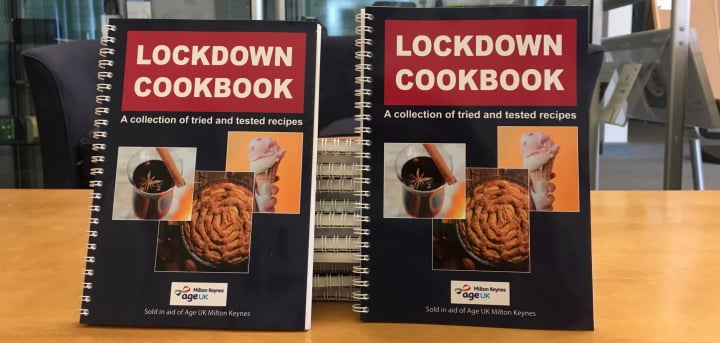 Copies of the Lockdown Cookbook are available from The Peartree Centre and from Age UK Milton Keynes shops when they re-open*. We can also post you a copy in the UK for £2.95 [amended to actual cost] which you can pay by card over the telephone on 01908 550700. We may also be able to deliver your copy when we do the Tuesday and Thursday meal deliveries in the borough of Milton Keynes. So please call us for details.
Di says: "They're selling like hot cakes as people can see they make brilliant birthday presents." All proceeds from the sale of the Lockdown Cookbook will help Age UK Milton Keynes to carry on providing vital support to local older people. The effects of the coronavirus pandemic have been devastating for the charity and it is still not clear how some of our services will be able to restart or whether the charity will continue to exist in its current form.
Please make a donation and thank you for your support.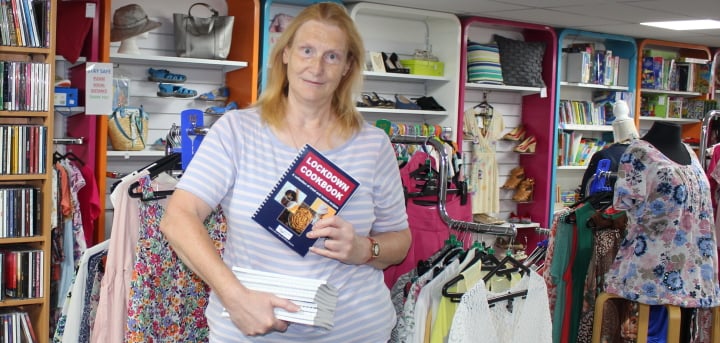 Shop manager Meryl with copies which are on sale in our Olney shop
*Wolverton Books, Olney, Kiln Farm, Bletchley at 17/7/20.