Lateral flow testing kits
Published on 01 March 2021 03:40 PM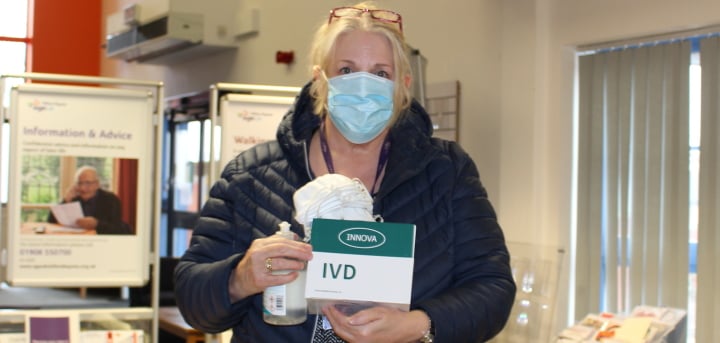 Thanks to a supply of lateral flow tests from the BLMK Clinical Commissioning Group (CCG) our staff who visit older people at home to provide essential support will be able to self test for covid-19.
Our Independent Living Service enables older people to carry on living in their own home by providing a shopping and domestic cleaning service. This support has been even more essential during the coronavirus pandemic, especially when people were advised to shield and were not able to do their own shopping. Many older people are still not being visited by family members and rely on us to help them, so our support needs to be reliable.
Carol [pictured] says one of her clients is a 95-year-old lady who has not left her home since the pandemic began, so she is very glad to be able to self test and reduce the risk of spreading the coronavirus.
We are grateful to the BLMK CCG for providing us with supplies of the antigen rapid qualitative test so that our staff will be able to reduce the risk of infection for clients. Many of our Independent Living Assistants spend up to an hour, often longer, inside a client's home, so the tests will provide an extra layer of reassurance when they visit to clean the kitchen and bathroom or carry out other vital domestic tasks. Staff have been wearing face coverings and social distancing where possible, but these testing kits will help us keep our clients safe.