The Big Knit
Published on 13 August 2021 09:12 AM
Valerie is one of our volunteer knitters who is taking part in this years 'Big Knit' Campaign, Valerie has set herself a whopping target of knitting a thousand hats to raise funds for Age UK Milton Keynes. Age UK MK receives 25p per hat and has a target of 15540 for this campaign. Paula Ayers Age UK MK's Development & Fundraising Manager went along recently to meet her.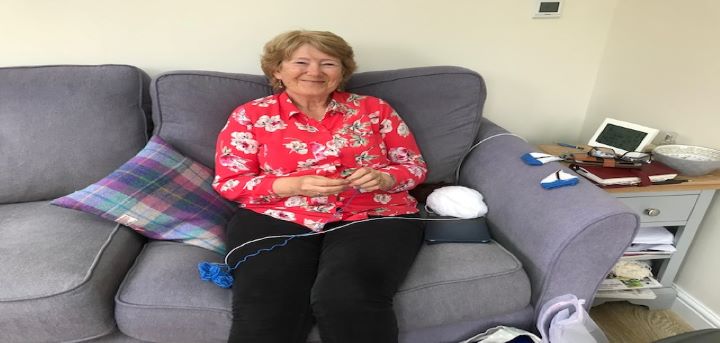 Valerie has been knitting hats for the Age UK/Innocent Smoothie fundraising campaign for many years. She retired from work in 2013, having worked in occupational health for many organisations such as the NHS, The Open University, John Lewis and Unify. Valerie was looking for a volunteering role that was worthwhile and fitted with her busy lifestyle, The Big Knit Campaign ticked all the boxes for her. Valerie said that 'she enjoys creating and seeing something for her efforts', she also enjoys crochet and cross stitch as well as knitting. There were beautiful creations dotted around her sunny conservatory. Valerie has 2 dogs and a holiday home on the East Coast and spends her time between this and her home in MK, she said knitting is an easy hobby to just pick up and take with her whenever she goes on her travels and the hats don't take long to create. "I try out some of the new patterns I find online and this year I have tried 'blue tits' for the first time and am currently knitting little sailing boats. I have attempted some of the Mr Men patterns, but I didn't like the outcome of some of those, the good thing with the Big Knit is the variety of patterns". Valerie also logs onto a website called 'Jo's Big Knit' Jo makes her own patterns for the campaign and displays other people's creations on her page.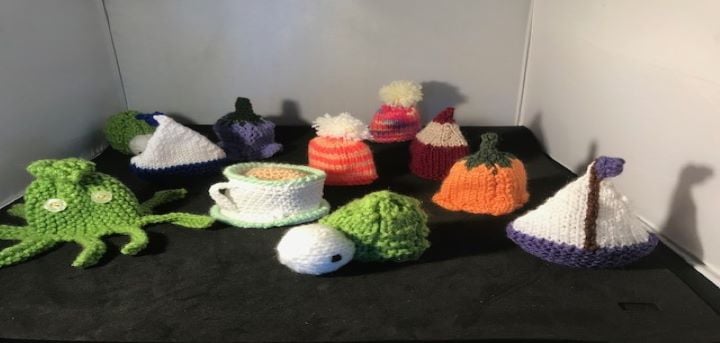 Paula asked Valerie if she had a top tip for our knitters especially the beginners, she said "keep it simple, use colours that you like and sew up as you go along".
On behalf of Age UK Milton Keynes, a Big Thank You to Valerie and all our knitters young and old who are raising vital funds to help us support the older people of Milton Keynes. If you would like to take part in this year's 'Big Knit' please email: events@ageukmiltonkeynes.org.uk