Computer Training, tablets and phones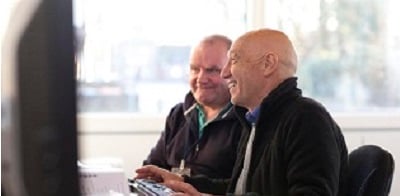 DUE TO THE CURRENT VIRUS SITUATION ALL CLASSES WILL CEASE UNTIL FURTHER NOTICE. WE WILL CONTACT YOU INDIVIDUALLY IF YOU ARE IN THE PROCESS OF COMPLETING A COURSE OR IF YOU HAVE APPLIED TO GO ON A COURSE AS SOON AS WE KNOW IT IS SAFE TO DO SO.
In addition to the 1:1 IT training offered at our Activity Centre in Wanstead, we have small classes in our Ilford office. Nowadays, IT does not just mean computer training but can cover laptops, smart phones, tablets and e-readers, if you're having trouble using these.
We charge £30 for 10 weeks training, 2 hours per week and you can sign up for further terms if you feel you need more time. Classes are currently onTuesday mornings and Thursday afternoons, but this can change.
Whilst we have a curriculum that covers most basic things you need to know, we tailor the classes to what it is you wish to learn, as there is no point in spending time on things you know you never wish to use. Much better to focus on the things you know you need to learn. Classes never contain more than five people, so you receive a lot of individual attention and support.
To sign up, you must complete the registration and application form below, print it off and return it to us with £5 deposit. Or you can ring Reception on 020 8220 6000 and they will mail the form to you for completion and return. Usually, we are then able to fit you into a class during the following term so you don't have to wait more than a few weeks to begin.
Do you have a query about using your phone or tablet?
We will be holding bookable drop-in sessions from 1pm-2pm on the last Tuesday of each month (except December) with Lorraine (IT Tutor)
Ring Age UK RBH to book on: 020 8220 6000