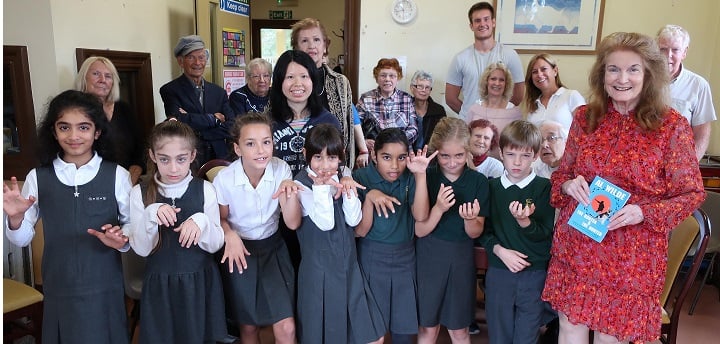 Local poet Alexandra Wilde, runs a creative poetry group -Redbridge Rhymesters. The group hold lively and inspiring sessions writing and performing poems on a theme. The Redbridge Rhymesters was founded over 8 years ago by Alex who has been holding regular workshops at our Wanstead Activity Centre and has been joined by children from Snaresbrook Primary School.
During the pandemic the Rhymesters haven't been able to meet, but now finally after 2 years, they will be meeting again at the Wanstead Activity Centre on Tuesday 18th Januray from 10.30-12 noon. Why not go along and enjoy listening to Robert Gillman, winner of Havering Libraries poetry competition who will be talking about getting inspiration for creative writing. The Rhymesters are looking for more people to join the group so do go along if you like poetry. Why not book in for lunch at the same time? A 2 course lunch costs £5 and is freshly cooked on the premises. Don't forget to book though! Tel: 020 8989 6338
Her last session had a Halloween theme and took place during Older Peopl'e week at the centre. The event was advertised in the local paper, where the children's poetry was described as imaginative and leaving the group 'spellbound'.
A previous session had a 'fashion' theme and the results of the different generations working together were wonderful and inspirational. The children wrote some very imaginative poems and the session gave everyone a chance to learn how people from different eras and places can be encouraged to share their knowledge through reminiscing about past experiences, and preserve it through the medium of poetry.
Phone 020 8989 6338 or Janet on 020 8220 6000
Back to the future session
Read the enchanting poems produced at the Back to the Future themed session