Event: Porter Valley People Together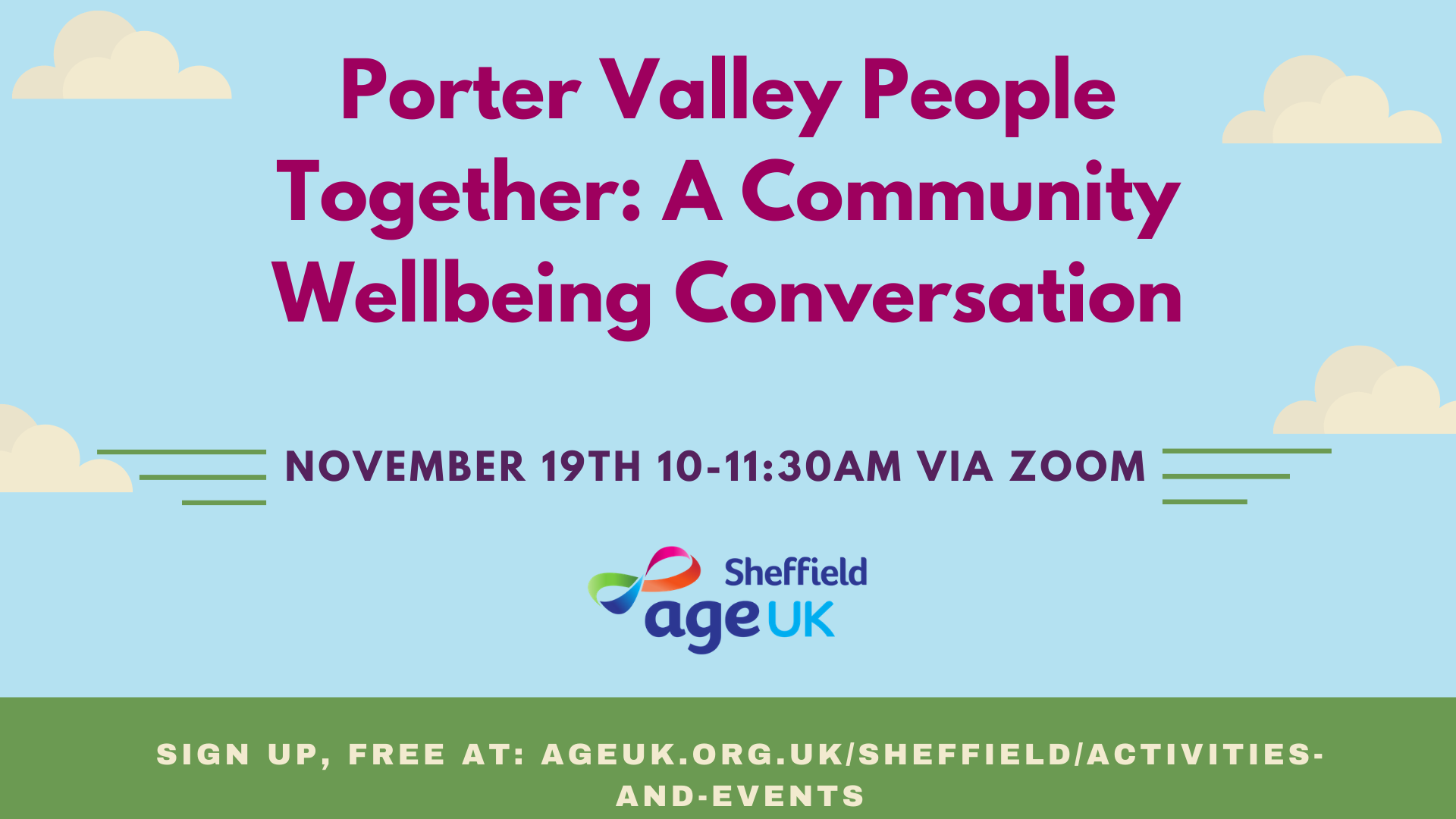 Porter Valley People Together: A Community Wellbeing Conversation
One thing that we have learnt over this difficult year is that the community can do amazing things when they pull together to share resources and skills to support one another. It's also helped the community became more aware of the number of people who are more socially isolated and perhaps therefore more in need of help than others. The amazing community and support groups that exist across Sheffield, both old and brand new, have really highlighted what can be achieved and just how invaluable the outcomes of local people helping local people can be.

That's why Age UK Sheffield and The Portervalley Primary Care Network (6 GP practices) are hosting this event. Firstly, to help our community identify and learn more about the support already existing and available. And secondly, to then discuss and share ideas about ways we can fill any gaps that are missing and hopefully combine our knowledge and resources to provide the best possible support to our community. We will have speakers from different services that exist including the new Porter Valley in Touch service and the People Keeping Well Activities provided in the area.
Who is this event for?
Members of the community, health and social care professionals who work in the area, people who provide, volunteer or attend groups, clubs and activities in the area.

When and where does it take place? Taking place virtually online, via Zoom at 10am-11:30am on Thursday 19th Nov 2020

How do I attend? All you need to do is pop your details in the form at the bottom of the page and we will send you an email with the link to join the meeting via Zoom in advance of the event, plus a "how to guide" and a programme. If you have any questions about attending the event, please email cally.bowman@ageuksheffield.org.uk . Please note; booking for the event closes at 5pm on the 18th and we can't accept bookings after this point.

What will happen during the event? This virtual event aims to be an opportunity to share information about services and activities that already exist in the Porter Valley area. There'll be speakers from different services and an introduction to a community grant fund that anyone can apply for in order to set up their own activity or group in the area too. There'll be opportunities to ask questions and share knowledge, plus a "break out room" session, where everyone will be split into smaller groups (via Zoom) and invited to share their thoughts and ideas about what might be missing in the area and how we could fill those gaps in order to provide more opportunities for people to find out about, set up or access groups, services and activities in their community that aim to improve health and wellbeing and reduce social isolation.
You are welcome to be as involved as you like during the question and answer and break out room discussion sessions.

This sounds great but I can't attend at this time!
No worries, we will be sharing details and follow up information from the event afterwards. If you'd like to receive this follow up information, including outcomes and news about changes made resulting from the event, service information, community grant fund information and dates for similar events we will be hosting in the future, simply enter your details in the form below, select that you can't attend but would like a post event email, and we'll be sure to send them you!