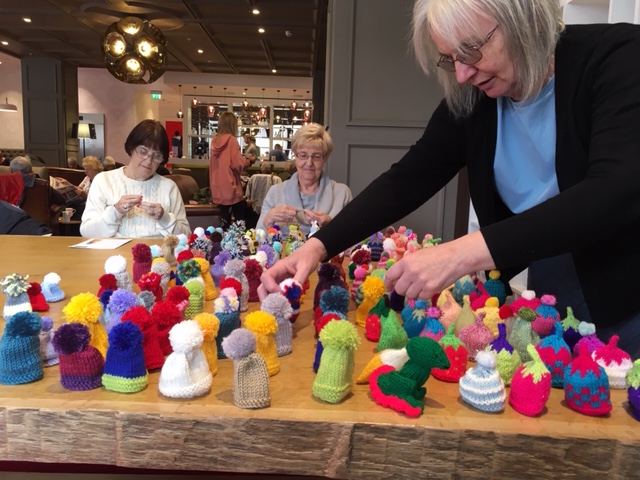 We have one last event around the corner to get together for a knit and natter to reach our new target of 4000 hats!
Currently, we are just 262 hats away from our goal! Remember, Innocent Smoothies give us 25p.for every drink sold with one of our adorble little hats on! Which means more money for our charity to support our work with older people in Sheffield.

We will be getting together for that final push on Tuesday, 9 July from 10:30am-12:00pm at the Virgin Money Lounge on Fargate. Join the Facebook event here.

If you like, you can email us and we'll send you the patterns to knit. Then you can bring them or send them to our office.
The Campaign began in 2003 when people of all ages knitted little wooly hats for Innocent smoothies. For each smoothie sold a donation of 25p is made to Age UK. So far 6 million hats have been knitted and over £2million raised.
This money helps to fund local activities and the important work that Age UK Sheffield does every day in our communities. At Age UK Sheffield our vision is for a city in which no older person lives in poverty or loneliness. We know that as many as 12,000 Sheffielders are always or often lonely and we aim to change this.
Would you be prepared to join us in the Big Knit this year? Help to combat loneliness and social isolation in our communities? We will support you as much as we can in this project.
You can find out more about this fun project on the innocent smoothie website here http://www.thebigknit.co.uk/

If you'd like to send your hats to us in the office you can either drop them off during our opening hours or send them us in the post Find our address and open hours here