Coach House Project Hillsborough Park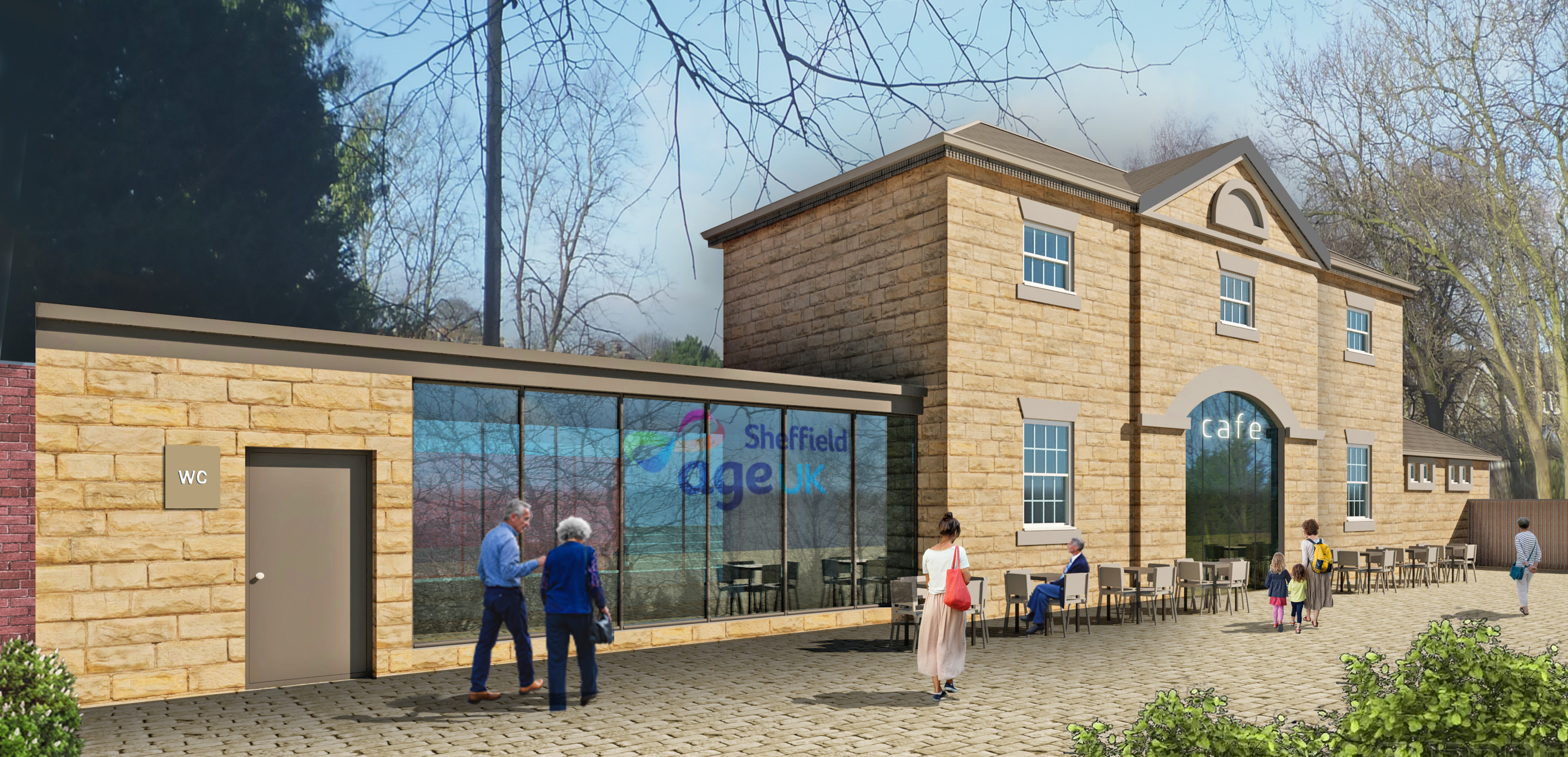 Our Coach House project is well underway and building work is progressing fantastically! We are absolutely thrilled and cannot wait for our plans to become a reality. Thanks to support from the National Lottery Heritage Fund and support from the community and Sheffield City Council, we are reviving Hillsborough Park's listed former Coach House into a dementia-friendly older people's centre and cafe, with plans to open in early 2022!

On this page, you can find out more about the project, how it started and how we have got to where we are now. You can also find out more about our plans for the Coach House and how you can get involved in them!
Latest News
Get involved at Hillsborough Park
As we get closer to opening our new facilities in Hillsborough Park, in spring 2022, we are being approached by people who are interested in helping us in operating and delivering activities in the Hillsborough Park Bowling Pavilion and Bradbury Makers Shed. Find out how you can get involved.

Call for performers
Do you love performing? This is going to be a fun event to celebrate all the wonderful things to come that we will be involved with in Hillsborough Park and you could be part of the performance or help behind the scenes! It's for the community and everyone is welcome. All ages, all bodies.
Get Involved!
The success of our Old Coach House project has been founded on the support and involvement of the local community in Sheffield and the input of local people will be even more important as we move towards bringing these new facilities to reality.

As well as the community café, the ancillary Potting Shed building will become a creative "Makers' Shed" space and the Hillsborough Park Bowling Pavilion will also be operated by Age UK Sheffield. This campus of facilities will host a programme of activities open to the entire community, with a particular focus on ensuring accessibility for older people and people living with dementia or long-term health conditions.

Upcoming Activities & Opportunities to get Involved

We want as many people as possible to get involved in the project and enjoy sharing memories and learning more about the heritage of the Hillsborough Park and the historic Coach House building itself. To support this, some exciting projects have been commissioned to involve the community
The projects include:
Our Hillsborough: A community history project where story swap cafes and community workshop sessions will be used to record the history of the park.

Meeting of the Minds: is a project that will deliver two community theatre performances that all park users will be able to attend.
These two projects will be delivered by Rivelin Co Creative.

Coach House Kids: Is an education and learning project for primary school children. The project will be delivered by Ignite imaginations and it will produce an exciting treasure trail, activity box and a downloadable junior school lesson plan which will encourage local children to engage with Hillsborough Park.

Timeline Exhibition: This project will draw on the other projects to produce and install a timeline exhibition within the finished Coach House Café itself. Delivered by Eleven Design, they will hold their own community workshops to create a permanent exhibition within the renovated Coach House.

Would you like to take part in these activities? Or, do you know someone who would love to get involved? If so, please sign up to our mailing list detailed below, so that you can be kept in the loop and the first to know about these exciting opportunities, events and activities to get involved in as soon as they are announced! If you're not able to sign up to our Coach House project mailing list, please be sure to check our social media where we will share updates. Or, simply get in touch with us and we can make sure to contact you with news and updates.

Paid & Voluntary Roles
We are still working out exactly what paid and voluntary roles we will have available at our Hillsborough facilities once they open, hopefully in late 2021. If you're interested in voluntary/paid roles at the Coach House, please keep checking this webpage and social media – or, if you like, we can add you to our e-newsletter mailing list for the project, and we will send an occasional update to you to help keep you in the loop with progress! If you'd like to be added to this newsletter mailing list, simply sign up by clicking here, or using the link below.
Keep up to date
Would you like us to keep you up to date on progress and opportunities to get involved? If so, you can sign up to our Coach House Project mailing list. You will be able to unsubscribe at anytime.
Volunteering
There are going to be a range of opportunities to get involved as a volunteer in supporting activities for older people on site. We aren't at the stage yet where we can recruit volunteers for specific roles, so we recommend signing up to our Coach House mailing list, so that we can alert you when we are ready to receive applications. Please click here to sign up to our Coach House mailing list.

If you would like to volunteer for Age UK Sheffield in the meantime, that would be amazing! We have a huge variety of roles outside of our Coach House Project. Visit our volunteering page by clicking here to see our list of volunteer roles.
Fundraising
We are extremely grateful to gain the support of The National Lottery Heritage Fund for this project, but we still have more fundraising to do in order to fund items for the activities we will providing for older people across Sheffield. We plan to offer a variety of inclusive activities to reduce social isolation and loneliness, form gardening and crafting to sewing and photography! All of these activities will require resources (that quickly add up!)
If you would like to support our project by getting involved in fundraising, that would be amazing!
At this point in the process, we don't have any specific fundraising projects just yet, but we do have lots of ideas! If you'd like to find out when we launch our fundraising cmapaign, and stay up to date on the Coach House project, we recommend signing up to our Coach House mailing list, Please click here to sign up to our Coach House mailing list.

If you're already keen to get started and do your own thing, Please click here to visit our fundraising page, which is full of great fundraising ideas and examples. Any money you raise for this project will be a huge help, but please ensure you contact us before you donate, so we can be sure the money raised is donated either specifically for the Coach House project.
News in the build up to our Coach House Project getting the Green light!
Age UK Sheffield are thrilled to announce that they have received formal permission from the National Lottery Heritage Fund to start the redevelopment of the Old Coach House in Hillsborough Park, after signing the lease with Sheffield City Council.

The National Lottery Heritage Fund have awarded local charity Age UK Sheffield £581,500* to restore the derelict Grade II Listed Old Coach House building, next to Hillsborough Library. The nearby Potting Shed will be renovated as a creative Makers' Shed, whilst Age UK Sheffield will also manage community facilities at the park's Bowling Pavilion.