Text only versions of the information below can be found at the bottom of the page.
Corona Virus Update...
From September 1st 2020, both of our shops will have re-opened with the following changes implemented due to Covid-19

Opening hours
Bradway Opening Hours

Abbeydale Opening Hours

Open 9am – 5pm Monday- Saturday (closed on Sundays)

Open 10am – 4pm Tuesday – Saturday
(closed on Sundays & Mondays)

Bradway Donation Hours

Abbeydale Donation Hours

Donations Closed:
We are currently unable to accept any donations at our Bradway shop. Donors have been so kind to us that we have run out of storage space!

We are hoping to be able to accept donations again from Monday September 14th. We have now re-opened our Abbeydale Road Charity shop and are accepting donations there. We apologise for any inconvenience his causes.

Thanks so much for your support!

Donations accepted between 10am – 1pm Tuesday – Friday (cannot accept donations on Saturdays and closed on Sundays & Mondays )

Bradway is home to Age UK Sheffield's first ever charity shop. Every penny spent in this shop directly funds our charity work and our services that are there to support older people across Sheffield. To find out more about the services we provide, you can click on our services page where there's lots of amazing videos highlighting who we support, how we support them and the impact that this has.

Not your Average Charity Shop...
From the very start, we knew we wanted our first ever charity shop to be a little different, for it not only to be a space to sell an eclectic variety of kindly donated goods, but also a space to host workshops and information sessions as well as a place to offer a platform to local independent makers in Sheffield to sell their wares. We currently have an amazing variety of hand crafted, locally sourced and designed gifts and products on offer in the shop. Each of the maker's items are as different as the next, and they look fantastic displayed right at the front of the shop. You can follow our social media accounts to see some beautiful images of the maker's products and find out more about each individual maker, how they make their products and why they are supporting our charity.
Opening Times and Location
Our Bradway shop is open 10am - 4pm every Monday to Friday.
We can currently only accept donation ebtween 10am - 1pm.

The Address is 308, Twentywell Lane, Bradway, Sheffield, S17 4QH.
The shop phone number is 0114 236 0884.

Social Media links are at the bottom of this page. Do folllow us as we post regular photos of new donations & stock as well as updates on the independent Sheffield Makers and news about events hosted at the shop.



Volunteer in our Shop
Would you like to be part of a friendly retail team? Do you enjoy meeting and talking to different people everyday? Are you looking for a varied and practical volunteering role? If yes, then volunteering in one of our new shops might be perfect for you! It's a role where you can apply and develop your retail and people skills, while raising crucial funds to support the aims of Age UK Sheffield. No experience necessary!
There are so many activities that contribute to the success of our shops. Here are just some that you may be involved in:
• Operate the till and promote Gift Aid to donors
• Accept donations
• Prepare and price donations for sale
• Help create eye-catching window displays
• Contribute to a friendly and welcoming atmosphere for customers and volunteers.
To apply, simply visit our volunteering page and download the application form at the bottom of the page. Fill it in and return it to us as instructed, then we'll get in touch with you! If you need any further details, just call us on (0114) 250 2850 or email: enquiries@ageuksheffield.org.uk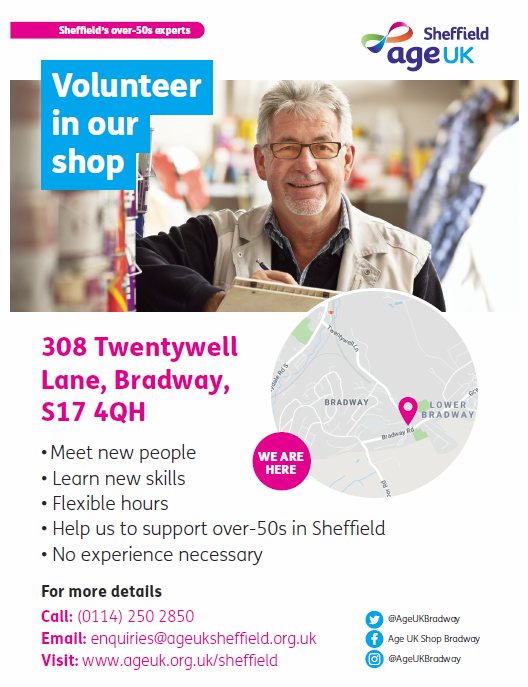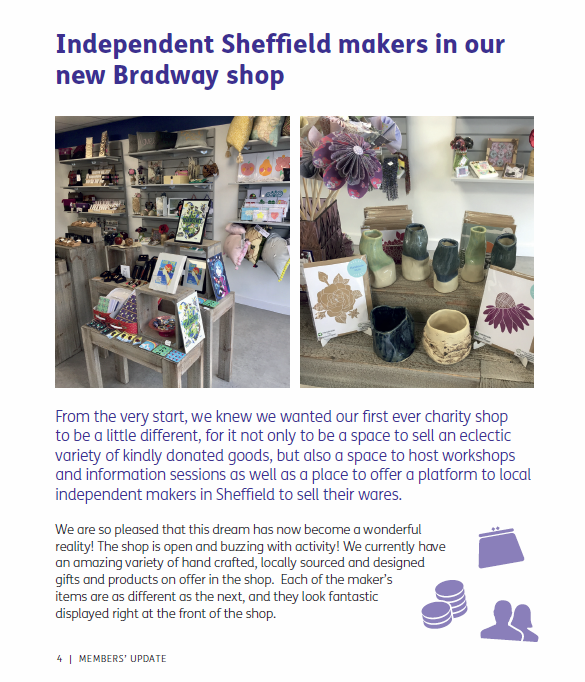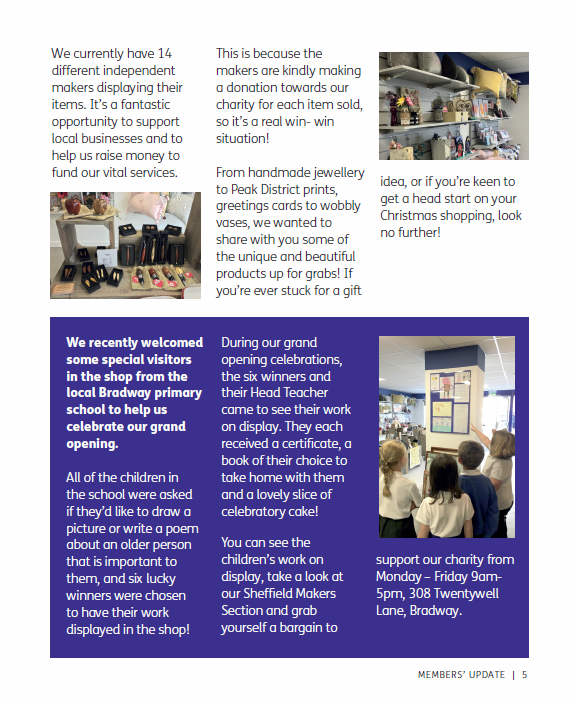 Information about our shop re-opening
We are excited to announce that we are planning to re-open our Bradway shop on Monday 15th June. To ensure a safe environment for our customers, staff & volunteers,
please note the following changes & instructions we have put in place:
Opening times will be 10.00-4.00, Monday to Friday (subject to change)
Customer numbers will be restricted to 3 in the shop at a time
Donations: maximum 2 bags per person/family, per day. (bag sizes should be equivalent to: 2 black bin bags, 4 small shop carrier bags or 2 bags for life.)
When visiting the shop we will ask you to:
Please queue outside the shop and wait to be invited in
Please use the hand sanitiser upon entry
Please stay 2 metres apart within the shop
Please pay with contactless card where possible
We can't wait to welcome you back to our shop! With your help we will keep everyone safe.
Don't forget, we are still selling some items exclusively on our eBay page! Find us at ebay.co.uk/usr/auksheffield
Information about our shop re-opening: Donations
To ensure a safe environment for our customers, staff & volunteers, please note the following changes & instructions we have put in place regarding donating items to our shop.
Amount of donations and what we can & cannot accept:
We are so grateful for donations that help us raise money for our charity, however we can only accept a certain amount of donations, this is because we must wait 72 hours before opening any donated bags of items. Therefore, donations are limited to: A maximum of 2 bags per person/family, per day. (bag sizes should be equivalent to: 2 black bin bags, 4 small shop carrier bags or 2 bags for life.)
Yes please
Women's clothing
Men's clothing
Shoes, bags & other accessories
Children's clothing, toys & books
Books
Bric-a-brac
No thank you
Bedding & sheets
Pillows & duvets
Blankets & cushions
CDs & videos
Furniture
Electrical items
Broken items
Earrings for pierced ears