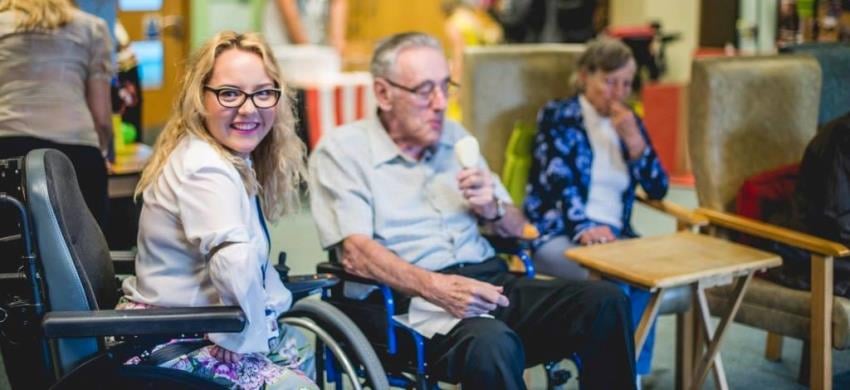 Age UK Sheffield is a great place to work. Could you bring your skills to our team? See our latest vacancies below.
Working for Age UK Sheffield
Age UK Sheffield is a local independent charity with around 40 staff members. We help over 4,000 local older people every year, offering support, activities, events, befriending, information and more. It's a great place to work if you really want to make a difference in people's lives.
We are an equal opportunities employer and welcome applications from all sections of the community. Because of the nature of our work with older people, all roles are subject to a Disclosure and Barring Service check.
You may also like to look at the other ways you can get involved with us.
Independent Living Coordinator 36.25 hours per week
Age UK Sheffield provides high quality services, tailored to the needs and wishes of individual older people. We are ambitious, driven by a desire to help older people live independent and fulfilling lives, able to make choices and live life to the full.
This is an outstanding opportunity to join a team that will make a real difference to the lives of older people in Sheffield.
Independent Living Coordinator 36.25 hours per week (job share considered)
Salary: £20,813 per annum plus pension
Age UK Sheffield is looking for an Independent Living coordinator to join our innovative service working with older people across Sheffield.
If you have drive, enthusiasm, a solution focused approach, can provide excellent customer service and have the ability to raise expectations about what is possible in later life this position is for you. You will be a confident people person, highly organised and enjoy taking responsibility, listening and practical problem-solving. You will relish working in a constantly evolving environment. You will have the ability to inspire and engage older people. You will be a brilliant listener and quick to understand the wants and desires of others. Specific duties include completing holistic assessments and support plans, facilitating access to services, resources and facilities and supporting with benefit applications.
You will have experience in working in a customer facing role, be happy working independently and as part of a team and have the ability to travel across Sheffield.
Closing date for applications: Monday 24th August at 9am
Interviews: There will be a 3 part recruitment process to be held on Wednesday 2nd September
All posts are subject to a Disclosure and Barring Service check. CVs are not accepted.

Click on the link below to download the application pack.
Download Application Pack
Click "Download Pack" to download the application pack needed to apply for this role. Should you have any issues accessing the pack, please email us at enquiries@ageuksheffield.org.uk
Watch the videos below to find out more about the service as a whole as well as and hear about Moira's and Brian's stories. Moira accessed our ILC service through Weston Park Hospital and talks about her experience of accessing help and support for bereavement and physical and mental health problems following the loss of her husband. Brian Accessed our service following a referral from a housing provider as the home he lived in was no longer suitable to his needs and he needed support with his correspondence.