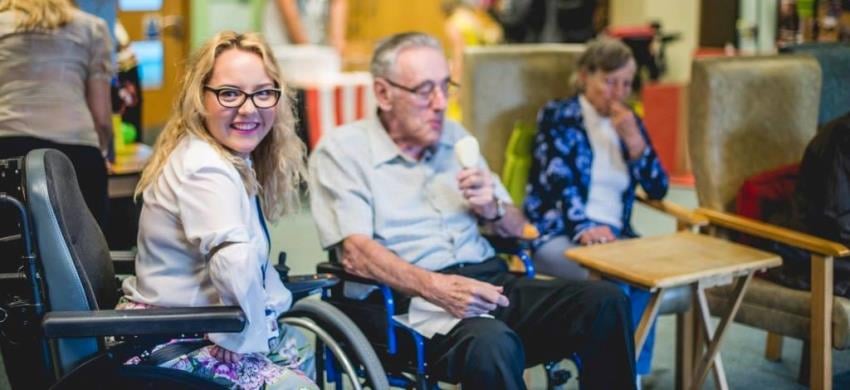 Age UK Sheffield is a great place to work. Could you bring your skills to our team? See our latest vacancies below.
Working for Age UK Sheffield
Age UK Sheffield is a local independent charity with 40 staff members. We help over 4000 local older people every year, offering activities, events, befriending and information. It's a great place to work if you really want to make a difference in people's lives.
We are an equal opportunities employer and welcome applications from all sections of the community. Because of the nature of our work with older people, all roles are subject to a Disclosure and Barring Service check.
If there are no current vacancies to interest you, please take a look at the other ways you can get involved with us.
DEADLINE EXTENDED - 1-2-1 Practical Assistant (25 hours per week, to be worked over five days)
Ref – 121PA2018
£7.38-£7.83 per hour plus 30 days annual leave (pro-rata based on full time 36.25 hours) and pension
Are you committed to supporting older people to live independently in their own homes? If so, our 1-2-1 Practical Assistant roles may be for you.
These roles provide an agreed programme of support to older people in Sheffield, carrying out a wide range of practical tasks to a high standard within the required timescale. The successful applicant will be a driver with access to their own car for work use.
These tasks may include (but are not limited to):
supporting customers with reading and dealing with correspondence, collecting pensions, paying bills, setting up direct debits;
enable customers to shop, cook and eat – this may include assisting with preparation of a shopping list, accompanying customers to the shops and/or enabling customer to shop 'on-line';
enable customers to set up and access appointments;
household cleaning.
Apply by Friday 1st February 2019.
PR and Communications Officer (0.6FTE, 21.75 hours per week)
Ref – PRO0119
£20,434 per annum + 30 days' annual leave + pension (pro rata)
Age UK Sheffield has a great story to tell about our work to support older people in the city to live independently. Now we need someone with great drive and passion for effective communication and our work with older people to help us tell our story.
We supported over 4,000 people aged over-50 in Sheffield in 2017/18, helping to increase their income by £2.9m and keep them living safe and well at home. We've also received a Heritage Lottery Fund grant to redevelop a listed building in Hillsborough Park and will be opening our first charity shops in 2019.
We're looking for a PR and communications professional with the enthusiasm to work with our team to tell the city about the great work we do; to keep in touch with our members and stakeholders; and implement innovative campaigns to let more people know about our services, shops and fundraising. If this is you, we'd love to hear from you.
Closing date for applications 9am on Friday 22nd February 2019.
Interviews: shortlisted candidates will be interviewed on Thursday 28th February. If shortlisted, you would be required to attend for the full day.
For recruitment issues and application packs