Due to Covid, most of our current programmes are running on online platforms such as zoom. If you need assistance in accessing these platforms we have provided a simple guide for you to use below. If you need further help please and someone to guide you through it please don't hesitate to contact Joanna Woodward on 0114 250 2850 or via email at joanna.woodward@ageuksheffield.org.uk
Monday

Tuesday

Wednesday

Thursday

Friday

10am Gentle Circuits Online Exercise Class.
Provider A

10am Zumba Gold Online Exercise Class.
Provider A

10am Strength & Balance Online Exercise Class (can be chair based).
Provider A

10am Gentle Circuits Online Exercise Class.
Provider A

10am Mindfulness Online.
Provider A

10am Sheffield Mencap and Gateway
Coffee Morning. Provider C

2pm Walking Football for Men & Women, St George's Park Thorncliffe.
Provider A

10am Carers Café on the 1st and 3rd Wednesday of every month. Provider G

1:30pm Zumba Chair Online Exercise Class.
Provider A

10am Carers Café and Quiz on the 2nd Friday of every month. Provider G

11am Walking Football for Men & Women Springs Leisure Centre.
Provider A

10:30am Singing Teapot Choir: fortnightly 2nd and last Tuesday of each month.
Provider E

11am Walking Football for Men & Women, St George's Park Graves.
Provider A

2pm Short Stories: On the 2nd Thursday of every month - Listen or bring your own story to share. Provider G

10.20 - 11.30am: Connecting with Nature for Wellbeing. Delivered by a horticulturist. Provider F

12- 2pm Memoir Writing delivered by Kathryn Reaney, a professional journalist. Provider H

3-4.30pm: Dore and Totley Rosemary Memory Café. Online chat, quizzes, live singers & more, for people living with Dementia & their carers. Provider D

2pm Walking Football for Men & Women, Concord Sports Centre.
Provider A

3pm Table Tennis
Bradway Community Hall.
Provider B

11am Walking Football for Men & Women, Davy McKee Sports Ground.
Provider A

2-3pm Cosy Creatives: Online Creative writing sessions. Provider E

5:45pm HiiT Online Exercise Class.
Provider A

8pm Women's Walking Football
Goodwin Sports Centre.
Provider A

7pm Table Tennis

Bradway Community Hall.
Provider B

2-4pm Writer's Drop in: for writers who want readers and readers who want to hear the new writing of other people. Provider H

6-8pm Community Journalism: No experience necessary- for people who want some pointers at sending out news releases, running social media pages etc. Provider H
List of Providers:
Provider A: CWS: Community Wellness Service: Classes delivered by specialist instructors. To book your place and receive links and instructions to join please contacts CWS on or call 0114 553 7807
Provider B: Table Tennis organised by Jan Clist. Contact to book your place on 07787 954 842/ 0114 418 6463
Provider C: Note: takes place on 1st and 3rd Monday of each month - Delivered by SMG Contact carers outreach project workers: Katie 07447391437, or Ellie on 07735316347. Or, email: cope@mencap.org.uk
Please note: These sessions are for unpaid carers and the person they care for (created for adults with mild to moderate learning disabilities/autism).
Provider D: Delivered by Josee, provided by Age UK Sheffield PKW - Contact josee.rollet@ageuksheffield.org.uk or 07852291830 for details to book.
Provider E: Provided by Age UK Sheffield PKW – contact Joanna.woodward@ageuksheffield.org.uk for details to attend
Provider F: Delivered by Caroline Cook Horticulturist: email info@gardeningwithcaroline.co.uk or Telephone Age UK 0114 250 2850. Visit gardeningwithcaroline.co.uk
Provider G: SCC: Sheffield Carers Centre. Email Jan jan@sheffieldcarers.org.uk
Provider H: Kathryn Reaney Email reaneywrites@gmail.com or call 07854 751932
Instructions for Accessing Zoom
Click the pink button that says "Download" to access a PDF document containing instructions for downloading and accessing Zoom so that you can join a variety of online activities delivered via the Zoom video platform.
Community small grants programme
Apply to receive up to £500 to deliver a group or activity as part of the PKW programme in the South West of Sheffield. Find out more about what this means and how to apply by clicking the pink "find out more" button to the right.
Volunteering
We are always looking for volunteers to assist with our activities please get in touch with Age UK Sheffield if you would be interested in supporting any of our groups. Alternatiely, you can see a list of other volunteer roles on our volunteering page by clicking here.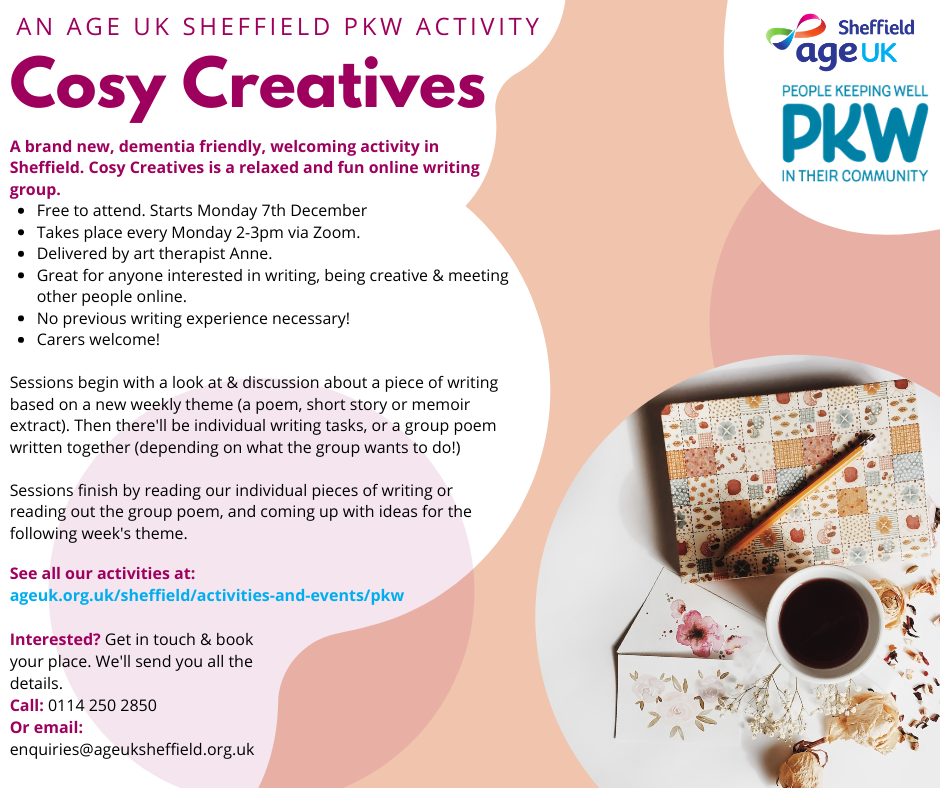 Cosy Creatives:
A brand new, dementia friendly, welcoming activity in Sheffield. Cosy Creatives is a relaxed and fun online writing group.
Free to attend. Starts Monday 7th December

Takes place every Monday 2-3pm via Zoom.

Delivered by art therapist Anne.

Great for anyone interested in writing, being creative & meeting other people online.

No previous writing experience necessary!

Carers welcome!
Sessions begin with a look at & discussion about a piece of writing based on a new weekly theme (a poem, short story or memoir extract). Then there'll be individual writing tasks, or a group poem written together (depending on what the group wants to do!)
Sessions finish by reading our individual pieces of writing or reading out the group poem, and coming up with ideas for the following week's theme.
Interested? Get in touch & book your place. We'll send you all the details.
Call: 0114 250 2850
Or email: enquiries@ageuksheffield.org.uk
We run a wide variety of activities, courses and groups across the South West of Sheffield enabling people to get out and about, find new hobbies, stay active and have fun. This is part of the Sheffield People Keeping Well programme, you can find out more about what the People Keeping Well programme is all about by clicking here.
If you don't live in the South West of Sheffield but would like to know about activities and groups offered across other areas of Sheffield, you can search and find the People Keeping Well service in your local area on this page.
The South West Sheffield PKW Partnership area covers the following areas: Dore, Totley, Bradway, Endcliffe, Fulwood, Ranmoor, Greystones, Nether Edge, Bents Green, Brincliffe, Ecclesall, Whirlow, Abbeydale