Dore & Totley Activities & Groups
We run a wide variety of different activities and groups in Dore & Totley enabling people to get out and about, find new hobbies, stay active and have fun!
Download Timetable
You can download our current timetable of activities and groups for August - Dec 2019 here
Join Our New Outdoor Taskforce
Would you like to volunteer as a Transport 17 Driver?
Transport 17 is a small community organisation that provides accessible transport for people in the S17 and neighbouring areas so that they are able to access activities such as lunch clubs and groups that other wise wouldn't be able to get to them. The service provides transport for local people to access some of our Age UK Sheffield services in the area (such as our Rosemary Memory cafes).
The organisation currently makes over 200 passenger trips each week to 13 clubs in the S17 and neighbouring areas from Monday to Friday using three minibuses. They rely on volunteers to drive the buses, assist our passengers, raise funds and run the management committee.
Transport 17 are currently looking for new drivers to support their service. If this is something that you'd be interested in helping with, please read the job description in the link below and visit the Transport 17 website to access the application form. If you have any further questions about applying for the role please contact Joanna Glaves, Age UK Sheffield's Community Development Worker.
Transport 17 Driver Job Description and Person Specification
Please click the pink box to download the Job Description and Person Specification.
Community small grants programme
Up to £500 for local groups providing activities for older people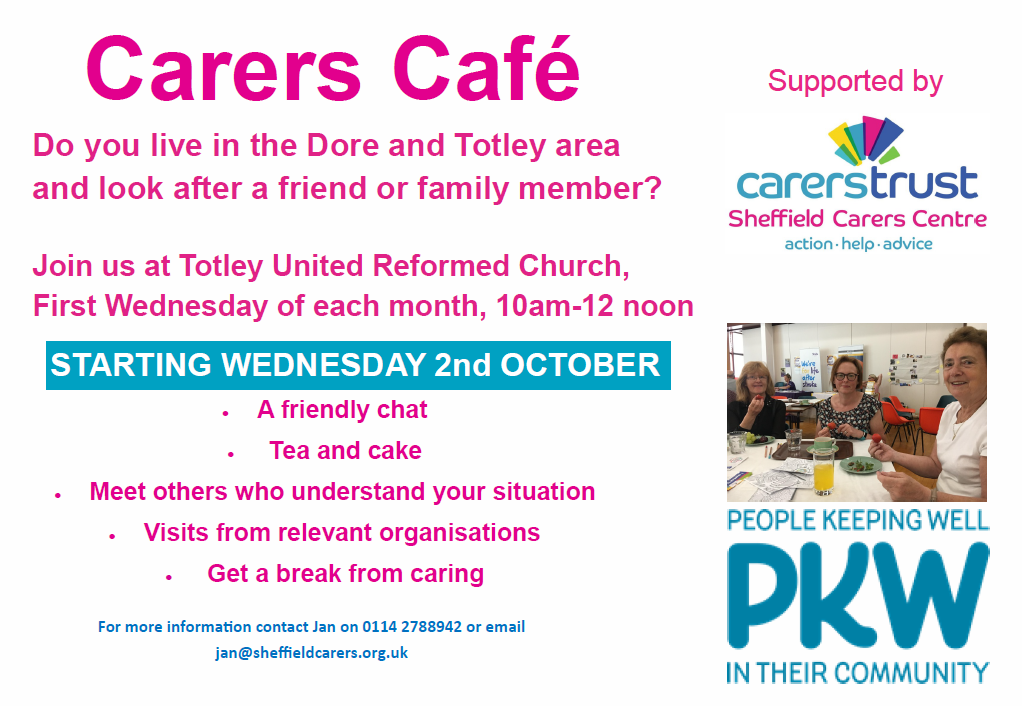 There is a new Carers Cafe now running in Dore and Totley. It runs on the first Wednesday of each month at the Totley united Reformed Chruch from 10am to 12 noon. It's a great opportunity to meet other carers and have a friendly chat and refreshments. There'll be visitors attending the cafes from helpful organisations too.

For more info, contact Jan on 0114 2788942 or email Jan at jan@sheffieldcarers.org.uk
If you'd like to volunteer to help the organisers and to help make Tea and Coffee, please contact Jan or Joanna Glaves.