Corporate & Group Volunteering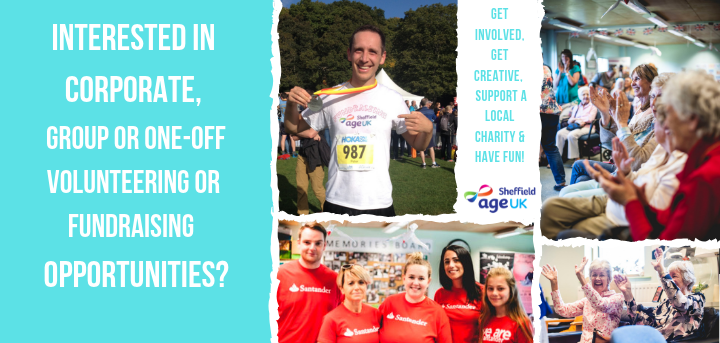 Age UK Sheffield is a local charity that works throughout our city with people over the age of 50. It is estimated that there are 24,000 people aged 65 or over living in poverty in Sheffield. And 12,000 older Sheffielders who are always or often lonely. Our vision, mission and values are dedicated to change that. We provide practical and financial information and advice and we also work with people in their own homes providing all areas of practical support.
Because of our role in the community, we have to be very careful to reference, DBS check and train our volunteers who work one to one in the community. Because of this, it can be a little tricky to incorporate volunteers into our daily schedules at short notice.
However, there are plenty of activities that a group or business can take part in that would be both fun and of enormous help to us! Take a look at the list below and the fundraising pack at the bottom of the page, then, if you think you could help us with any of these activities (or if you and your team come up with any other ideas or suggestions) please do get in touch and let us know. That way we will be able to send you all the info and materials you might need and we can support you to support our charity!
Run a Fundraising Event
Your colleagues/employees could run their own fundraiser to help raise vital funds for our work. How about organising a cake sale, a dress down day or a simple raffle. There's so many things that you team could do – we'd be more than happy to help, so please contact us for more ideas! Call us on (0114) 250 2850 or email: enquiries@ageuksheffield.org.uk
Donation Drive
This is a really easy but incredibly helpful way that you and your office/organisation/ friends can help us. Encourage colleagues to have a declutter and bring any unwanted gifts, clothes or bric-a-brac that they no longer use or need and we can organise to come and collect them from you. This would be especially helpful as we are currently opening our first ever Age UK Sheffield shops, that will raise money specifically for our charity (as opposed to national Age UK Charity shops) which means money raised from your donations will go straight back into providing much needed support and services for older people in Sheffield. We can provide you with designated bins/boxes for the donations to go in and even arrange to come and collect them from your office. We can help you design a cobranded flyer to put up in your offices and email around to your colleagues to let them know about your donation drive. If this is something you'd be interested in, we would love to help so please get in touch!
Display a Collection Tin
Could you display a collection tin in your office, reception area or in your shop? This is a really nice and simple way to show your support and it would help us to collect much needed donations to continue our vital work in Sheffield. To organise this, or ask for more info, please call us on (0114) 250 2850 or email: enquiries@ageuksheffield.org.uk
Organise a Sponsored Walk, Run, Hike or Dance
Organise a Pub Quiz
Host a coffee Morning
Join Our Outdoor Taskforce
Deliver Flyers
Does your Organisation have a Charity of the Year?
Sponsor One of our Events
Donate a Raffle Prize or Service
Host a Company Workshop
Monthly giving
Age UK Sheffield Fundraising pack