100 Accessible Toilets Campaign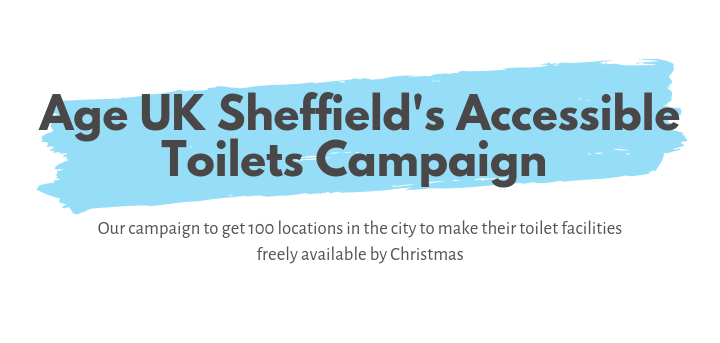 We want to get 100 locations in the city to make their toilet facilities freely available by Christmas
Age UK Sheffield launched a campaign to get 100 locations in the city to make their toilet facilities freely available by Christmas 2019, to those most in danger of getting caught short, such as older people, those living with long-term health conditions, or parents with toddlers.

Only seven city centre venues are signed up to Sheffield BID's LAVS (Lavatory and Ablution Venue Scheme) and we felt that this was nowhere near good enough.

Steve Chu explained that "Sheffield is one of England's largest cities, yet there are only seven city centre premises signed up to the LAVS scheme. It is not acceptable for a city that wants to be Age Friendly, and I am calling for change by the end of the year.

"People are more likely to get out and about, go shopping, and spend money in the local economy, if they know they won't get caught short. This isn't just an older people's issue. Thousands of Sheffielders of all ages are living with long-term health conditions and this is also a vital issue for parents of babies and toddlers."
He added: "I recognise this cannot be a free-for-all, and that businesses can't open their doors to anyone who wants to come in. But where people are genuinely in need of somewhere to go, they should be welcomed."
Some people need to plan their journeys and activities around access to toilets. Some don't even drink when they go out so that they can avoid needing to find a toilet that is suitable for their needs.
Unfortunately, cuts and privatisation have led to the closure of many public toilets across the country.
The BBC reports that UK councils stopped maintaining around 13% of public toilets between 2010 and 2018.
Better access to toilets means that everyone will have better access to the community, the city and all that it has to offer. We think that is definitely something worth fighting for and soemthing that must exist for a community to beage friendly.

We would love as many people to help as possible and you can still help! All you need to do is download and complete the form, then return it to us! You can download the form below, or, for further details about how to get involved and sign up for the scheme, please contact Cally at cally.bowman@ageuksheffield.org.uk or phone Age UK Sheffield on (0114) 250 2850.
View Updated Toilet Map
See the updated map with all of the accessible toilets shown on it across Sheffield.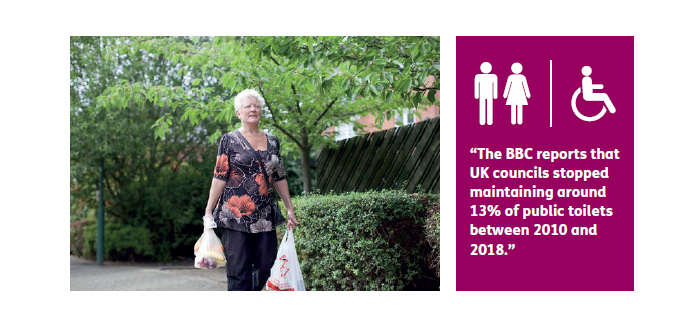 Download the sign up form
Click the link link to download the from in Microsoft Word format
Download the sign up form
Click the link link to download the from in PDF format