Are you looking to learn new skills? Get experience for your CV? Or find a new use for your existing expertise?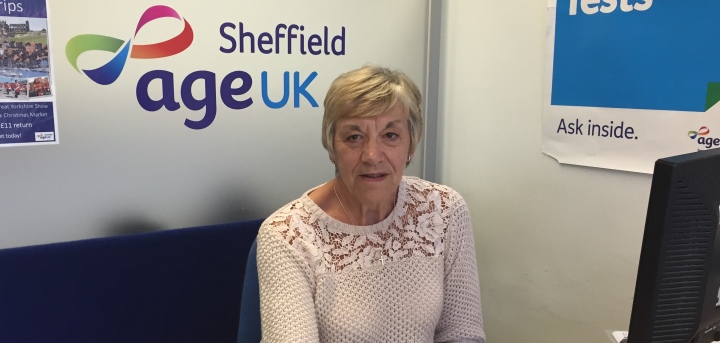 We do great work with over-50s throughout Sheffield – but we can't do it without the support of volunteers like you.
Why volunteer?
Volunteering is a great way to meet new people, learn new skills, and support the work we do in the community.
Who can volunteer?
Almost anyone can be a volunteer. We have a wide range of roles which suit different people and different skills.
How much time do I need to give?
It depends on the volunteer role you are interested in. Some people give an hour a week, other people do more.
If you'd like any further details, just call us on (0114) 250 2850 or e-mail: virginia.lowes@ageuksheffield.org.uk
Please note that, because we work with some vulnerable people, you should allow time for Diclosure and Barring Service checks and an induction programme before we will allow you to work with older people.
Take a look at some of our volunteer roles below and, if any interest you, just complete our application form. Or if there is something else you'd like to do for us, please get in touch.
Customer Service Volunteer
Are you sociable and able to deal with a wide range of people? Join us as a volunteer in our Age UK Information and Advice service. You will learn new skills, be part of a supportive team and have the satisfaction of helping many vulnerable people.
Befriender
Could you regularly visit or telephone an older person at risk of social isolation? Could you take someone out for a coffee or for a short walk? You could make a huge difference to someone who is experiencing loneliness.
Fundraiser
Could you help us raise much needed funds? Could you run a pub quiz? Host a coffee morning? Join a fun run or help us out at one of our fundraising events?
Collection Tin Volunteer
Could you drop off and collect collection tins for Age UK Sheffield? You could do this on foot, bike, car or public transport. This would be in different locations around the city such as shops, cafes and pharmacies. You will be supporting the important work we do with older people. You will be active and out and about doing something very important for a charity that continues to support local older people. You could meet a range of interesting people and develop your social skills and confidence. You need to be able to find your way to specific places across Sheffield and speak to whoever has been holding on to the collection tin for us.
Volunteer Veteran
We are looking for volunteers with an interest in the military or, who may themselves, be veterans. The role is flexible and could involve some home visits, telephone support and encouraging individuals to strengthen their social network.
Promotions Volunteer
Do you enjoy speaking to older people on a one to one basis? Do you have the social skills to promote the Age UK services, such as Information and Advice or Befriending, that make a difference to the lives of vulnerable older people? You would represent Age UK at various stalls and locations city wide chatting and distributing our information leaflets.
Volunteer application form