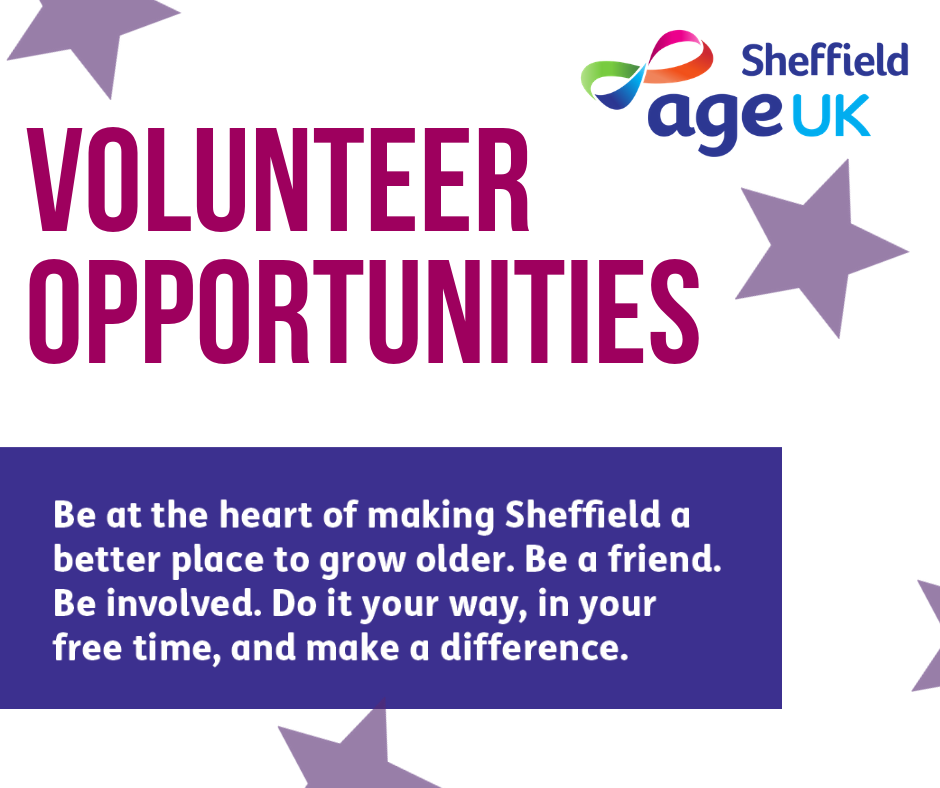 Could you volunteer for Age UK Sheffield?
Age UK Sheffield relies on volunteers of all ages and from all walks of life to help us in our vital work.
Could you join us?

Find out about our wide variety of volunteering roles and opportunities below.
We do some amazing work with over-50s throughout Sheffield thanks to the fantastic support of volunteers like you.
Why volunteer?
Volunteering is a great way to meet new people, learn new skills, and support the work we do in our Sheffield community.
Who can volunteer?
Almost anyone can be a volunteer. We have a wide range of roles which suit different people and different skills.
How much time do I need to give?
It depends on the volunteer role you are interested in. Some people give an hour a week, other people do more.
Please note that, because we work with some vulnerable people, you should allow time for Diclosure and Barring Service checks and an induction programme before we will allow you to work with older people.
We've listed our variety of volunteer roles below. If you're interested in volunteering with us, we'd love to hear from you! If you have any questions or need any further details at all, just call us on (0114) 250 2850 or e-mail: enquiries@ageuksheffield.org.uk

To apply for any of the roles, simply download the application form at the bottom of this page. Fill it in and return it to us as instructed on the form, then we'll get in touch with you! If you'd like to volunteer but none of the roles below suit you, you're still welcome to get in touch to discuss volunteering!
Dementia Cafe Volunteers
Porter Valley in Touch Volunteer
Donation Support Volunteer (Position currently closed)
Sporting Chatter Assistant Group Leader
Wellbeing Centre Activity Volunteer
Age UK Sheffield Shops Volunteer
Reception Volunteer (Position currently closed)
Data Input Volunteer (Position currently closed)
Fundraiser
Collection Tin Volunteer
Promotions Volunteer
In Touch Volunteer/Befriender
Digital Team Volunteer
Volunteer application form
Please download and complete the application form. Then return it to us via email or post. If you need support accessing the form please email us enquiries@ageuksheffield.org.uk
Volunteer Interviews
Interested in finding out more about what volunteering for Age UK Sheffield is like? Check out some of our recent interviews with three of our volunteers as part of Volunteer Week 2019