Respite service's first birthday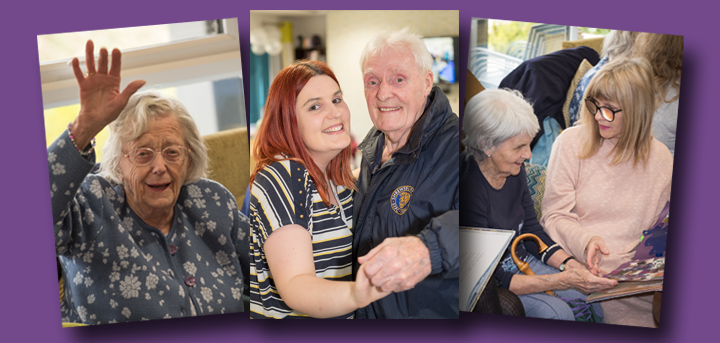 Published on 25 April 2019 12:01 PM
Afternoon tea delighted those gathered earlier this month to celebrate the first birthday of Age UK Shropshire Telford & Wrekin's dementia respite service at Withywood in Shrewsbury.
The bright, spacious lounge was filled with easy chatter, singing and laughter as older people with dementia and their families came together for the milestone event.
Emma Wilde, Senior Day Services Coordinator of Age UK Shropshire Telford & Wrekin, gave thanks to everyone who made the first year such a success: 'It's been a special year, full of wonderful people doing amazing things. We've received a lot of support from a whole variety of people and had a lot of fun along the way, creating so many wonderful memories.'
Family members at the birthday party were full of praise for the respite service, one daughter said: 'We've tried lots of different services for mum and this one is by far the best. Each week everything is well planned and the team put such a lot of thought and care into everything they do.'
Heather Osborne, Chief Executive of Age UK Shropshire Telford & Wrekin, said: 'The people gathered for the birthday celebration are testament to the success of the service. What a positive atmosphere! I'm delighted and heartened by their feedback and kind words.'
She continued: 'As our local population ages, the number of carers of people living with dementia, will only continue to grow. Our respite service provides an opportunity for them to have some time to themselves, knowing that their loved one has some social interaction, can perhaps pursue a hobby or interest and is remaining active, whilst in the safe hands of a fully trained, experienced and caring team. The Withywood facility is a lovely environment to be in and is an ideal place to offer respite once a week to families living with dementia.'
Age UK Shropshire Telford & Wrekin's weekly dementia respite service at Withywood is run by qualified carers, supported by experienced volunteers and our own Dementia Support Workers.
For more information and to book a visit to look around Withywood with a member of our Dementia Support Team, call us on 01743 233 123 or email enquiries@ageukstw.org.uk
Further information
Related pages on our website