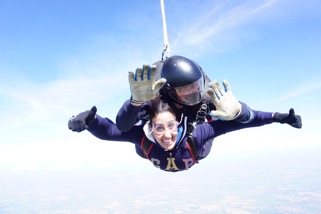 Below are some fantastic individuals that have raised money to support older people in Solihull. Keep an eye out as we have more to follow!
We appreciate all the support.
2021 - Parachute jump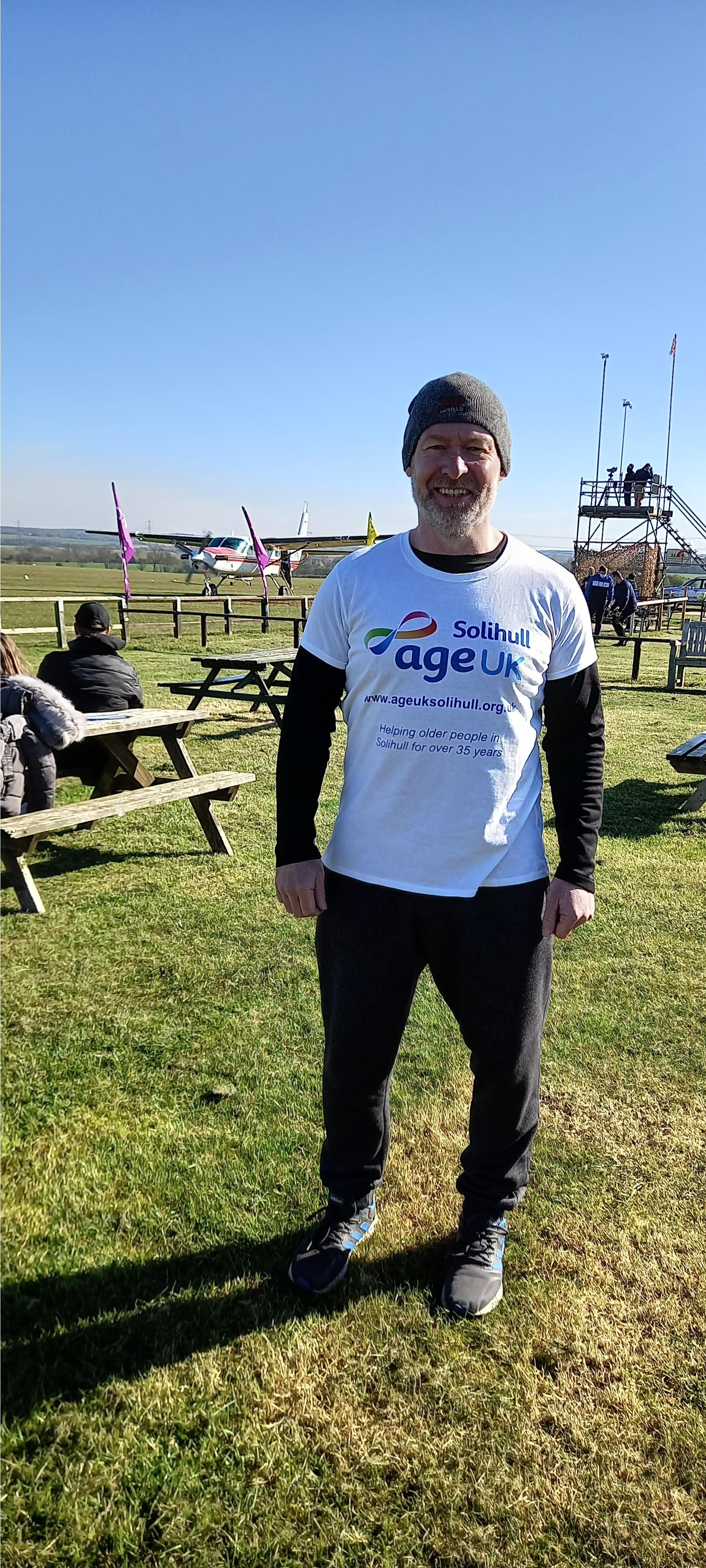 Jas Rohel jumped out of a plane on Saturday 17 April 2021 and raised £1,762!
Ian Lewis (right) also took on the challenge on Saturday 17 April, raising 374.69 so far.
2021 - Captain Tom 100 Challenge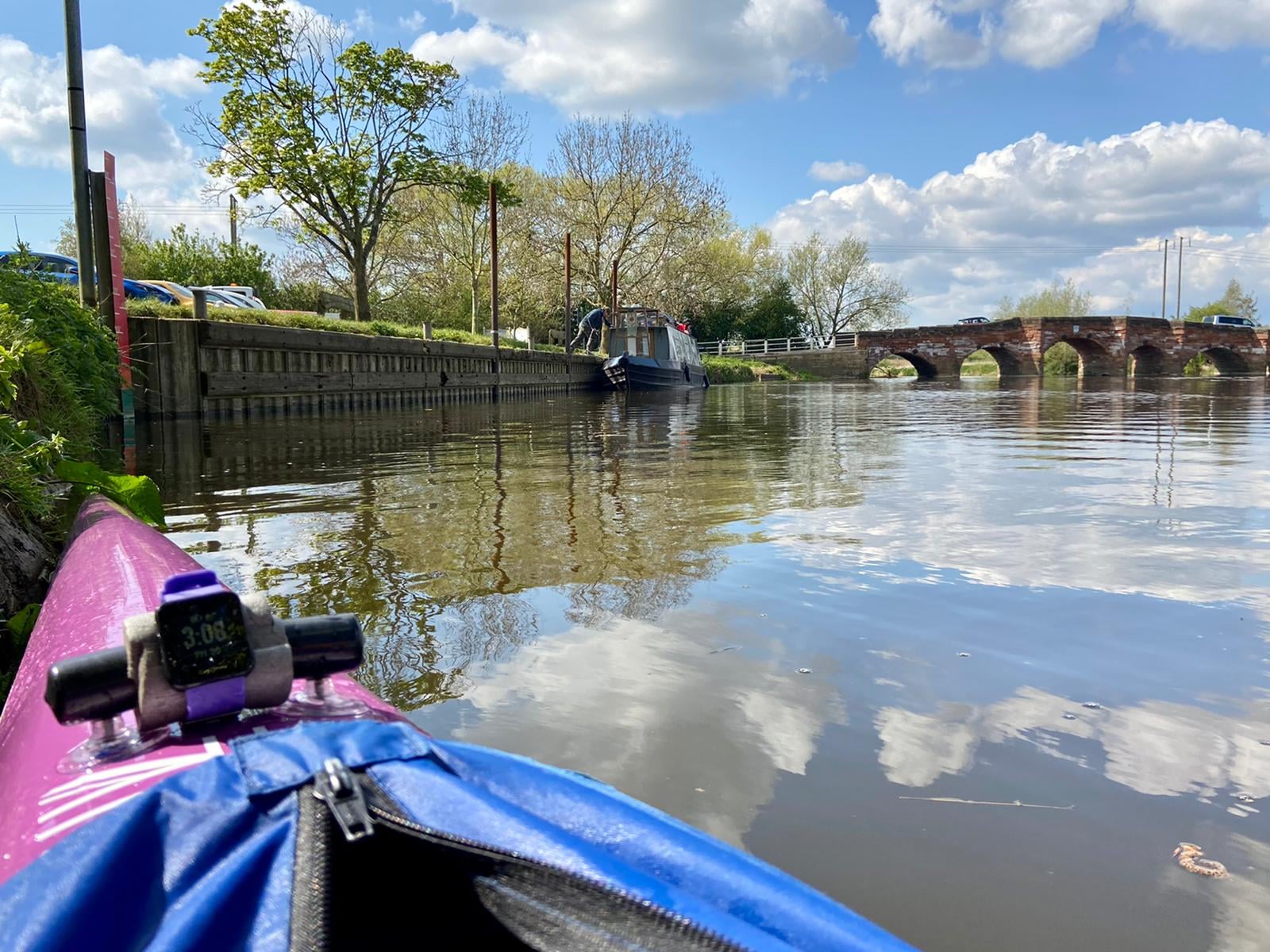 Solihull Healthcare Partnership joined team Age UK Solihull for the Captain Tom 100 Challenge, which took place on what would have been Captain Sir Tom Moore's 101st birthday. The SHP team took on a range of 100-themed challenges, from 100 minutes paddling on the river (right) to spotting 100 deer, and eating 100 squares of chocolate. The team raised £132 to help us provide our services for older and vulnerable people in Solihull.
2020 - Fundraising during the Covid-19 pandemic
We had to cancel several of our planned fundraising activities during 2020, but our dedicated supporters managed to come up with some fantastic virtual fundraising ideas.
Matthew Smith (pictured) ran the distance from Land's End to John O'Groats (1704km) in his back garden. He raised £1,160 and was interviewed on Solihull Radio and BBC Radio WM. Read more about his challenge.
Edwardian FC (Rugby Union) virtually cycled, ran and walked the equivalent distance from Murrayfield in Edinburgh, to Stadio Olympic in Rome, via each national and top flight professional Rugby stadium in the United Kingdom, Ireland, France and Italy. This was over 4,500 miles! The team, who also provided fantastic volunteer support with our emergency food bank, raised a total of £3,760, which was shared between us, the NHS and the rugby club itself.
Five year old Benji McComiskey took part in the 2.6 Challenge by dancing non stop for 26 minutes in his living room. Benji raised £1,163 in total, and appeared on BBC Radio WM twice as their youngest fundraiser.
Our Fundraising Manager, Lorraine Hart, and her husband, John, took part in My Prudential Ride London on Sunday 16 August. They cycled 19 miles together in the Cotswolds, raising £220.
2019 - Great Birmingham Run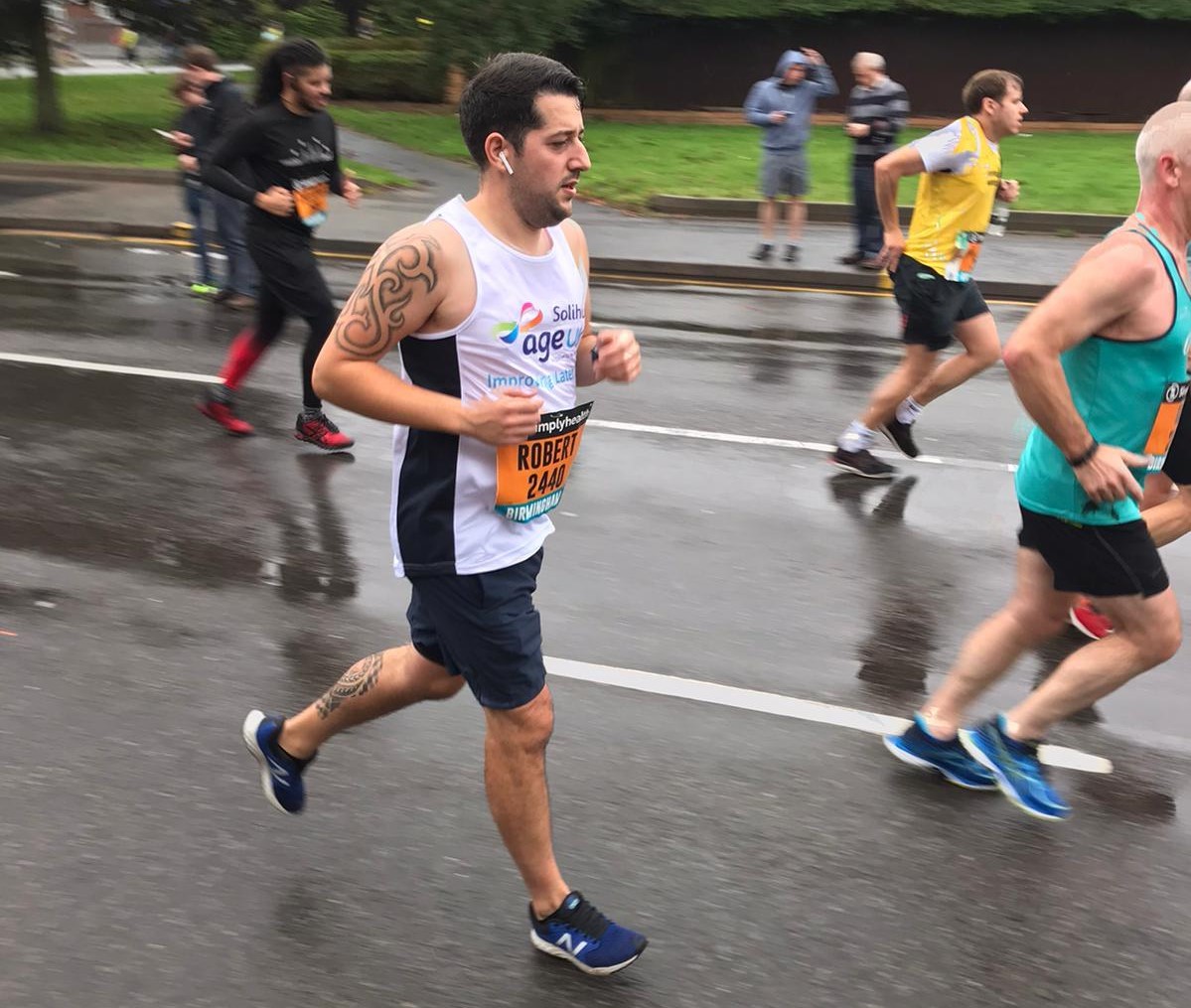 The following people ran the Great Birmingham Run on Sunday 13 October 2019, raising over £1,414 in total.
Robert Tonks (GoodGym group trainer, photographed right)
Chris Plester (Goodgym member)
Nick Salter (Winter Warmth Volunteer)
Ann-Marie Aston (from the Wilkes Partnership, who have previously supported us in several ways)
Rory Dunne (family member of Age UK Solihull's Fundraising Officer)
Joanna Jacob (another family member of our Fundraising Officer) also signed up for the run but unfortunately injured her ankle so was unable to run. However, she ran the Victoria Park half marathon when her ankle had recovered, and her sponsors were happy for us to keep their donations.
Read about the Great Birmingham Run 2019, or find out how to enter the Great Birmingham Run 2020.
2019 - Parachute Jump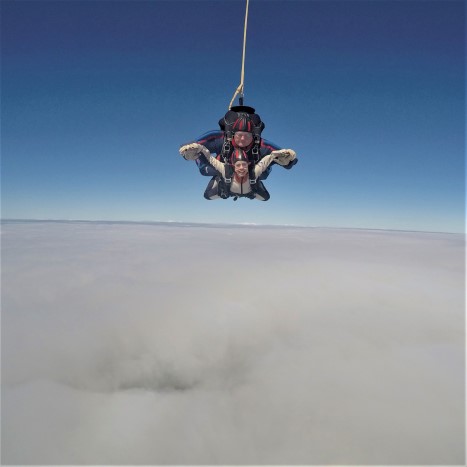 Becky Jacob, Digital Marketing and Fundraising Officer, took one for the Fundraising team and raised £645 (plus Gift Aid) with her jump on Sunday 5 May 2019 (pictured right).
Find out how you can take on a parachute jump.
2019 - Yorkshire Three Peaks Challenge
We are Sydney Mitchell's Charity of the Year, and in July 2019, four colleagues from the firm completed the Yorkshire Three Peaks Challenge, calling themselves the 'Peaky Climbers'. They raised over £1,500, which was split between us and Sydney Mitchell's other chosen charity, The Buddy Bag Foundation.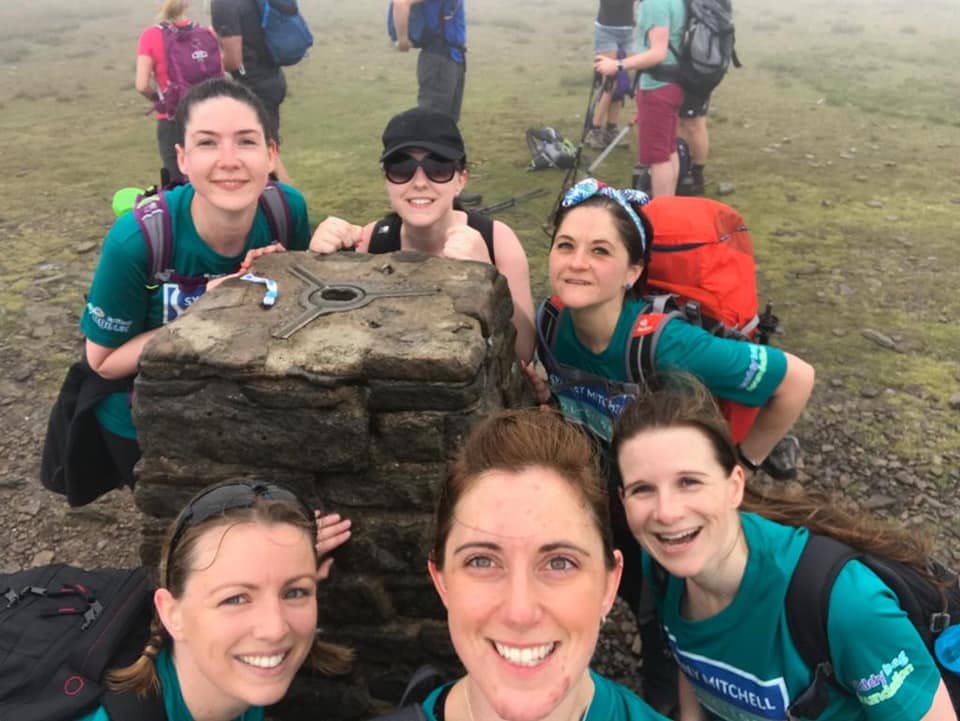 2018 - Parachute Jump
Mike and Dan Smith took on a daring tandem parachute jump on Saturday 4 August 2018 in aid of our charity. They helped to raise over £900! An amazing amount that will go back into our local services.
2017 - Great Birmingham Run
Six people ran this half marathon for us on Sunday 15 October 2017.
David (Age UK Solihull insurance manager) and his wife, Sue Johnson
Clare Johnson (Age UK Solihull fundraising volunteer photographed right)
Alison Giblin
Glenn Andrews
Tanya Griffiths
Fiona Kellond
2017 - Parachute Jump
Fiz Aziz, Age UK Solihull staff member - Sunday 3 September 2017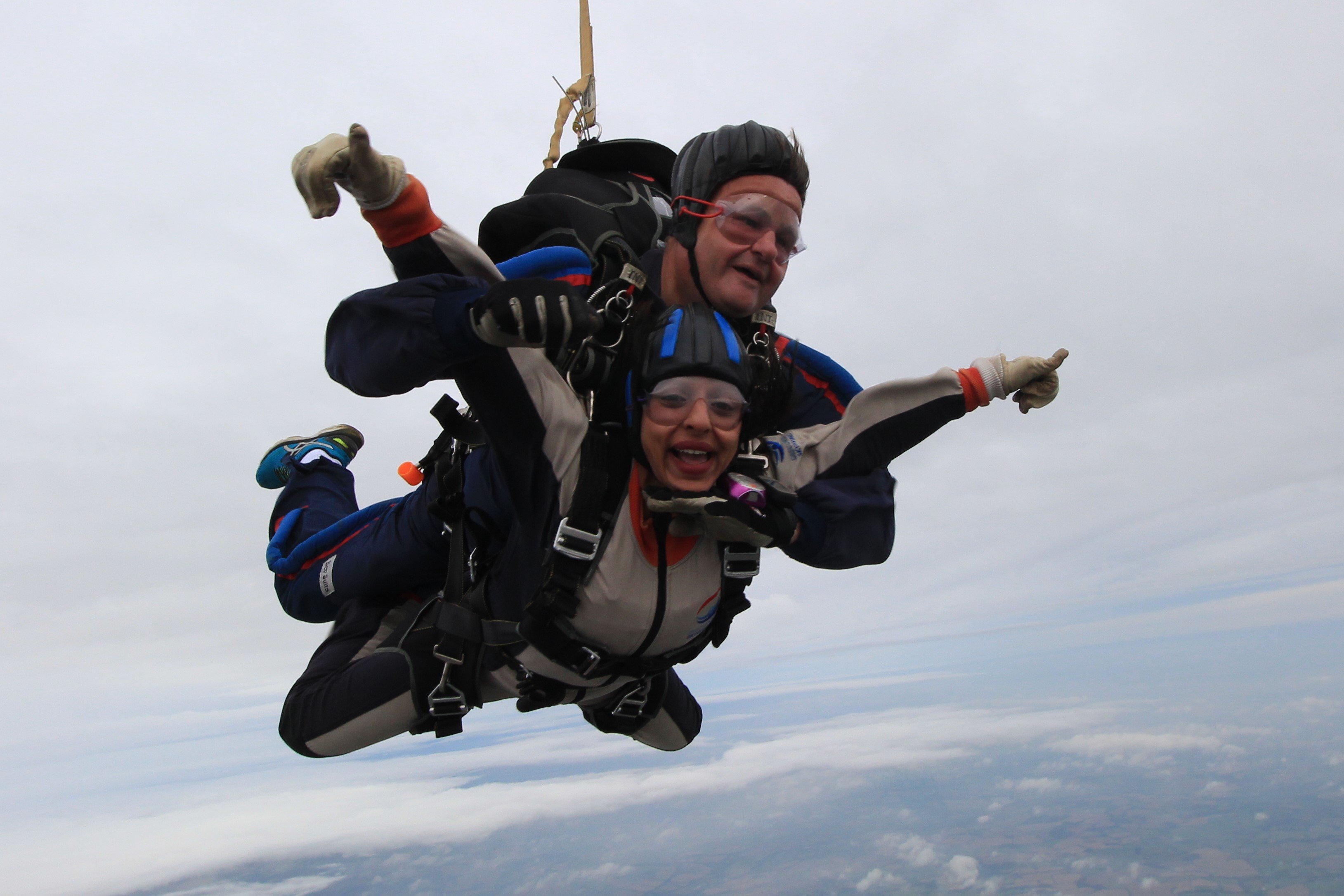 Fiz managed to raise well over £1,000 for us!
Legal and General Home Finance Team - Saturday 8 July 2017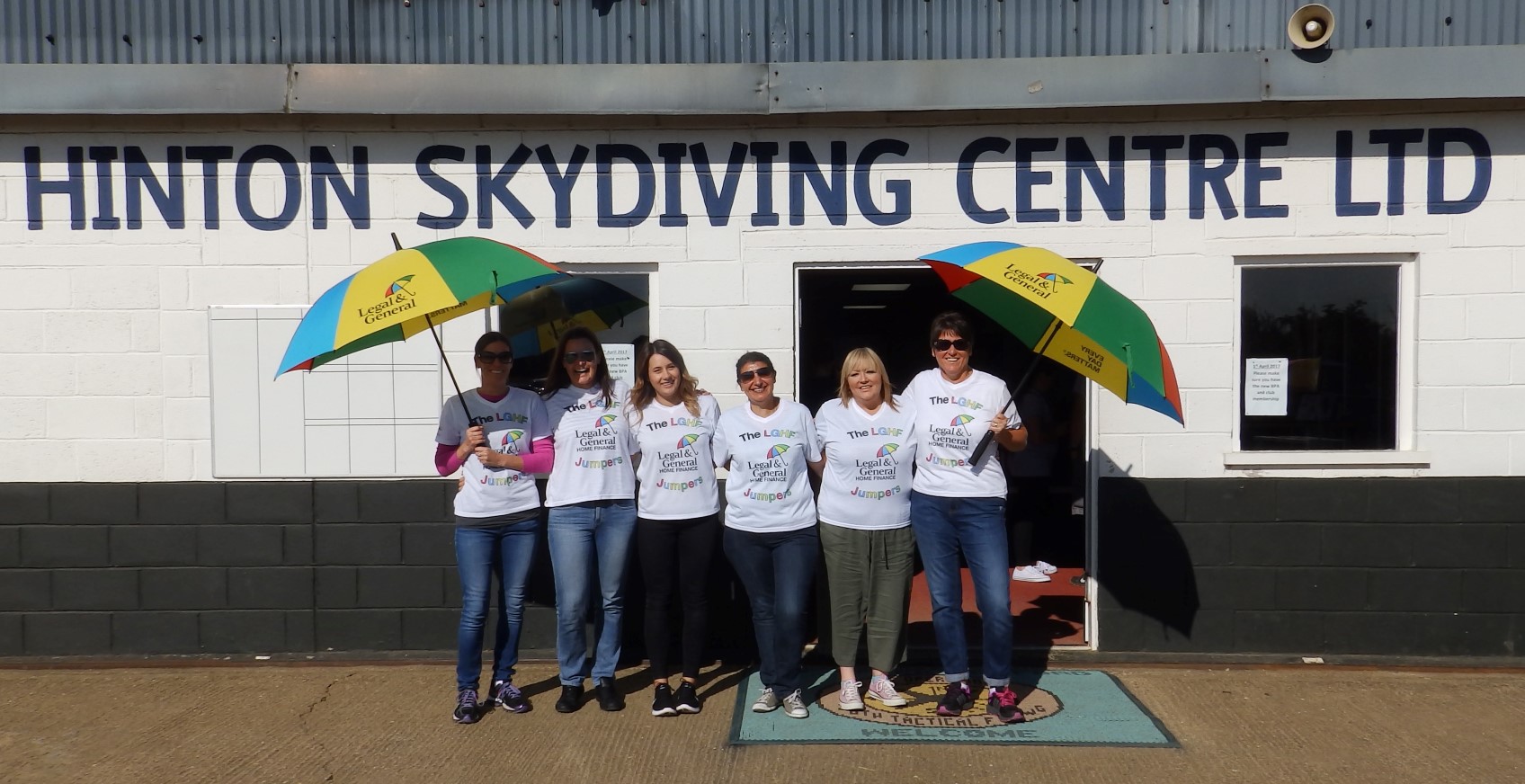 Michelle D
Deborah B
Harriet M
Janine W
Anastasia P
Tina R
6 members of staff (pictured right) from Legal and General Home Finance team jumped out of a plane in aid of our charity and helped to raise £6,121!
We would like to the thank our brave fundraisers who took on a tandem parachute jump on Saturday 11 March and helping to raise over £4,500.
Lorraine Hart, Fundraising Manager (pictured right), took on this brave challenge and helped to raise £1,205.
Bill Farnsworth, Age UK Solihull Volunteer had a great time and said he'd love to do it again! He helped to raise £1,765!
Sam Mitton helped to raise £510.
Sally Tomlinson, Age UK Solihull Trustee and her daughter, Naomi, helped to raise £1,535.
2016 - Parachute Jump
Age UK Solihull would like to thank the following fundraisers for taking part in a daring tandem parachute jump from 13,000 feet!
Vicki Little raised £105 in October 2016.
Ken Wareham helped to raise £645 in October 2016
Peter Johnson was our oldest fundraiser to do a parachute jump and raised £150 in October 2016.
Lucy White raised £355 in October 2016.
John Alldrick and Ann Alldrick (from Best of Solihull) raised a wonderful £705 in October 2016.
Liz Webb - raised £1,244.50 for us in June 2016 when she took on a tandem parachute jump at Hinton Airfield in Northamptonshire (pictured right).
Inspired?
If you're feeling inspired after reading about the incredible amounts our supporters have raised for us in the past, click below to find out how you can take on one of our personal challenges while raising funds to help us to continue with our work to improve the lives of older people in Solihull.
You could do a parachute jump or run of your own, or see if there's another challenge that takes your fancy.