Local Groups and Associations
We have been lucky enough to receive support from a number of local groups and associations in Solihull. They are a vital part of our community fundraising programme and help us to reach out to more people in our local area.
Age UK Solihull would be delighted if your local group would like to fundraise for us, or choose us as your charity of the year.

Knowle and Dorridge Lions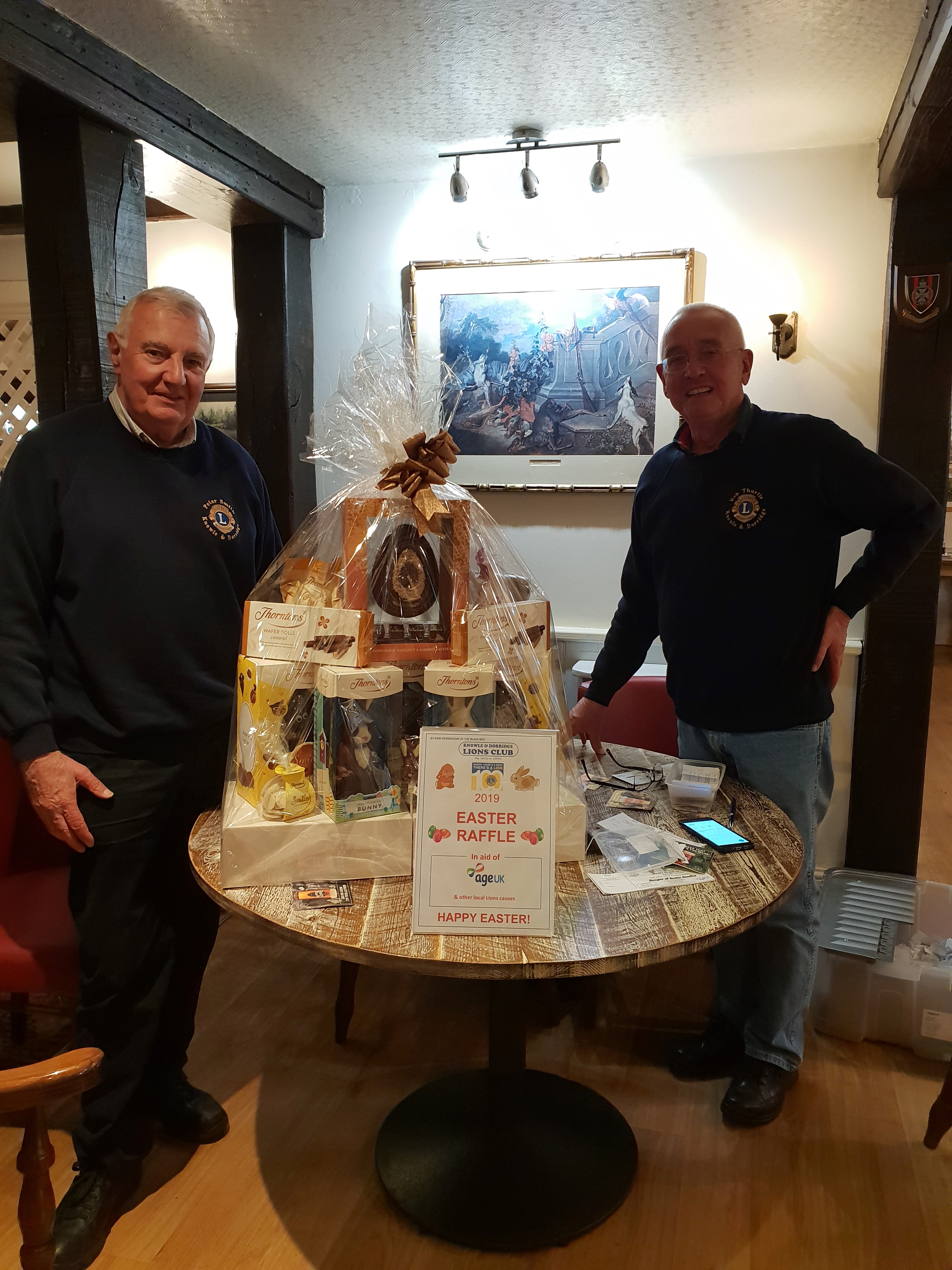 The Knowle & Dorridge Lions chose to support us with their Easter Egg Raffles in 2019 and 2022. Volunteers from the Lions club and from Age UK Solihull sold raffle tickets at The Black Boy pub in Knowle over two weeks, raising a total of £1,399.02 in 2019 and £12,000 in 2022, with half the total coming to Age UK Solihull each time.
One member of the Lions, Nick Salter, is a Winter Warmth Advice Volunteer, and he is also taking part in the Great Birmingham Run for us this year (2019).
We were also one of three nominated charities for the Knowle Fun Run on 12 May 2013. It was the Knowle & Dorridge Lions' 30th Anniversary as well as ours so this was an extra special year for both associations. The Fun Run was a huge success and altogether £40,000 was raised with £10,000 going to Age UK Solihull. This money has gone directly back into our services to help the older people of Solihull.
The Rotary Club of Knowle and Dorridge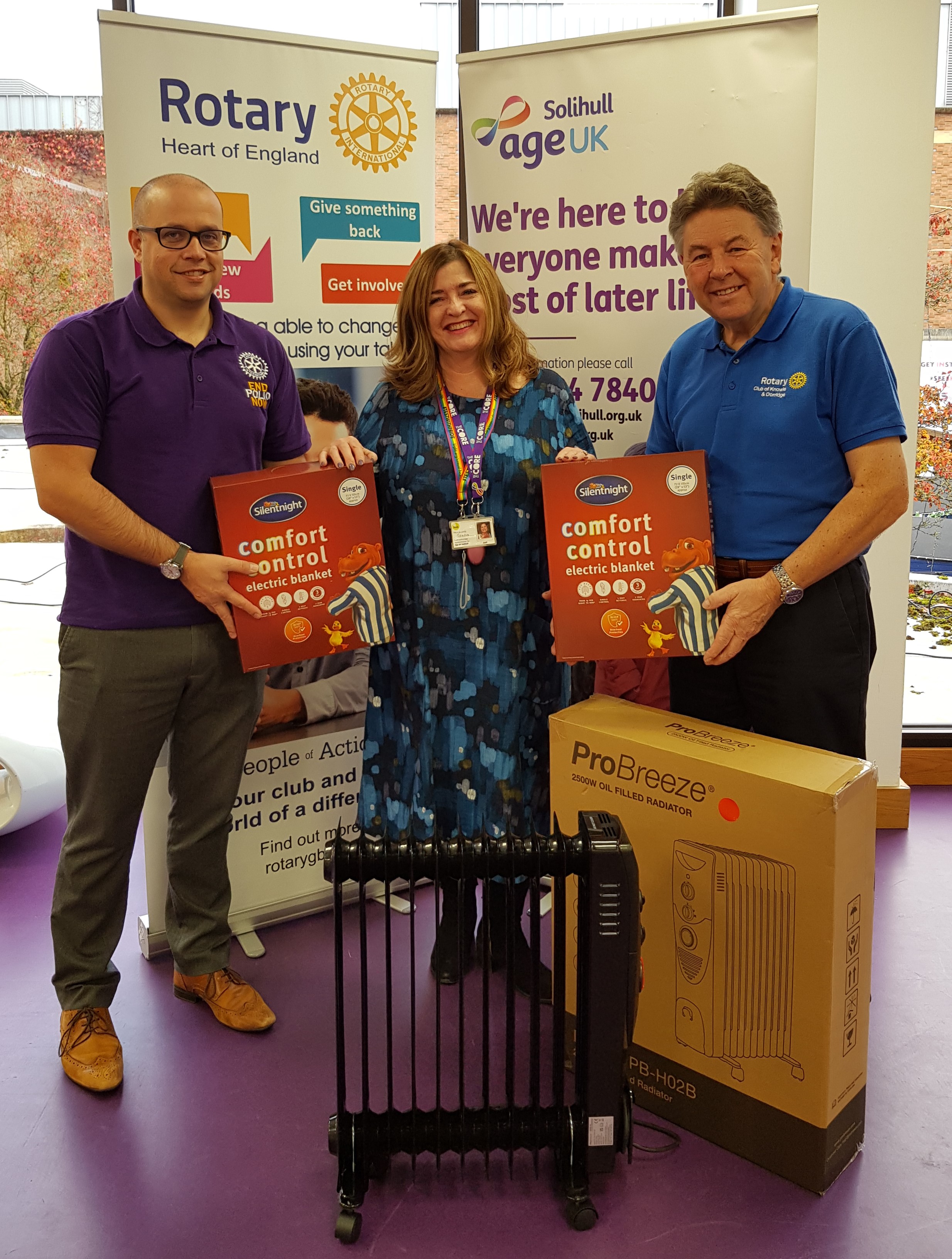 The Rotary Club of Knowle & Dorridge has provided regular support to Age UK Solihull over the years.
In 2019/20 the club sponsored our Postural Stability Instruction programme's water bottles, and they also paid for our Thursday Friends Lunch Club's Christmas lunch in 2019.
During 2020, the club made three donations to help with buying food items, delivering Christmas gifts and cards, and generally keeping the charity running through the pandemic.
In 2021 the club bought some heaters and electric blankets for our Winter Warmth service (pictured), and also hosted a Golf Day, which raised £2,000 for Age UK Solihull, taking the total donated by the club since 2019 to £4,300!
Bentley Heath Choir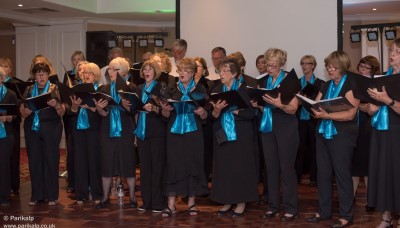 'Sing Bentley Heath!' choir are supporting Age UK Solihull in 2016. They came along to our Interactive Quiz Night in June 2016 and won!
On 7 July 2017 they sang at our showcase event of the year, our 'Hooray for Hollywood!' Charity Ball at St Johns Hotel.
De Montfort Lodge - Henley in Arden
The Lodge members ran a raffle and the proceeds were donated to Age UK Solihull. During 2015 and 2017, they managed to raise over £200.