Big Red Bag Scheme
Published on 12 February 2018 03:45 PM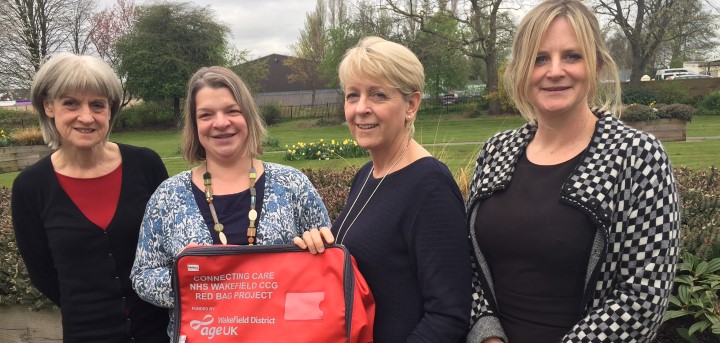 Age UK Wakefield District in partnership with Wakefield Clinical Commissioning Group celebrates the arrival of the Red Bag Scheme as part of the NHS Care Home Vanguard.
A Red Bag Scheme, funded by Age UK Wakefield District, has been developed in partnership with NHS Wakefield Clinical Commissioning Group, Yorkshire Ambulance Service and Mid Yorkshire Hospitals NHS Trust and will launch in pilot Care Homes from Monday, 1 May 2017.
The bag includes transfer documents, consent to share information, data about the person's general health and medical history and their personal items, e.g. spectacles. The information will allow all clinical staff to make informed and quick clinical decisions and support efficient handovers with ambulance crews. The Red Bags will remain with the patient during their stay at the hospital, ensuring personal information and items always move with them, during any transfers.
Paula Bee Chief Officer of Age UK Wakefield District said "Improving efficiencies and removing unnecessary barriers to good communication are satisfying outcomes for everyone involved. We are especially privileged to be included in this project because it delivers straight to heart of our core mission by directly improving the well-being of people in later life at a particularly difficult time."
The Red Bag Scheme has been trialled in the Sutton Care Home Vanguard and resulted in a two day reduction in hospital bed days, allowing care home residents to return to the comfort of their own living accommodation quickly. The scheme will be piloted in Wakefield District in 15 of the homes currently participating in the Wakefield District NHS Vanguard New Models of Care for Care Homes programme.
Contact us
If you would like to talk to a member of our team about any of our services, activities or volunteering