Our Board of Trustees
Published on 10 August 2020 04:19 PM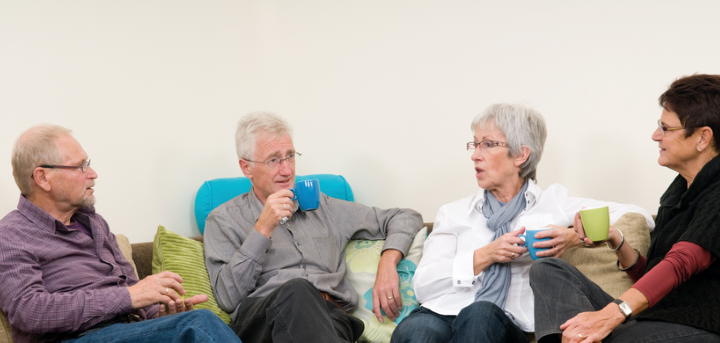 Our Board of Trustees play a vital role in shaping Age UK Wakefield District into the forward thinking, proactive reliable local charity we proudly serve.
Here are few words from a selection of Age UK Wakefield District's Board of Trustees...
Bill Barker - Chair of Trustees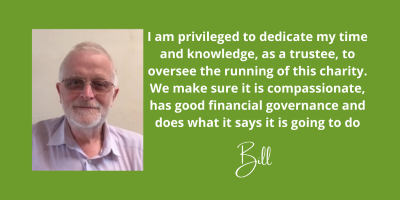 Andrea Woofindin - Treasurer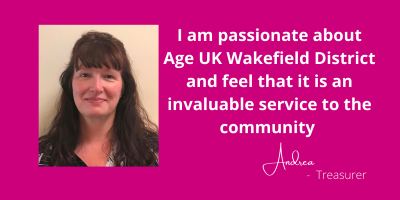 Jo Beaumont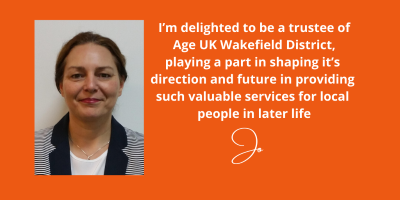 John Rouse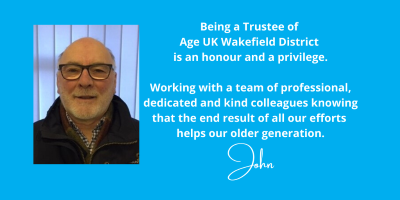 And we welcome to our Board of Trustees, our newest member - Dr Richard Sloan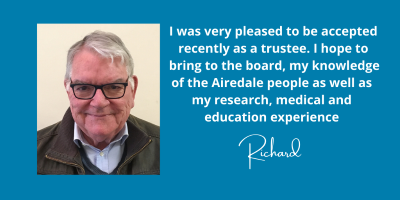 Richard has kindly given us his thoughts on Loneliness and Social Isolation to share with you all.
Am I socially isolated and/or lonely?
I am 74 and have lived alone since my wife died over 5 years ago. We were not blessed with children. I am an only child but had 3 half siblings and therefore have an extended family. Of course, I was lost in bereavement after my wife's death. However, for the recent past years I have not felt at all lonely and have been OK with self imposed strict social isolation for the first phase of the pandemic lockdown. I did not meet anyone face to face for about 8 weeks, apart from the food and Amazon deliverers.
I should feel lonely and socially isolated but I don't.
I have been reflecting on why I feel a very fortunate person and am perfectly content with my life as it is now. This reflection has allowed me to understand people I know who do feel lonely and/or socially isolated. I worked in Airedale, Castleford as a GP and have seen deprivation, loneliness, poverty, social isolation, etc. at its rawest. The general practice where I worked deals with the most deprived people in the Wakefield district and always has.
I had a middle class childhood, good education and a happy marriage. I am financially comfortable and always have been. I have a large garden and can exercise there. I enjoy driving, travel, classical music, the arts, watching the TV, reading, singing in a choir, voluntary work, writing and cooking I am a practicing Roman Catholic . I have lots of friends.
My relationship with each of the list above is enhanced by my education but also my IT skills and familiarity with the internet. I know how it must feel to have none of that list or maybe only the television.
I use the social media: Facebook, Twitter and LinkedIn. Through these I am in touch with 16 of my relations who live all over the UK and abroad as well as many friends, ex patients and colleagues.
I really believe there is a great need for people feeling lonely or socially isolated being helped to use the internet. The internet opens a world of friendships, knowledge, entertainment, humour and peace. Use of the internet will be part of the "new normal". In the not too distant future, the choice of a care home will be like choosing a hotel. I would not use a hotel that does not have free internet connection for all.
I know several people older than I who have learned how to use emails and Facebook.
Age UK WD will be undertaking a project in helping clients familiarize with the internet . I am looking forward to hearing how this project develops.
Dr Richard Sloan - Trustee
Age UK Wakefield District
Trustee / Director - Voluntary role
Age UK Wakefield District is a dynamic local charity. Over the past ten years we have developed a portfolio of services and activities aiming to help make later life an enjoyable and fulfilling experience for people over 50.
We currently have vacancies on our Board of Trustees and are looking to appoint individuals to the Board who are interested in working with others to improve the lives of older people in the District of Wakefield.