Our Travelling Volunteer story
Published on 02 June 2020 02:53 PM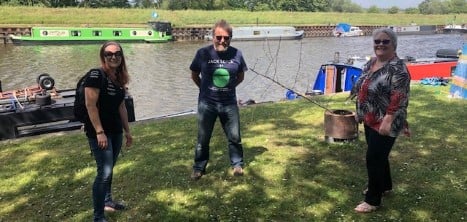 Here is a story I would like to share with you to end the week on...
8 weeks ago when we went into lockdown I received an email from a gentleman named Graeme Burn, he explained that he was travelling on his Narrow boat down to London, and had moored up at Lock Lane one night, and the following morning he and the rest of the boaters on the canal were told that they would have to stay where they were moored for the lockdown period.
He emailed "Volunteering @" and asked if there was anything he could do as a volunteer whilst he was stuck in Castleford, he told me he had a bicycle, and would be happy to deliver shopping around the town to people on his bike .
I received his email on the very day that we were starting the Bluebell shops, and I remember thinking to myself, "Well I cannot see how useful this gent will be on a push bike, he won't be able to carry much shopping, but he would be handy for prescription pick ups"
I had a couple of telephone conversations/face time with him, and emailed paperwork back and forth, he had a DBS on the Automatic Update System, and his two references came back within 48 hours, I made him up a lanyard, but didn't think much would come of him cycling around Castleford.
How wrong was I? Graeme has done 60 shops for us, in the 8 weeks that he has been here, and I have had nothing but wonderful feedback from clients that he has shopped for.
He took to the role so quickly and he joked about being a tough Northerner and told me how many bags and satchels were attached to his bike, "don't be frightened to give me a proper shop list" he would say. He told us that he has managed to lose 1 stone in weight through cycling for us over 8 weeks.
Canal restrictions are lifting and sadly Graeme did his last shop with us today, he is setting off on his way to London Sunday morning; he invited Brenda and I to go and meet him before he left, and I am so thankful that we did that today.
What an absolute diamond of a gent, one of the kindest friendliest, most genuine people I have ever come across. We took some photos (socially distancing of course) and I am super pleased to say that I have convinced Graeme to stay on as a telephone befriender. I was totally blown away when he presented Brenda and I with a box of Chocolates and this wonderful card which I hope you can read. He joked to me that he looked like Tom Hanks from the film Castaway.
Meeting Graeme this afternoon has just topped off this week for me, we had a lovely walk up and down the canal, which gave us a welcome break from sitting in front of our computers.
It's amazing the hidden treasures that you come across in life. Graeme has made me smile every day on the Bluebell service, with his daft texts and emails, he told me he has met some fantastic people whilst out shopping, and so grateful of the opportunity we offered him.
A lovely positive story from a bizarre year, and another one for me to put in my memory box.
I just can't stop smiling this afternoon.