The Big Knit 2020/2021
Published on 23 June 2020 02:51 PM
The Big Knit Campaign is here again in 2020.
If you have ever seen innocent smoothies with funny little knitted hats on them – this is through The Big Knit, a joint campaign between Age UK and innocent drinks to help vulnerable older people. For each hat knitted innocent drinks will donate 25p.
Age UK Wakefield District would like to invite you to get involved and get knitting for the Big Knit 2020/2021 Campaign, helping to raise money to support older people across the Wakefield District.
If you find you have more time on your hands during this period of Covid-19 then perhaps taking part in the Big Knit will help – as well as giving you the chance to raise funds for Age UK Wakefield District!
We have lots of different knitting patterns, to make taking part in the Big Knit really easy and fun. To get you started we have some basic knitting patterns.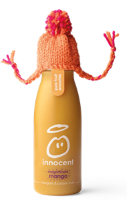 If you are more experienced and adventurous We also have some alternative patterns; from dinosaurs to unicorns!
The halfway deadline is:
Wednesday, 21 October 2020
but as we don't know when the Coronavirus crisis will be over please don't drop your hats off at the office.
Instead, please do get in touch with us nearer the October halfway deadline and we will be able to advise when your hats can be received.
The final deadline for knitted hats is Summer 2021 (next year - the exact date to be confirmed).
If you have any questions, please do not hesitate to contact Kim Hartley on 01977 552114 or email kimhartley@ageukwd.org.uk