Update from our Hospital Transport Support Service
Published on 23 November 2020 01:06 PM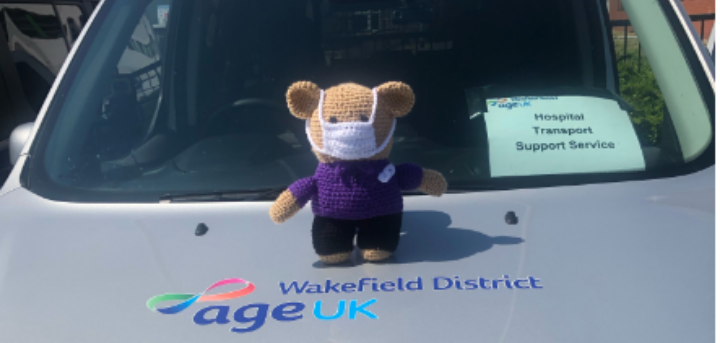 An update on our amazing 'Hospital Transport Support Service' who provide supported transport for patients aged 60 and over who have been discharged from Pinderfields or Pontefract Hospital.
Coming home from hospital can be a difficult adjustment. We are here to help you, your carers and your family through this transition.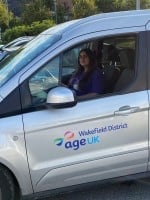 This is a free service offered to those being discharged from hospital, provided that you are medically fit and have been identified as eligible by an NHS staff member, we can offer the following support;
Transportation for you and your belongings directly home from the Ward
Have a trained, Age UK Wakefield District Transport Support Worker escort you throughout the journey until you are safe, secure and comfortable in your home
Provide any support required for unexpected emergency issues such as faulty locks, heating not working etc.
Offer to make a hot drink or simple meal, to help you settle in
Carry out a shop to ensure you have the essentials to last at least 48 hours
Link in with other temporary/ongoing support that could make life easier, especially whilst transitioning from your stay in hospital to life at home
Provide information on our other services and leave you with a well-being pack
With thanks to NHS England, extra support is available during the pandemic, over the phone or as a home visit. From a little companionship, support with shopping, or help around the house… anything we can do to help maintain your independence and reduce anxieties in these difficult times.
A referral is required, please request this from the Hospital Nursing Staff who will check your eligibility.
The Hospital Transport Support Service is a CQC registered service operating. seven days a week, 365 days a year with a dedicated 0800 number for incoming referrals
Over the years we've received countless compliments and praise from not only clients but also hospital staff members, the social work teams and care home staff...
"You do such an amazing job"
"These extended boundaries are so helpful"
"You're so quick to respond, it's like I call, put the phone down, and the next minute, you're there!"
"Nothing is ever too much trouble for you guys"
"What time does the service finish? (23:00) That's fantastic, it's great to have transport available so late into the evening"
"I always ask for Age UK Hospital to Home, it's a great service with such friendly and caring staff, they'll even come in and make you a cup of tea"
More information on our Hospital Transport Support Service
Watch out...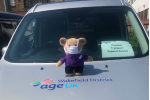 Our colleague, Sameeah has a little helper, look out for Bear if you get taken home by our Hospital Transport Support Service.