Silver Sunday Event
Published on 04 October 2021 03:55 PM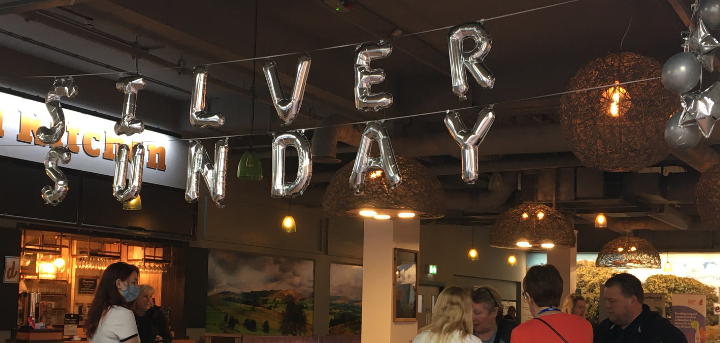 Silver Sunday Celebration of Older People
Celebrating Older Person's Day in The Ridings Shopping Centre Wakefield City Centre.
Wow! What a day! We were joined by over 30 partner organisations from across the district to bring together a host of information, fun and activities for older people.
The Mayor of Wakefield came to join in the festivities along with Rhubarb Radio and local "Great British Bake Off" star Karen Wright.
The day started with lots of stalls and information then by lunch time the fantastic Ruby Lou's and Wakefield Street Kitchen had lots of tasty offerings. Our wonderful volunteers had baked up a treat to sell and raise money to support the work we do for local over 50's and the cake stall proved a hit with all who tried it.
As the day came to an end, you could find visitors, our staff and volunteers dancing the afternoon away in The Yard activity space in the lower mall. From a gentle Waltz in the Tea Dance section, to having "The time of my life" with a Dirty Dancing homage, we then Conga'd our way around the seats, with people jumping up to join in the fun!