March Service of the Month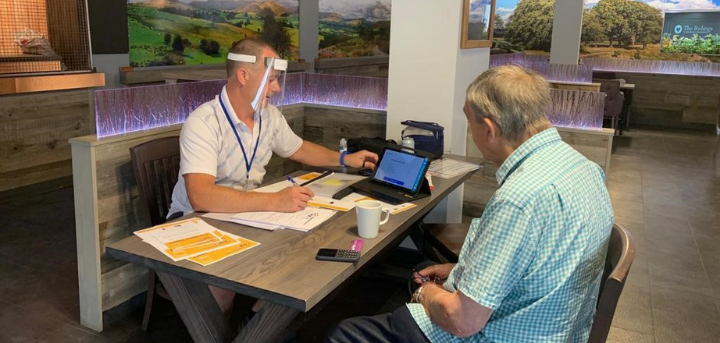 Published on 22 March 2022 05:00 PM
Digital Inclusion
Never before has staying connected with others and getting online been so important.
Digital Inclusion is all about helping older people get connected and using the internet in a way that feels comfortable and safe for them.
We offer free tablet loan, including a data package and support from how to turn on a device, to how to access the wonderful world wide web.
To reach as many people as possible, we host a 'Tech Table' at our Time for Tea events which prove to be increasingly popular and busy. We talk about all manner of things, from installing memory cards, hot-spotting & general mobile functionality, to using various other devices and different apps.
In one session may be assisting someone to access a hobby or pastime again, or save their artwork and poems, then in the next it is helping with digital job applications!
Some questions are fairly simple, others may require a sit down and a longer discussion over a cuppa while giving the best advice and information on offer.
To assist in the growth and the number of people we help, along with the resource required to avoid a waiting list developing, we have two new lovely volunteers. Janet & Luke are now supporting all that we do in terms of face-to-face work.
We have one other volunteer who offers remote support, assisting over the phone when required. We are always on the lookout for more volunteers, so if you know your way around a mobile phone or computer tablet and would like to share your skills, get in touch to find out more about becoming a Digital Inclusion volunteer!
Financial Safeguarding is at the forefront of all that we do, ensuring people understand the associated risks and how to stay safe online, equal to the numerous life enhancing benefits available to each of them.
Should you know of anyone who would benefit from having a Tablet on a 3-month loan period, please chat with them about their potential needs and the benefits they may find from getting online and stepping into all things digital.
Justin Steers, Service Manager
Some satisfied customer quotes
Mr A said "Never did I realise that I would be able to pause or rewind a live radio broadcast of the sports I love to listen to! - this is like magic"
"I can now watch TV on catch-up and to my own schedule when I choose, rather than worry about missing them"
Mrs W said "Much of this has been life changing for me, thanks"
Mr P said " You have empowered me to easily connect with people over email & Skype, things I thought I was too old to learn how to do....and I was a technophobe too!"
Mrs L said "I am now in touch with my family in Canada on a weekly basis, it is easy and will save us hundreds of pounds each year, they thought I would never be able to do all this, thank you, thank you, thank you"