April Service of the Month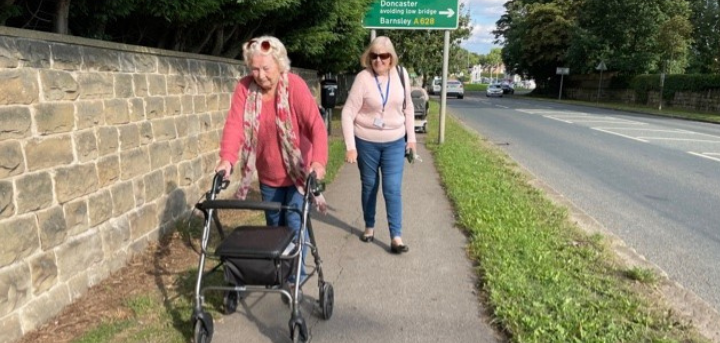 Published on 04 April 2022 09:43 AM
Step Out
Our Step Out service is a small, but wonderful team of staff and volunteers, supporting older people across the District to regain the confidence and independence to access their local community, social groups and activities.
Previously known as the Social Contact Scheme, the team have helped hundreds of older people to regain their independence to access their community, meet new friends and gain the confidence to get back out and about after a significant life change.
Now more than ever, following the Covid pandemic we know it can be daunting for older people, particularly those who have been isolating, to get back into their normal routines and begin to enjoy life again. The Step Out team are there to accompany those people to take the first steps to get back into their normal routine and reengage with the community.
Every day is different for the team, as they accompany people to knit and natter groups, coffee mornings, a trip on the bus into town, or even a wander around the local park. You may also see some of the team at our Time for Tea events, as they accompany people to have a chat and meet new friends.
The service is rewarding for our staff, volunteers and the people they support, as the team see the gradual improvement in confidence and enjoyment over the weekly support sessions. We receive fantastic feedback from the older people we have helped, as their lives can change completely once they have the confidence to join social groups and make new friends again. The team often see people they have supported previously when they are out and about and it's always nice to see them continuing to enjoy life after our support has ended.
If you are aged 60 or over and live in the Wakefield District, or know of anyone who may need support from the Step Out team, please get in contact with us to discuss what we can offer. We are also keen to hear from anyone who would love to volunteer for our service, offering a couple of hours a week to accompany someone on a walk, or to a local group.
Lauren, Service Manager