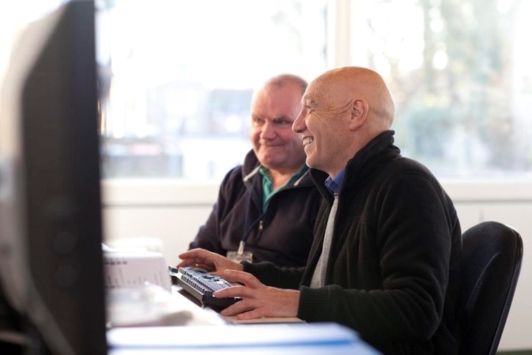 Digital support for people aged 50+ throughout Carmarthenshire, Pembrokeshire and Ceredigion
Digital technology continues to transform our lives, particularly how we communicate, work, access services and spend our spare time.
Most people have some kind of technological device that they feel they should become better at using, and some people may be complete novices. We are here to make sure your interaction with technology is a positive experience.
Providing person centred support by our patient and friendly staff and volunteers is important to us so if you are interested in accessing digital support then please contact us on the details below. We will book an initial appointment via the telephone to find out what your individuals needs are and we will allocate a dedicated member of staff or volunteer who will work with you on your goals. At present, due to the Covid 19 outbreak, the support will only be provided via the telephone or via a digital app.
For more information please contact Peter McIlroy at p.mcilroy@agecymrudyfed.org.uk or reception@agecymrudyfed.org.uk, or call us for free on 03333 447 874.