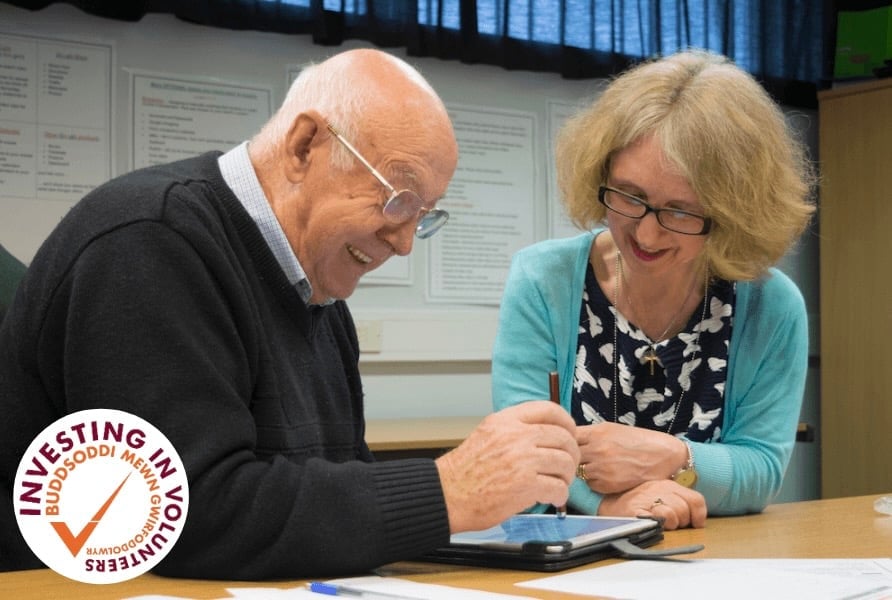 Would you like to make a difference for older people in your community?
Help us be there!
All volunteer roles at Age Cymru Dyfed support us to improve lives and help us work towards an age-friendly Dyfed. Support us to make a difference. However you'd like to help, we'd love to hear from you. We welcome volunteers of all ages, from every area of our diverse community. Many elderly live alone with poor transport and with feelings of isolation and loneliness. Just a couple of hours a week of your time could help make a real difference.
Volunteering Benefits
People choose to volunteer with us to gain new skills, share knowledge, have fun and give something back to their community. When you volunteer you are:
part of a thriving' friendly charity
happy knowing your help counts
paid all your travel expenses
supported and trained
in receipt of valuable experience
Volunteering Opportunities
At Age Cymru Dyfed we currently have volunteering opportunities in the following areas:
Admin / Reception
Befriending
Benefits Advisory
Digital Inclusion
Gardening
Handyperson work
Home energy checks
Information & Advice
Nail Cutting
Recycling
How to apply
If you've an idea which area of our work interests you:
Simply complete this volunteering interest form.
Request a chat on how you would like to volunteer, email lynne.meredith@agecymrudyfed.org.uk.
Some volunteering involves contact with vulnerable older people so references and checks are required under safeguarding practices. This means we provide safe, rewarding experiences for our volunteers and service users.
Request a Chat
For an informal chat about volunteering or for any questions on specific roles please email our Volunteering Manager Lynne at lynne.meredith@agecymrudyfed.org.uk. Thanks!
Why volunteer with Age Cymru Dyfed?
If you volunteer for us, you will:
Enjoy being part of a thriving' friendly organisation

Have the satisfaction of knowing your contribution counts

Be paid travelling expenses

Receive relevant support and training

Gain valuable experience.
What volunteer roles are available?
We have vacancies in the following areas:
Administration / Reception

Befriending

Benefit advisor

Digital

Gardening

Handyperson

Home energy checks

Information and advice

Nail cutting

Recycling