Digital Inclusion Support
"Your course has opened up a whole new world to me. I am back in touch with my grandchildren, and I'm confident to stay more connected with friends and family"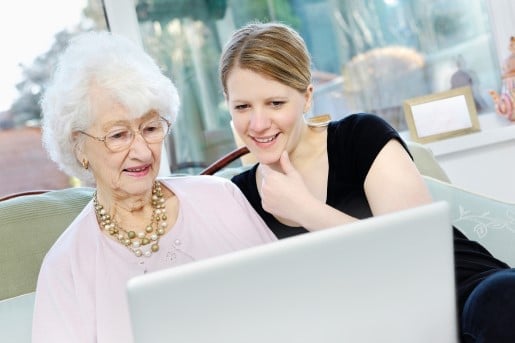 The Digital Inclusion Project offers a range of support and services to individuals, groups and businesses, aimed at all levels of ability.
Tutor-led digital tuition
1-to-1 tuition
Supporting you at your own pace
Learn in the comfort of your own home, or come to our Age UK Isle of Wight office in Newport
You choose what you'd like to cover
Competitive rates
Tutor-led digital workshops
Workshops suitable for all levels of ability
A range of relevant digital topics
Learn at a location of your choosing, or at our Age UK Isle of Wight office in Newport
Tutor-led training for businesses and organisations
Bespoke training available, tailored to the needs of your organisation, and the I.T. capabilities of your personnel
Training can be carried out in your workplace, or at our Age UK Isle of Wight office in Newport
Competitive rates
Volunteer-led digital support
Digital support delivered by one of our skilled volunteers
1-to-1 support in the comfort of your own home
Support with basic digital skills, including shopping online and keeping in touch with friends and family
All volunteers are DBS checked
Donation-based service
FREE Community drop-in sessions
Informal drop-in sessions at accessible community venues
Newport, Ryde, Freshwater, Shanklin and Brading
Refreshments provided
FREE (donations welcomed)
See our Digital Inclusion Drop-In Sessions webpage for more details
To enquire about the Digital Inclusion Project
Call our friendly Digital Inclusion IT Tutors on (01983) 525282, email us using the button to the right.

This project is part of the Age Friendly Island partnership. Age Friendly Island is part of Ageing Better, a programme set up by The National Lottery Community Fund, the largest funder of community activity in the UK. Ageing Better aims to develop creative ways for older people to be actively involved in their local communities, helping to combat social isolation and loneliness. It is one of five major programmes set up by The National Lottery Community Fund to test and learn from new approaches to designing services which aim to make people's lives healthier and happier.