One of the ways we try to combat loneliness in later life is through our local friendship services. We offer 2 different types: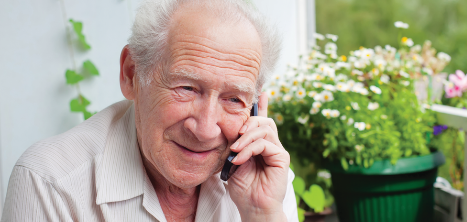 Telephone befriending
Age UK and our partner charity The Silver Line offer free telephone friendship services so you can enjoy chatting with someone over the phone, all from the comfort of your own home.
Whether you'd like to speak to someone every week, or just want to talk when the need strikes, we're here to help.
---

Face-to-face befriending
Befriending services are available at many local Age UKs. They will often involve a volunteer befriender visiting an older person in their home, perhaps for a cup of tea and a chat, or accompanying them to an activity (such as a trip to a cafe or the theatre). In some cases, a volunteer may accompany the older person to occasional hospital or doctor's appointments.
---
Take the First Step
Contact us today to see what services we offer that could help you.
Simply Call 525282 or by emailing gns@ageukiw.org.uk.
---

Out of hours
Our local office lines are open from 9-5 Monday to Friday, for out of hours advice and support our partners at Age UK also link with Silverline the 24 hour, 365 days a year helpline for older people.
Could you donate your time to befriend those in need?
For more information call us on (01983) 525282 or click the pink button to apply today!