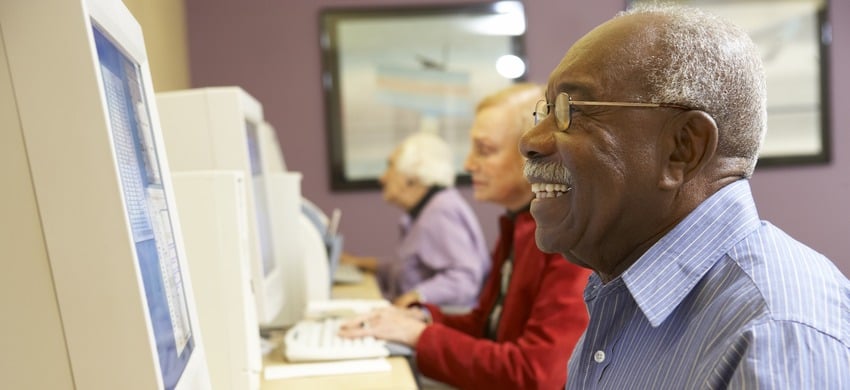 We're a local charity working in the community to support older people, their families and carers. We want everyone to be able to love later life.
Who we are
Age UK Kensington & Chelsea is an independent, local charity working at the heart of the community to make sure that older people's voices are heard, their needs are met and their independence is supported. We provide a wide range of services including befriending, practical help, information and advice and a variety of social and leisure activities.
Our History
The charity was set up in 1973 as Age Concern Kensington & Chelsea and incorporated as a charitable company in 2000. With the needs of older people always in the forefront of the charity's work, Age Concern K&C was strengthened by merging with Sixty Plus in April 2009, reflecting the changing nature of the charitable sector and the needs of older people over the years. With the national merger of Help the Aged and Age Concern, the charity became Age UK Kensington & Chelsea in 2010.
Our Aims & Values
At Age UK Kensington & Chelsea, we promote the wellbeing of older people through:
Providing services which support independence
Learning from this experience to inform our understanding of older people's needs
Ensuring the voice of older people in Kensington & Chelsea is heard
Working in close collaboration with other organisations to achieve these aims
Charity Details
Age UK Kensington and Chelsea is the operating name of Age Concern Kensington & Chelsea, which is an incorporated charity limited by guarantee. The registered charity number is 1082658 and the registered company number is 03926026. The registered office is 1 Thorpe Close, London, W10 5XL.
Chief Executive and Company Secretary: Jess Millwood - jmillwood@aukc.org.uk
Chair of the Board of Trustees: Martin Pendry - chair@aukc.org.uk
Treasurer: Ian Hill
Auditors: Sayer Vincent LLP, Invicta House, 108-114 Golden Lane London, EC1Y 0TL
Solicitors: Russell Cooke LLP, 2 Putney Hill, London, SW15 6AB
Audited Accounts & Trustees' Report
You can download a copy of our audited accounts and Trustees' Report for 2019-2020 here.