With our At Home services you'll receive flexible, personalised care within the comfort of your own home.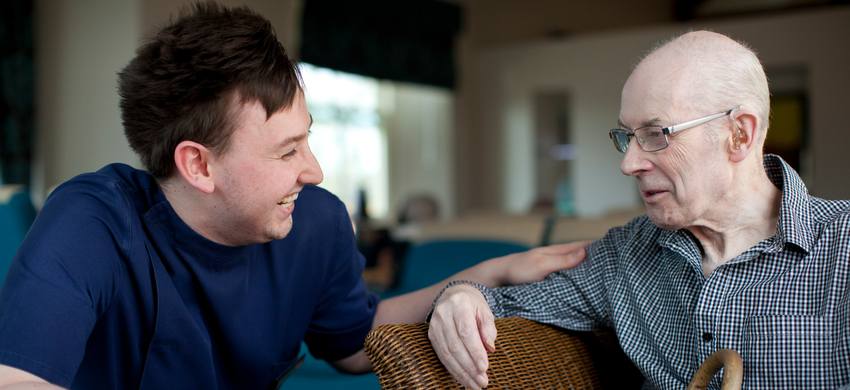 Services we provide
Whether you require short term, occasional or long term support, we can tailor a care package to suit your needs. Our aim is to help you stay as independent as possible in your home.
Our dedicated team of care assistants are trained to provide a range of support services including personal care, basic foot care, escorting to appointments, shopping, respite care, post hospital discharge care and light housework.
Where possible, we aim to ensure that you receive care and support from the same carer on an ongoing basis, and our carers will always visit for at least an hour to ensure we offer a personalised service that meets all your needs.
Who is it for?
The service is for adult residents of Kensington & Chelsea, Westminster and Camden aged 55 years and over, or who have physical and learning difficulties.
What is personal care?
Personal care refers to a range of tasks including but not limited to:
Help with bathing and personal hygiene
Help getting dressed and personal grooming
Support moving position to avoid pressure sores
Help getting in and out of bed
Incontinence care and catheter/stoma care
Medication prompting
How much does it cost?
We charge £19 per hour for Practical Support; £22 per hour for Personal Care services, with no extra charges for weekends and public holidays. We also offer a Hairdressing service for £22 per hour, with home visits at no extra cost. Each visit will be least one hour per client; there is three hours in one care package. Age UK K&C are proud to be an accredited Living Wage employer, committed to paying our employees a fair wage that reflects the real cost of living.
We will carry out quarterly checks, on a regular basis to ensure we are providing a quality service to you, to the best of our abilities.
Who do I contact?
If you would like more information, please contact the At Home team on 020 8960 8137 or email home@aukc.org.uk. When you contact us, our care assessor will arrange to visit you at home for an initial assessment to discuss the type of support that would best meet your needs. The assessment will record basic details such as name, address, date of birth, GP details and the type of care needed. Taking into account your routine and preferences, a personalised care plan will be written. The assessor will then allocate the most compatible carer(s) to visit.
I am a professional. How do I refer someone for the At Home services?
If you would like to refer someone for our At Home services, please download our referral form and return it via email to home@aukc.org.uk.