Fact-checking the Flu Jab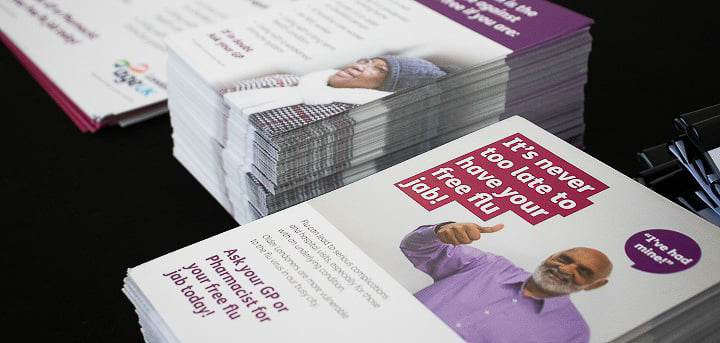 Age UK London's "It's Never Too Late!" Campaign aims to increase uptake of the flu vaccine in Greater London.
Only 15% (30 out of 195) of Clinical Commissioning Groups met the 75% recommended target rate for vaccines for older people in 2018-19. In addition, flu vaccine uptake amongst older Londoners was far lower than the national average of 72% in 2018/19.
Unfortunately, there are plenty of myths floating around that can put people off getting their flu jab. Here are the facts about flu:
Fact #1 - The flu isn't just a bad cold
A bad bout of flu is much worse than a heavy cold. Flu symptoms come on suddenly and sometimes severely. They include fever, chills, headaches and aching muscles, as well as a cough and sore throat. You are likely to spend 2 or 3 days in bed. If you get complications caused by flu, you could become seriously ill and have to go to hospital.
Fact #2 - You can't catch the flu from the flu vaccine
The injected flu vaccine given to adults contains inactivated flu viruses that cannot transmit infection and so it cannot give you flu. Your arm may feel a bit sore where you were injected, and some people get a slight temperature and aching muscles for a couple of days afterwards. Other reactions are very rare.
Fact #3 - Flu can not be treated with antibiotics
Viruses cause flu. Antibiotics only work against bacteria. A bacterial infection may occur because of having the flu, in which case you may be given antibiotics to treat that infection, this will not protect against the flu.
Fact #4 - You need to get the flu jab every year
The viruses that cause flu changes (mutates), so you need vaccination that matches the new viruses each year.
Fact #5 - You should still get the vaccine even if you have already had the flu
If you are in one of the "at risk" groups, you should still get the vaccine. As flu is caused by several viruses, the immunity you naturally developed will only protect you against one of them. You could go on to catch another strain.
Fact #6 - Healthy people also need to be vaccinated
While it is especially important for people who have a long-term condition or chronic illness to get the flu jab, anyone can benefit from being vaccinated. In addition, it is free if you are 65 and over and as we age, our natural immunity weakens.
Fact #7 - Getting the flu jab isn't the only way to protect yourself from the flu
Do not forget to wash your hands frequently with soap and water for at least 20 seconds and try to avoid contact with people who have the flu.
Fact #8 - You can still spread the flu even if you are feeling well
20% to 30% of people carrying the influenza virus have no symptoms.
Fact #9 - You can't starve the flu
If you have the flu (or a cold) and a fever, you need more fluids. You may have less of an appetite but you still need to try to eat what you can to give your body the best chance of fighting the flu.
Fact #10 - The only way to catch the flu is by being exposed to the influenza virus.
You may have heard that you can catch the flu from going out in cold weather without a coat, with wet hair or by sitting near a drafty window. Flu season coincides with the cold weather, so people often associate the flu with a cold drafty environment. In fact, the only way to catch the flu is by being exposed to the influenza virus.
Now that you have the facts, you're ready to head to your GP or pharmacist to get your flu jab! Remember, the flu vaccine is free for anyone who is:
Over the age of 65
Living in a residential or nursing home
A carer of an older or disabled person
A frontline care worker
An NHS worker
Living with a long term health condition
Living with a weakened immune system
So don't delay - get your flu jab today! If you've already been to get your vaccine then we'd love for you to spread the word by sharing these top ten facts!
Find out more!
If you're over the age of 65, you're eligible for a free flu jab! There are plenty of other people who can get a free flu jab too, including frontline care staff. Check out the full list here.

Our "It's Never Too Late!" Campaign aims to increase uptake of the flu vaccine in Greater London. Find out all about the campaign, including how you can get involved!
Download our Flu Vaccine Toolkit!
Our Flu Vaccine Toolkit has all the facts and figures about the flu virus, the flu vaccine, and the level of uptake in London. Download it here and share the information with your friends, family, and fellow organisations!