Outdoor Spaces & Public Buildings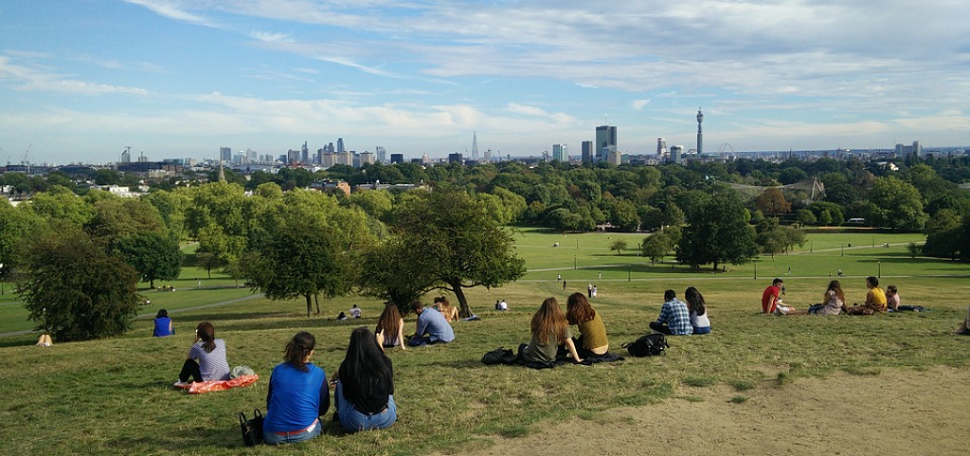 The condition of public spaces directly affects older Londoners' mobility, independence, and quality of life. Without safe and easily accessible outdoor spaces, older people can be discouraged from leaving the house, which can cause both their mental and physical health to deteriorate. The WHO states that cities around the world should make adjustments to improve quality of life, access, and safety of its citizens.
Pleasant Environment and Green Spaces
A truly age-friendly city should have clean and tidy streets with low levels of air and noise pollution. In a city as large a London, this can often be difficult to achieve, with overcrowding and substantial vehicle use contributing to an unwelcoming environment in parts of the capital.
Well-maintained green spaces are a must, allowing for older Londoners to be more active in a social setting whilst also appreciating the natural beauty of their city. The WHO Age-friendly Cities Guide suggests creating several small, quieter, and contained green spaces to reduce the number of hazards faced in large busy parks, such as cyclists, skateboarders, and dogs.
In addition to well-maintained greenery, public spaces must provide seating areas to allow older people to rest when out-and-about. In addition, free drinking fountains should be installed where appropriate. Such spaces should be frequently placed along popular walking and shopping routes to allow older Londoners to feel confident when travelling around their city.
Similarly, public toilets are a vital facility, allowing Londoners to spend more time in the city without needing to head home at short notice. There must also be a good number of Changing Places Toilets, which are designed to be suitable for people with profound and multiple impairments, as well as those who require the assistance of a carer.
Our CEO Paul Goulden commented on the Mayor's plans for more public toilets in November 2017:
"It is reassuring to see that the Mayor's London Plan has committed to building more accessible public toilets across the capital. We want as many older Londoners as possible to be able to move confidently around their city without restriction and this pledge should go a long way to improving their experiences when out and about in London.
The commitment to build more Changing Places toilets is especially encouraging, as many older people contend with limited mobility or require the support of a carer. We look forward to the provision of the new free publicly accessible toilets across the city."
Age-friendly Pavements and Accessibility
The condition of pavements and footways has a clear impact on the quality of life for older Londoners. Pavements that are narrow, uneven, cracked, or congested present real risks to the wellbeing of older people, both through the physical dangers they pose and the effect they have on older Londoners' confidence to move around their own city. The WHO reports that problems with pavements are a near universal problem, affecting many cities around the world.
In addition to these structural problems, bad weather can also make the city difficult to move through, so councils must be ready to clear and grit icy pavements in winter.
Dangerous paving is a particular issue for older people who: are living with dementia; have a mobility-related or visual disability; are risk at falls. As with many elements of an Age-friendly City, safe paving can help to reduce medical costs for the NHS, both by helping older people to remain active, and by reducing their risk of falling.
The WHO Age-friendly Cities Guide lists several ways to make sure that pavements and footways are as age-friendly as possible:
A smooth, level, non-slip surface;
Sufficient width to accommodate wheelchairs;
Dropped curbs that taper off to be level with the road;
Clearance from obstructions such as street vendors, parked cars and trees
Priority of access for pedestrians.
One key concern is making sure that the commitment to creating pleasant environments and green spaces does not clash with the aim for safe pavements, i.e. by planting trees or building seating areas that clutter footways.
Road Safety
The ability to cross the road safely is, naturally, a concern for many older people. This is especially true in a city as busy as London, where volume and speed of traffic can be overwhelming.
Age UK London frequently attends accessibility meetings and focus groups where the issue of shared space is raised. Shared space is a design concept that removes the barriers between vehicles, pedestrians and cyclists encouraging everybody to share the same road space. Unfortunately, such spaces can be dangerous and intimidating for partially-sighted citizens who need clear delineation between roads, cycle lanes, and footways.
Click here to keep up-to-date with our Age-friendly London campaign!