Porter Valley In Touch Volunteering

Porter Valley In Touch Volunteer Opportunity
Be a part of a transformative new service in our Sheffield community
Although we are starting to see hints of things returning to a new kind of normal, there are still lots of older people who are struggling with social isolation and health issues, whose confidence has been understandably knocked due to the corona virus outbreak.

Before lock down started, we were due to begin a new project in partnership with the NHS called Porter Valley in Touch that aimed to help reduce social isolation and increase independence and general wellbeing for older people living in Sheffield. Unfortunately this project had to be put on hold because of the pandemic; however, we are now in a position to begin this innovative project, that is so important for our older community, now more than ever!
Even though it has had to change a little in order to maintain safety and social distancing, friendships can still be formed and hobbies and skills can still be shared, whether that's over the phone, video call, or whilst maintaining a safe, two metre distance with necessary protective items and precautions.

Could you help? The project works by pairing up a volunteer with an older person who has been identified by health services as being isolated or lonely and who might have mild mobility or health issues and could benefit from this service to support them to regain their confidence and independence. Volunteers will be able to share hobbies and interests with the person they have been paired with, as well as support them to learn, or re-learn new skills such as simple domestic tasks, accessing zoom or skype to keep in touch with family, friends and services that have moved online, or gaining confidence in leaving the house and travelling. When shared, these skills (that you may have not even realised you have!) can have a huge positive impact on someone else's life.
We Provide Training
All volunteers taking part will be given expert training and support to enable them to take part in this role. It's a fantastic opportunity to support the older community of Sheffield, make new friends and support someone who could really benefit from your friendship and support. This is a unique project, bound to be endlessly rewarding for everyone taking part. Volunteering will only require the commitment of a few hours each week and all volunteer expenses are covered, so it is suitable for people returning to work full or part time and people who have been furloughed.

Interested? Read on to find out more!
If you're interested, but not sure whether or not this is right for you, you can take a look at the extra information we have below (by clicking on the drop down options).
You can then download and complete a volunteer application form, or if you're not ready to apply, you can fill in our short "initial interest" questionnaire below instead. A member of our team will then get in touch with you with more information, and you can join one of our upcoming Zoom drop in sessions to ask any questions you may have and chat to our team and other volunteers too.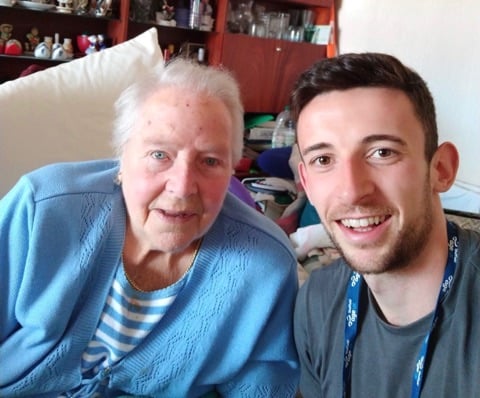 Click on the headings below to find out more
Upcoming Volunteer Question and Answer "Drop in" Sessions via Zoom
These Zoom drop in sessions are for anyone interested in volunteering for Age UK Sheffield's Porter Valley in Touch Service. It's an opportunity to meet the team behind the service, find out more, and ask any questions you may have about the role, training, application process or anything else!

It's very informal and friendly. Simply sign up, "drop in", and join the conversation or ask any questions.
There's no obligation to sign up to volunteer, just an opportunity to find out more about this unique role! The upcoming drop in sessions are listed below. Simply click on the relevant link to sign up to the date that suits you best.

No current dates availble

We will be adding more drop in sessions in the future, and you are welcome to contact us with a question at any time! Simply send an email or give us a call and ask to talk to a member of the Porter Valley in Touch team. Alternatively, we can contact you. If you like, you can complete our initial interest form linked here and a member of our team will contact you at a time that is convenient for you.
Key Things to Know About Volunteering!
You would only need to commit to a few hours per week
Full training will be provided beforehand
No previous experience necessary
Add highly sought after skills to your C.V. & job application forms
You'll be supported throughout the whole process & receive a training & resource pack plus emergency contact details
Volunteer expenses are covered so there's no hidden costs
Help reduce pressure on local NHS services
You will receive a certificate from Age UK Sheffield upon completion of training & volunteering
You will need to complete a DBS (criminal record) check
Read Feedback from a Current Volunteer and Client
To get an idea of how rewarding our In Touch service can be, please read the feedback from Harold, one of our clients, and Steve, the volunteer who visits him each week as part of our Befriending/In Touch service, which has many similarities with the new Porter Valley in Touch service.
Click here to read their feedback.
Apply to Volunteer
If you are interested in volunteering for this new service, we would love to hear from you! Simply click here to download the application pack which contains the relevant documents to support your application, including the application form, the volunteer role description and a volunteer profile document to complete so that we can find out more about your skills and hobbies in order to best match you with someone to support. Should you have any issues downloading the application pack, please email us at recruitment@ageuksheffield.org.uk

If you have questions about volunteering, or aren't quite sure if it is right for you, you can complete our initial interest form instead (below) and a member of our team will contact you to help answer any questions and have a friendly chat about the role.
Complete our Initial Interest Form
View our Poster
If you would like to download our poster to help us spread the word please click here.