Porter Valley In Touch Volunteering

Porter Valley In Touch Volunteer Opportunity
Be a part of a transformative new service in your community

What is the service all about?
A brand new service is starting this spring 2020 in South West Sheffield (S11, S7, S17) with the aim of supporting older people to feel more confident, less isolated and improve their health and wellbeing. The service is called Porter Valley in Touch and it is a joint initiative between Age UK Sheffield, NHS Sheffield CCG and the Porter Valley Primary Care Network (a network of 6 local GP practices). Following training, volunteers will visit a person in their home & provide support for them to regain or retain their independence. For example, with domestic tasks, confidence in travelling or learning basic IT skills to help keep in touch with family. If this volunteer role sounds like something you might enjoy & you have a few hours of free time a week, this might be the perfect opportunity for you!
How does it work?
The service begins when a GP refers an older person who is isolated or lonely and has mild mobility or health issues to the service. A link worker will then meet this person for an assessment in their home. After assessing the person's needs, they'll match the person with a volunteer based on things such as similar interests & hobbies. That's when, after you have completed your training you will hear from us to let you know that we have matched you with someone.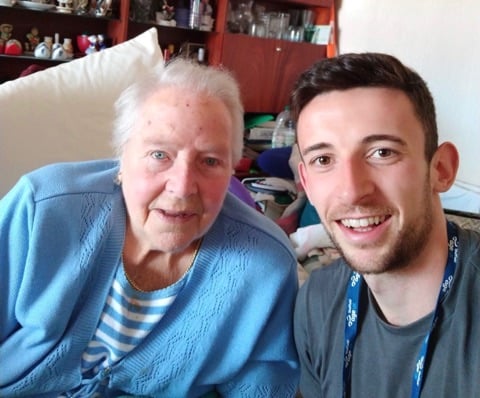 Click on the headings below to find out more
Key Things to Know About Volunteering!
You would only need to commit to a few hours per week
Full training will be provided beforehand
No previous experience necessary
Add highly sought after skills to your C.V. & job application forms
You'll be supported throughout the whole process & receive a training & resource pack plus emergency contact details
Volunteer expenses are covered so there's no hidden costs
Help reduce pressure on local NHS services
You will receive a certificate from Age UK Sheffield upon completion of training & volunteering
You will need to complete a DBS (criminal record) check
Read Feedback from a Current Volunteer and Client
To get an idea of how rewarding our In Touch service can be, please read the feedback from Harold, one of our clients, and Steve, the volunteer who visits him each week as part of our Befriending/In Touch service, which has many similarities with the new Porter Valley in Touch service.
Click here to read their feedback.
Apply to Volunteer
If you are interested in volunteering for this new service, we would love to hear from you! Simply click "Download Pack" to access the relevant documents to support your application, including the application form and the volunteer role description. Should you have any issues downloading the application pack, please email us recruitment@ageuksheffield.org.uk

If you have questions about volunteering, please get in touch, or come along to one of upcoming volunteer open days detailed below!
Upcoming Volunteer Drop in Open Days
We are hosting three open days for people interested in volunteering for this service. It will provide the perfect opportunity for you to come along and:

- Find out more about the purpose of the new Porter Valley in Touch Service and what the volunteer role will involve.
- Hear from the service's volunteer coordinator about the training that will be provided and the ongoing support you will receive.
- Opportunity to meet other people interested in volunteering.
- Ask the volunteer coordinator and other key members of staff any questions you may have
- Receive support filling in your application form.

Dates & Locations
- Age UK Sheffield Office: Friday 13th March 1pm-4pm
- Age UK Sheffield Office: Wednesday 18th am 10am-1pm
- Bents Green Church: TBC

Attendance:
There's no need to book, simply show up! The first two of our drop in sessions will be hosted in our Age UK Sheffield office, which is based within the South Yorkshire Fire and Rescue HQ building in Sheffield City Centre, next door to Decathlon, at the bottom of the Moor Indoor Market. To access our office, simply enter the building through the front automatic doors, press the buzzer/bell and let the reception staff know that you're here for Age UK Sheffield, they'll ask for a member of our team to come and meet you in reception and show you the way to our office.
Get in Touch
If you have a query about our new service or need help with your volunteer application, please get in touch.
Email: recruitment@ageuksheffield.org.uk
Call: 0114 250 2850
View our Poster
If you would like to download our poster to help us spread the word please click here.