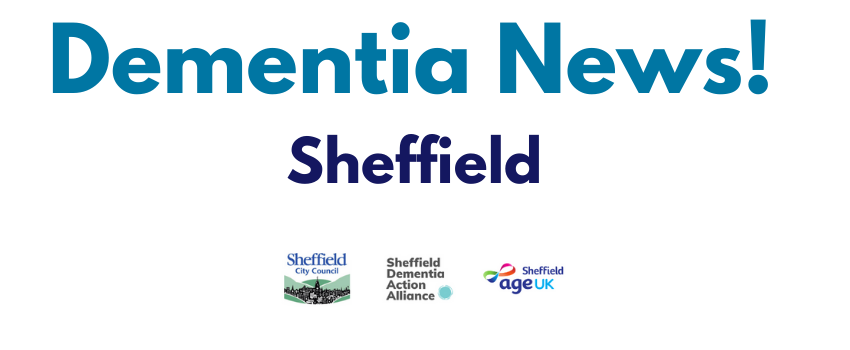 Keeping professionals in the loop with dementia care and support in Sheffield
If you work with, support, study or commission services that support people living with dementia, their carers or families in Sheffield, then signing up to this newsletter will make sure you are kept in the loop!
Dementia News is a newsletter produced and delivered by Sheffield Dementia Action Alliance working in partnership with Age UK Sheffield and Sheffield City Council. It exists for people who work within dementia care and support, such as volunteers, professionals and other services who wish to keep up to date on all things related to dementia care provisions and services in the city.

Newsletters are sent approximately twice a month and contain updates on services, new training available (for example from Dementia Advice Sheffield), new projects and opportunities from the Sheffield Dementia Action Alliance, new resources and activities from the People Keeping Well partnerships, and broader news about dementia research, care, and projects. If you sign up, you'll always be able to unsubscribe from the mailing list at any time, either by clicking unsubscribe at the bottom of the emails, or by emailing us to ask to be removed from the list.

You can sign up to be added to the mailing list or submit an item to request it's inclusion in an upcoming newsletter by clicking on the options below
Sign Up to Receive the Dementia News Newsletter
Submit an item to be Included in an Upcoming Dementia News Newsletter
Is there something you would like including in the next newsletter? Click "Submit Item" to complete a short form to upload and request an item for inclusion.
Previous Newsletters
Missed a newsletter? No worries! Click to view all previous newsletters below...



Newsletter: March 26th 2021
News on our quarterly meeting replacement, pledge writing workshops, carers survey, a dementia Friendly TV service, and much more
Newsletter: March 5th 2021
News about the Alliance, quarterly meetings and our new members toolkit page. Plus research and training opportunities and all 24 online dementia groups in Sheffield, plus much more!
Newsletter: February 3rd 2021
A brand new carers support group, report findings into young onset dementia, dementia lunch time sessions, dementia stars training and more!
Newsletter: January 18th 2021
A summary of new training, services, activities and more!
Newsletter: December 23rd 2020
the final Newsletter of the year! includes tips for supporting someone living with dementia through Christmas and through the Covid Vaccine process, new activities and training opportunities.
Newsletter: 16th December 2020
Even more new training, job position, new services and our member highlight!
Newsletter: 4th December 2020
Brand new training sessions & brand new activities!
Newsletter: 30th November 2020
Courses, Webinars, Christmas Ideas, Research and our Quarterly Meeting
Newsletter: 23rd November 2020
A short and sweet update!
Dementia News: Sheffield Dementia Action Alliance Re-launch Special Edition
A Special Edition Newsletter to share the news of the Sheffield Dementia Action Alliance Re-launch. 13.11.20
Newsletter: 28th October 2020
Here's a summary of things coming up tomorrow and next week, plus links to new activity packs, PKW activities and results from the recent short term care consultation.
Newsletter: 21st October 2020
Training & Webinars. Update Part 2
Newsletter: 20th October 2020
Resources, consultations and new services. Update Part 1
Newsletter: 28th September
Good news story, more Covid resources and the Review of Adult Social Care launched
Newsletter: 18th September 2020
The latest round up of helpful things to know about, refer people to or sign up for relating to dementia care, support and advice in Sheffield.
Newsletter: 9th September 2020
More face coverings guidance/advice, research, comforting products, SHINDIG report, services reopening and activity packs.
Newsletter: August 28th 2020
Helpful things to use, refer to and know about dementia care, support and advice in Sheffield: Art Classes, Articles, Webinars and activity packs.
Newsletter: 14th August 2020
Dementia News! PPE & Dementia, Care Home Visiting, Activity Ideas & More
Newsletter: August 3rd 2020
Dementia News! Facemask Exemption Card, New Resources and Activities, Training Opportunities and Congratulations
Newsletter: July 17th 2020
Dementia News: Introduction to new Format