Bluebell Shopping Heroes
Published on 29 April 2020 12:23 PM
We would like to share with you some thoughts and comments from our amazing volunteers, dedicated staff and grateful services users of the Bluebell Shopping Service.
Sally Jones...
I wanted to do something to help generally and particularly in the current situation. Doing something simple like shopping for those who can't get out makes me feel worthwhile, I feel happy to know I am helping the elderly in my community.
Kelly Pearson...
The Bluebell service has given a lifeline to so many vulnerable members of our communities. Every single volunteer who has helped in any way makes this possible and I am grateful to have played a small part.
Lee Masterman...
I have been a volunteer befriender for a few years but cannot do my role due to this awful situation that we find ourselves in. I heard about the shopping and jumped at the chance to continue helping our elderly and vulnerable clients. I love doing it and the reaction from our clients is heart warming to say the least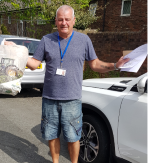 Thomas Baker…
The reason I got involved with Age UK WD was to help the community I grew up in, the people who carried the ethos of the area and taught me what it meant to be part of the area - and that is togetherness. I think what draws people to Age UK WD is the sense of fulfilment that you have when doing the job and that is exactly what drew me to it, its that feeling you get when you have given back to someone who has given so much for you.I will never be able to repay the community but i hope this goes a little way.
Rebecca Price…
I wanted to volunteer for the Bluebell service because I couldn't help but think who will help the elderly in these challenging times. A lot of clients don't have families so they rely on services like this. Its really rewarding to think you are a part of a great community at Age UK WD, we are like a little family of superheroes.
'We realise as a team that we often don't get the time to sit back and reflect on what we have achieved since 30 March 2020..., a brand new Bluebell shopping service with upwards of 200 clients who we speak to on a regular basis and the fact that so many of them remember our names and tell us how happy they are to speak to us every week!

We recognise some of the items our regular clients want and can remind them if they forget. We can so often provide more than a call for a list, we have a chat and we empathise with them and try to understand how they are feeling at that precise time.

Many of them tell us we are 'angels' and they wouldn't know what to do without us, that they can stop worrying about how they will get shopping or prescriptions.
When we look back next year on the crisis that led us to this point let us remember, we did more than just collect shopping lists. We were that ray of sunshine that called our clients and gave them peace of mind, confidence to ask for help and kind words that re-assured them that everything will be alright. Our service may be the hidden one as we are sitting at home on our own but to me everyone in this team are angels and I am so proud to be co-ordinating this effort alongside Tracey and her amazing team of volunteers who are doing a mammoth task with the shopping.
Remember, people always ask "Do you remember where you were when...".
I will be so proud to say "When Covid-19 struck, I worked on the Bluebell Shopping Service for Age UK Wakefield District and we made a difference".
To all Age UK Wakefield District staff & volunteers - Thank you, for all your hard work, your commitment and for the unfailing sense of humour that keeps us all going.'
Brenda Wardle - Bluebell Shopping Service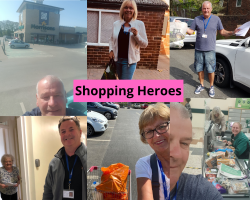 'The Bluebell Service is most definitely keeping the team busy, our wonderful volunteers are going out and shopping around 25 times a day, we are receiving some lovely feedback from clients about the service, we thought we would share that with you.

Pauline...
"The service is brilliant, I don't know what we would have done without you, it's been a total God send, we don't have internet, we don't have transport, we wouldn't have died of Covid we would have died from starvation, the neighbours don't stop to ask they just look after themselves. The volunteers have been lovely too, wonderful people Carrieanne, one week and Alan the next. Thank you so much, we really are very grateful"

Arthur...
"I think your service has been excellent, it's a wonderful job you are doing, I cannot praise you enough, and Kelly has been ever so kind when she delivers my shopping for me. I can't thank you enough I am ever so grateful xxx"

Jeanne...
"I don't know how I would have got my shopping without you, you are doing a wonderful job, Its a wonderful service this, and Cheryl the lady who dropped my shopping off was very friendly, I will most definitely give a donation once this is all over and I can get up to the office, thank you so much"

Anne...
"This is an absolutely fantastic service, it means an awful lot to me, I would have really struggled without you doing this, as I have no family to help me. You are all brilliant doing what you are doing. Pat the lady who dropped my shopping off was lovely to me, very friendly lady. I was thrilled to bits.

Sandra...
I look forward to your weekly phone call for my shopping list, I get up out of bed nice and early ready for you to call at 09:00, I really am truly grateful for everything you are all doing it must be a difficult task. James who has been dropping my shopping off is such a wonderful chap, ever so friendly and cheerful. Having my shopping is the highlight of my week, I wouldn't have managed without you my son lives away. I will be eternally grateful for all Age UK Wakefield is doing for me.

Tracey Shaw - Volunteer Manager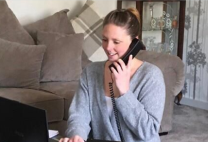 'Oh my goodness, I've just had the most wonderful conversation with Sydney who is 88, and has never been kissed, kicked or run over!
He called to say he has just had the biggest surprise. The gentleman who did his shopping yesterday was great, and the only thing he was unable to get was some rum and raisin ice cream.
Sydney said his doorbell has gone this afternoon and there was a lovely little lady stood there with some rum and raisin ice cream!
He is so over the moon, he says it was the best surprise and he wanted to shake the lady's hand, or give her a cuddle, but he knows he isn't allowed at this time, so instead he wanted to pass on his thanks and gratitude to the management of the service. His day has been well and truly made!
How nice, and what a lovely thing for the Bluebell Service to do...I'm not sure of any names of the people involved...but hearing this made me smile as well. Brilliant work from a fantastic team.'
Kim Hartley – Admin Triage Team
Bluebell Shopping Service
A new shopping service to help older people who are self-isolating to get essential supplies during Covid-19