Sainsburys donation from Bishop Auckland
Published on 04 February 2021 02:03 PM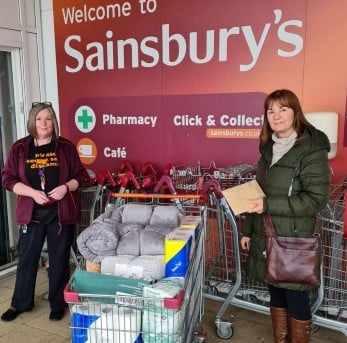 We have been approaching supermarkets throughout County Durham to ask if they could donate items that could be passed on to older residents in need throughout the County.
Sainsburys in Bishop Auckland contacted us to say they would like to offer their support with our work. Lynn Belford called in to the Bishop Auckland store yesterday to collect a selection of essential items, these will be given to older people living in the Bishop Auckland area who are self-isolating during the Covid pandemic.
The donated items will help to keep them safe, warm and well during the cold weather and the pandemic. Our dedicated team of volunteers and staff will be distributing the items received.
We would like to thank everyone at Sainsburys in Bishop Auckland for their support, it is very much appreciated. Ellaine from Sainsburys was delighted that Lynn Belford was able to call in to the store to collect their donation and thanked us for all our hard work.