At Home Service New Year Offer!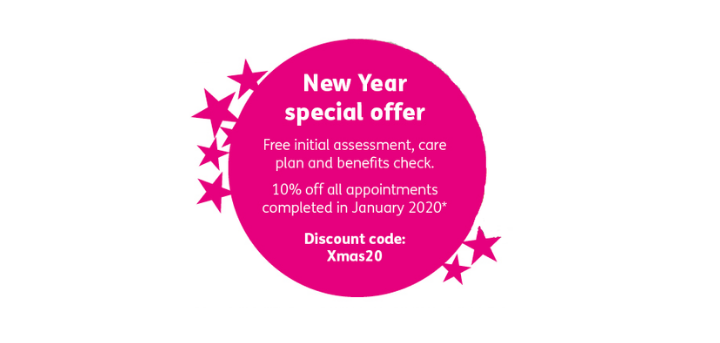 Published on 16 December 2019 01:32 PM
We are offering a special New Year discount for our At Home Service!
What is the At Home Service?
Our At Home Service is a unique service delivered by our charity to people over the age of 50 in Sheffield. The service offers a one to one practical assistant to offer help and support in and around the home. There's a variety of things the assistants can help with, almost everything other than personal care. See below for some examples!
Why does this Service Exist?
As we get older, it can sometimes become harder to keep on top of some tasks around the home. Our "At Home" service provides a flexible, fully trained personal assistant to help you or a loved one with a variety of day to day tasks.
Whether you need help with the cleaning, someone to take you shopping, or just a friendly face to give you a hand preparing your food and to have a cuppa with, we can put together a support plan to suit your needs.
Watch our video to find out more
How does it work?
Our At Home service always begins with a free (no obligation) initial assessment and care plan, as well as a benefits check (to support you to ensure you are claiming any money that you are entitled to). It's a paid-for service, at a competitive rate which is usually £21 per hour. Over the years, our hundreds of customers have told us that they really value the service because:
We provide a full hour's service, and don't take time off for travelling
All of our staff are fully trained and DBS checked
We aim to provide the same support assistant every time, as often as we can so that you can expect to see the same friendly face and really get to know your support assistant.
As a charity, we don't make a profit. Any small surplus goes back into providing free services for older people in Sheffield.
Our service complements other care services really well.


What sort of things can the service help with?
Taking you shopping/shopping for you
Cleaning/ Laundry
Preparing meals
Gardening
Attending hospital/GP appointments
Digital support e.g. skyping family
Socialising
Correspondence
Support with finances


What is the New Year Offer?
For the New Year, we are offering 10% off bookings that take place in January for all new customers. You can book as many hours as you like through January and they will be all at the discounted rate of 10%.
Many people struggle to know what gift they could buy for their loved, and this really is a unique gift! It's an opportunity to gain a little more independence, get out an about more, get on top f things at home, and, perhaps most importantly, it's a chance to make a new fried, have some company and, hopefully, feel more comfortable in your home as well as when getting out and about outside your home too!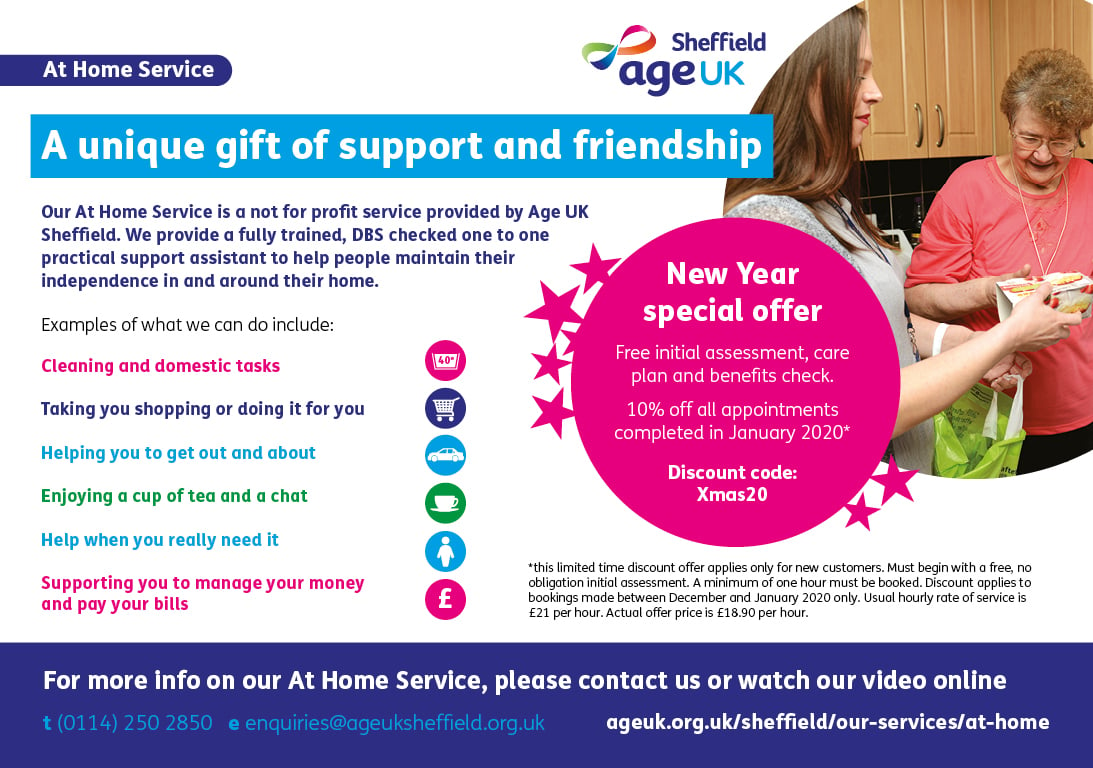 Feedback From Families
Some families who decided to access the At Home Service on behalf of their family members were kind enough to share their feedback about the service earlier this year. Take a look below to see what they had to say...
Daily visits mean we know she is safe and not isolated
"Our Mum lives on her own and is fiercely independent, but as dementia limits that independence, daily visits by Age UK Sheffield At Home Practical Assistants, mean, we as a family, know she is safe and not isolated. They look after Mum, but put all our minds at ease. We'd be lost without them."

Feedback received 30/04/2019


We have them to thank for helping Mum adjust to life without Dad
"The Age UK Sheffield At Home service provided crucial support for my Mum when she needed it most & gave me a vital line of communication and on the ground assistance - essential when trying to help Mum, literally, from the other side of the World!
The At Home practical assistants have been my eyes & ears as well as becoming Mum's friends, helpers & supporters for almost 2 years now.

We have them to thank for helping Mum adjust to life without Dad, moving home and re-establishing the social & community circle so important to her daily life. Frankly - I couldn't have done it (nor continue to do it) without the At home Service & Mum wouldn't be in the positive space she is either - it's been a wholly satisfying experience".

Feedback received from family living in Australia 30/04/2019
Mom benefitted from being able to remain in her own home with someone undertaking the chores of home keeping
"Fiercely independent, a widow living alone in her family home of over 50 years, persuading my Mom aged 90 that she needed help and support around her home was no easy task.
How to choose an organisation to live up to her expectations was a daunting challenge.
Seeking advice about elderly care services in Sheffield I was pleased to discover that Age UK Sheffield provided their unique At Home Service.

For the last two years of her life Mom both enjoyed and benefitted from being able, not only to remain in her own home with someone undertaking the chores of home keeping, but also for the truly invaluable companionship and friendship of her practical assistant who became her special regular, willing helper. Nothing was too much."

Feedback received 02/05/2019.
How to Claim the Offer
If you'd like to make the most of our New Year Offer and book an initial assessment, simply get in touch and quote the discount code "XMAS20".

You can get in touch via phone on 0114 250 2850
Or you can email us on: enquiries@ageuksheffield.org.uk