Urgent Appeal Update and Volunteering Opportunity
Published on 26 March 2020 03:57 PM
It's fair to say we have been overwhelmed by the huge amount of people keen to support us as we endeavour to ensure that older people across Sheffield have access to food, medication and support, that they need now more than ever.
We have begun delivering parcels of food and treats today thanks to the generous HUGE donation of food from TK Maxx and South Yorkshire Fire and Rescue (and have received some lovely feedback too such as "The basket this morning has made my day. It has brought tears to my eyes.") Delivery of our first food boxes will begin on Tuesday and will continue every Tuesday and Thursday from then on.
Donation Update
We are blown away by the generosity of hundreds of you who have heard about our plans and kindly donated to our urgent food box fundraising appeal and offered your time to volunteer and help us deliver these vital boxes. We really can't thank you enough.

We have raised an incredible £22,000 for our food box appeal which we launched on Monday with an aim of raising £50,000 to support this new vital service. That includes £2,000 donated by amazing individual members of the public keen to support their community. We are also really grateful to the Sheffield Town Trust and Sheffield Church Burgesses Trust who have each donated £5,000 to our appeal. The support is just amazing. If you would like to donate to support this appeal, this is what you will be helping us to fund:

A donation of £5 will pay for a volunteer's expenses to collect someone's medication and deliver it to them

A donation of £10 will pay for a weekly "essentials" food box to be supplied and delivered to an older person.

A donation of £100 will enable the most vulnerable older people in our city to receive a food box every week for 10 weeks.
To donate what you can, please click here.
Or, if you are unable to donate online, please see alternative options to donate listed here.
Volunteer
If you would like to volunteer to help us that would be amazing. We need volunteers who can help us with contactless deliveries of food boxes. This means collecting the food boxes from St Mary's Church at the end of Bramall Lane and delivering them to people by safely leaving them on their doorstep (without any contact). If you would like to volunteer to help us during this difficult time, please email us with your full name, post code, availability, and let us know if you are DBS checked. Please send your email to enquiries@ageuksheffield.org.uk

Our dedicated team have been working hard to get in touch with all of the people we support across Sheffield, many of whom are unwell or already very socially isolated, to assess their situation and organise support, through coordinating medication deliveries, support and welfare calls and adding them to the growing list of people who will be receiving our vital food boxes.

If you have any queries about supporting our efforts or accessing support please email us at enquiries@ageuksheffield.org.uk or call 0114 250 2850*

*Please note: With our team working harder than ever and a change in capacity due to required staff self isolation we may not be able to get back to you as quickly as we usually would, but please be assured that we will be in touch with you as soon as possible and will always do what we can to help.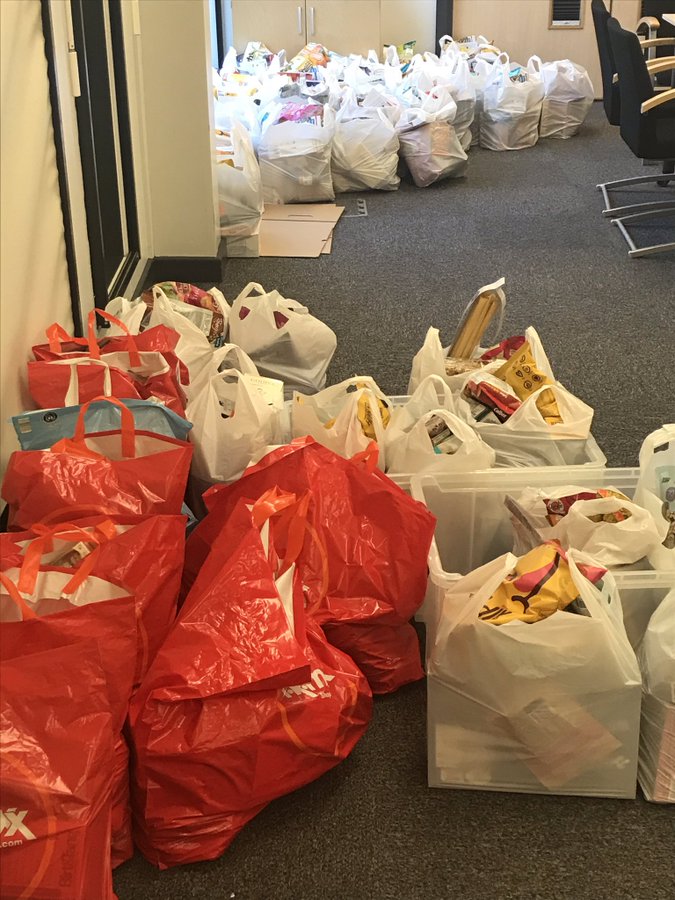 This image shows just some of the hundreds of bags of treats and food that were put together using generous donatiosn from TK MAaxx and SYFR and delivered by amazing volunteers.