Big Knit 2020-21
Published on 13 March 2020 10:18 AM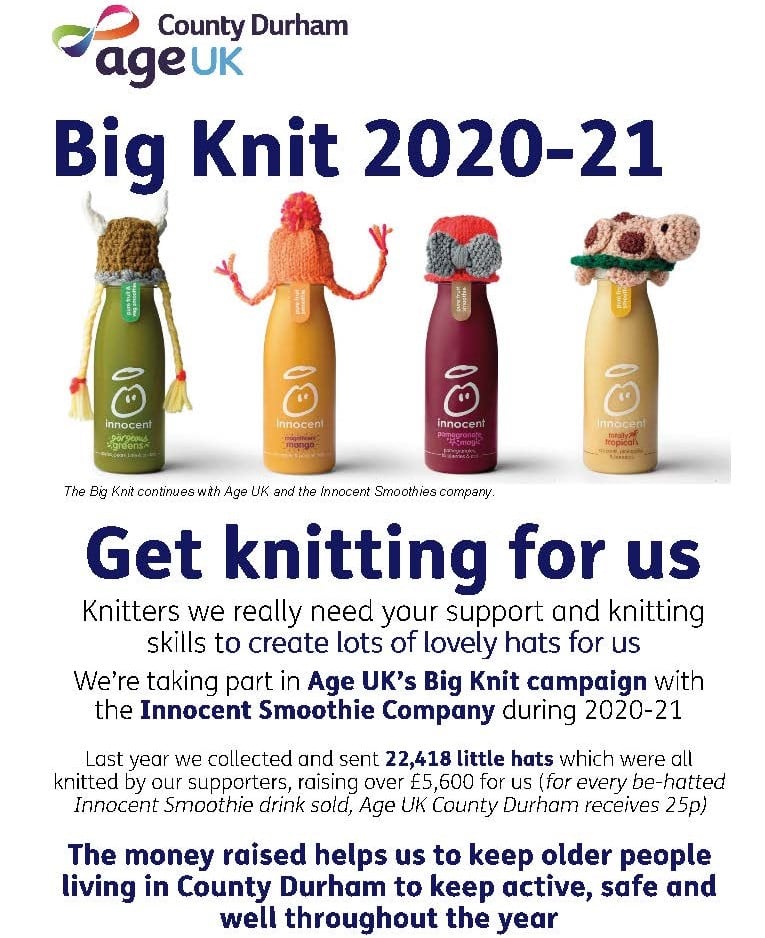 We're taking part in the Age UK Big Knit campaign with the Innocent Smoothie Company during 2020-21
Last year we collected and sent 22,418 little hats which were all knitted by our supporters, raising over £5,600 for us (for every be-hatted Innocent Smoothie drink sold, Age UK County Durham receives 25p). The money raised helps us to keep older people living in County Durham to keep active, safe and well throughout the year. You can take your knitted hats to our collection points at:
Age UK County Durham Information & Advice Drop-In and Hidden Boutique at 68 North Road, DH1 4SQ
Age UK County Durham, 1st Floor Houghton House, Belmont Business Park, DH1 1TW
Age UK County Durham Charity Superstore, Belmont Business Park DH1 1TH
You can download knitting patterns here as a start and then let your imaginations run wild with your own designs.
You can also look for additional knitting patterns here www.thebigknit.co.uk/knitting-patterns and www.ageuk.org.uk/get-involved/fundraise/the-big-knit/
Contact us for more information and how to get access to knitting patterns
t 0191 374 6361
e info@ageukcountydurham.org.uk