Thank you B and M Towcester
Published on 28 April 2020 12:45 PM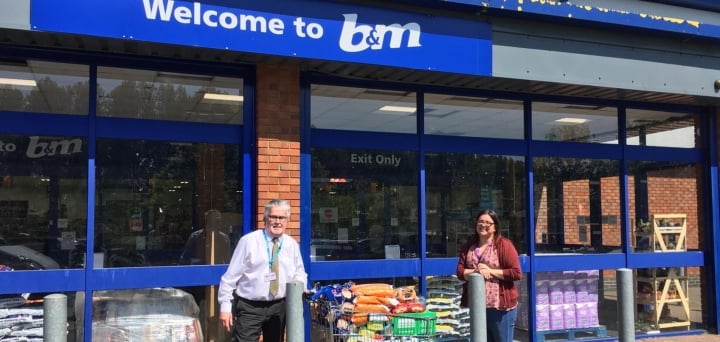 B and M's Towcester store chose us to receive a donation from their company's £1m Food Bank Donation Programme
B&M set up their Food Bank Donation Programme to enable essential groceries to reach people who are struggling to manage during the COVID-19 pandemic. B&M has over 670 stores across the country and each store has been authorised to make a £1,500 donation to a local food bank. The money is to be used to buy essential groceries, cleaning products and toiletries for people who need it the most.
Towcester's B&M store made their donation to Age UK Northamptonshire, as we are supporting many of the county's most vulnerable older people. Since 17th March our staff and volunteers have cooked and delivered a staggering 1,600 hot meals and made more than 400 shopping trips.
As a local, independent charity we are grateful for the many generous donations of money and groceries from businesses, schools, community groups and individuals in Northamptonshire. Every donation enables us to keep supporting people in need. Fern Overton, our Day Care & Transport Service Manager, said: "Donations like this are invaluable to our efforts. Our charity shops have closed and our paid-for services such as domestic care and day centres have all ceased because of the coronavirus. These donations are essential to keep older people who are self-isolating, safe and well."
Age UK Northamptonshire urgently needs your support so please visit our Just Giving page to make a donation. All the money raised is being used specifically to support older people in Northamptonshire during the COVID-19 pandemic.
We also welcome donations of essential food items which can be dropped off at the Venton Centre, York Road, Northampton NN1 5QG. To arrange a safe drop off please email us fundraising@ageuknorthants.org.uk or call 01604 604500. Outside of business hours please call 07900 228 057.
Our Chief Executive Chris Duff says: "We want to say a huge thank you to B&M Towcester and everyone who has donated so far. We have moved our thinking away from the food, grocery and medication deliveries being a short-term "emergency" service, as we can see that older people in Northamptonshire will need on-going support, even after lockdown. Donations from our community are even more important at this difficult time and we are extremely grateful to all who have supported our work."