Food Parcel Delivery Service is a "Godsend"
Published on 24 April 2020 11:07 AM
A Sheffield charity has been hailed as a "godsend" by a 75-year-old woman who is shielding at home from the coronavirus, thanks to food parcels that are being delivered directly to her door.

Violet's son and daughter in law are nurses who are part of the NHS front line fighting the corona virus, which has made it difficult for them to support Violet with food supplies.

Due to self-isolating and living alone, Violet had been having to rely on paying her neighbours to carry out shopping, and so Age UK Sheffield arranged for her to receive one of their weekly food parcels, delivered safely, straight to her door.

Violet explained "My son and his wife are nurses working 12 hour shifts at the hospital fighting the corona virus and they have their own family so they can only help so much.
Before I received these parcels, I was paying neighbours to fetch me my food, who are older themselves and it wasn't always possible for them to do, so it wasn't a great situation.

The food parcels have been a godsend. They've got everything in, there's bread and milk, everything! They're really thinking when they're making these parcels up! They even put you jam in and butter in."

"Without this help I would have had to get a taxi, and because I'm bad on my legs, I can't walk around the shops, so I'd have gone into the supermarket and have to ask them to help to get me things."

"The contents have been great and the one that came last week even had a home made style beef stew, with heating instructions, ready to go in the microwave, I really enjoyed that!

It's made life a lot easier, nobody really understands what it's like if you can't get out and you haven't even got any milk for a comforting cup of tea. Honestly, I really do appreciate it and it's made such a difference for me. I'd be lost without them"

Age UK Sheffield are so grateful to be able to provide this much needed service for so many people who, like Violet, had no other guaranteed safe options to access food. This is all thanks to the generous donations to our fundraising appeal from individuals and businesses across Sheffield.
We want to continue to help as many people in need as possible. So, if you are able to, please consider donating anything you can, big or small, to our food parcel delivery service, so that we can help more people like Violet. To donate, please click here to visit our donation page.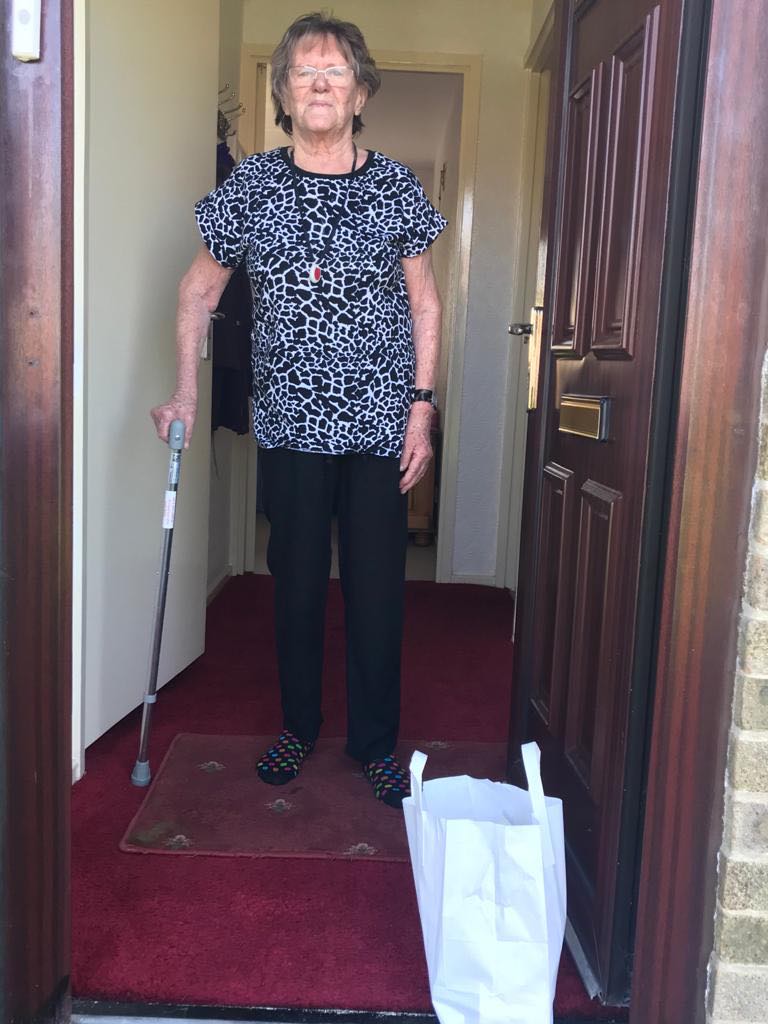 Image Description: Violet smiling as she opens her door to collect her food parcel
*Please note, Violet's name has been changed to protect her identity.