24 ways to help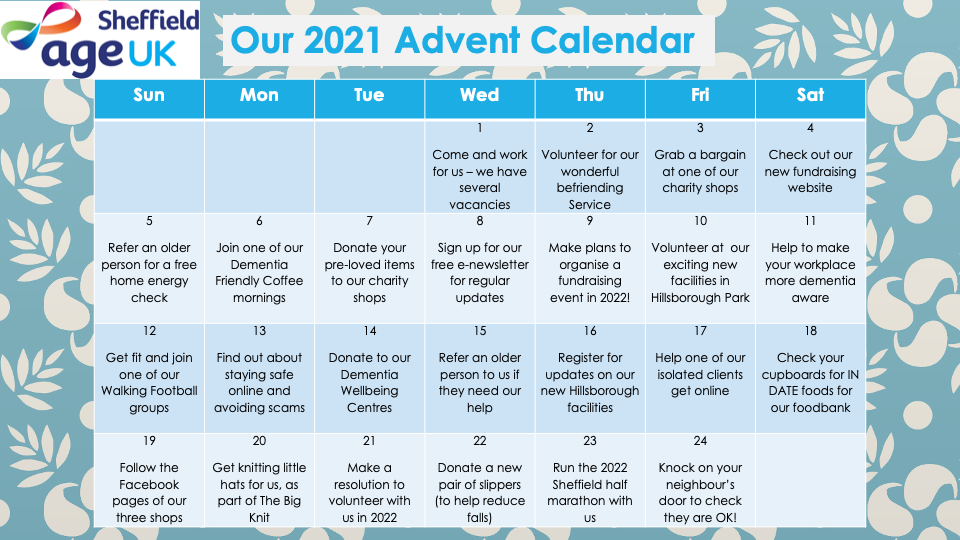 Published on 01 December 2021 02:37 PM
Sheffielders have been encouraged to do their bit to help older people in the city this Christmas.
On 1st December, local charity Age UK Sheffield has published an advent calendar featuring 24 ways in which city residents can support the 95,000 over-65s who live in Sheffield.
The list includes signing up to become a volunteer befriender, donating pre-loved items to one of the charity's three shops, and running the 2022 Sheffield half marathon for Age UK Sheffield.
The charity's Chief Executive, Steve Chu, said: "Every year in December, we get a spike in people contacting us to offer to do something to support older people in Sheffield. We thought it would help to summarise all the ways in which Sheffielders can do something small to help us end loneliness in Sheffield.
"We are also preparing to open our second and third Dementia Wellbeing Centres in the city in February, at Botanical Gardens and Hillsborough Park. People can donate money to help fund our start-up costs by visiting our new fundraising website."
To get involved in volunteering or fundraising, simply call (0114) 250 2850 or e-mail: enquiries@ageuksheffield.org.uk.