A Big Festive Thank You!
Published on 14 December 2020 04:13 PM
Age UK Sheffield say thank you for festive gifts and fundraisers
We want to say a huge thank you to lots of wonderful people and organisations who have generously helped us spread some joy this month!
Firstly, a huge thank you to Artworks South Yorkshire, who donated food and created 20 lovely, hampers to donate to older people who are isolated in Sheffield. Artworks South Yorkshire is a non for profit creative arts organisation, inspiring and helping adults with learning disabilities to achieve their potential and develop important life skills through creative workshops and placements. Our independent living coordinators have been delivering the hampers to some of the people we support and it has definitely brought lots of big smiles to their faces! Below are pictures of two Artworks SY artists putting the lovely hampers together. Then there are photos of three of our lovely customers receiving their surprise hampers from one of our independent living coordinators, Sarah (who is feeling especially festive after winning our office festive desk decorating competion!)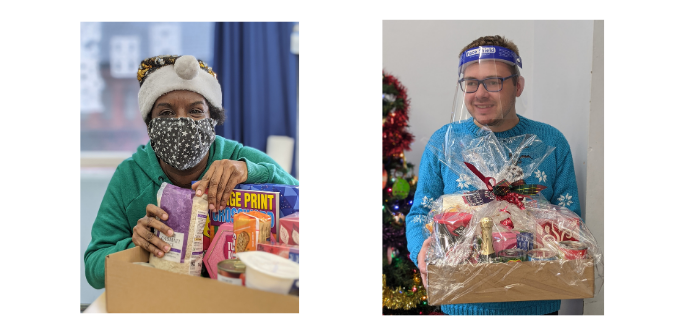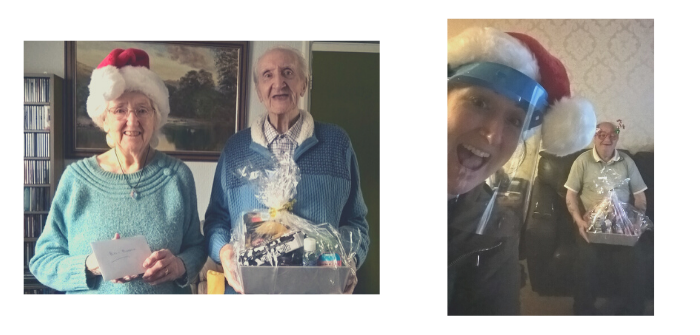 The next thank you is to Badger Woodland Crafts, who are one of the wonderful local makers that sell their products in our independent maker's section in our charity shop. As a small independent charity, we were keen for our first ever charity shop to support other small, local, independent businesses, and so our Charity shop in Bradway has a whole beautiful section that exclusively sells collections from a wide variety of local makers. The makers donate a percentage from their sales to our charity and one of the makers, Badger Woodland Crafts, recently held a Facebook auction, selling their lovely creations to raise money for our charity. The auction was a huge success and they raised an amazing £200! Thank you so much to this wonderful small business. You can find out more about what makes our two charity shops so unique by clicking here to visit our shops page.
We want to say a huge thank you to fabulous fundraiser Anita, who is a carer for one of our wonderful Wellbeing Centre members. Anita has so kindly made and sold these beautiful festive face-masks to raise an amazing £429 for our charity's Wellbeing Centre. Thank you so much! If you'd like to find out more about our Wellbeing Centre, there's a wonderful short and sweet festive video all about it which you can watch over on our YouTube channel by clicking here.
See below for a picture of Anita's lovely festive fabric face masks.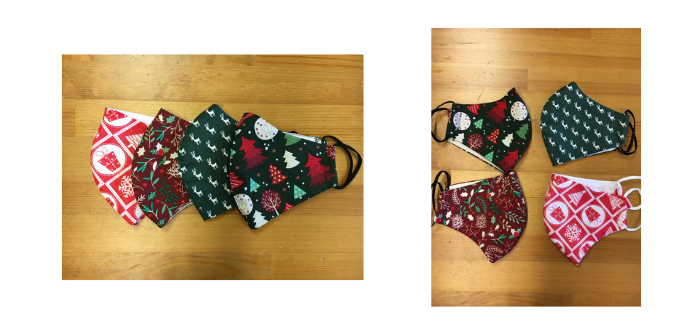 We also want to say a big thank you to Meadowhall! We are so pleased to be one of the charities included in Meadowhall's brilliant new Giving Box! If you're visiting Meadowhall to do some Christmas shopping, be sure to check out this gorgeous giant gift box! You can find it upstairs near Shuh and Office Shoes. The box enables people to easily use contactless payment to donate £3, £5 or £10 to our charity! If you can, we'd be so grateful for anything you're able to donate to help us keep doing what we do, supporting older people across Sheffield at this difficult time. Find out more and check out the other amazing charities involved by visiting the Giving Box web page meadowhall.co.uk/giving-box or reading The Sheffield Star article about it here. Please feel free to take a photo with the box and tag us! We'd love to see and share your photos. See a picture of the gift box below!

And last but absolutely not least - A big thank you as well to the Sheffield Sky team for writing some lovely Christmas cards for older people across Sheffield. These are being delivered to the people we are in touch with who we know might be feeling isolated or lonely this Christmas. They also gifted us some soap, hand cream and woolly socks which have been gifted to some of the lovely people we support who are living with dementia and their carers. See the pictures of the cards and the gift bags being received below.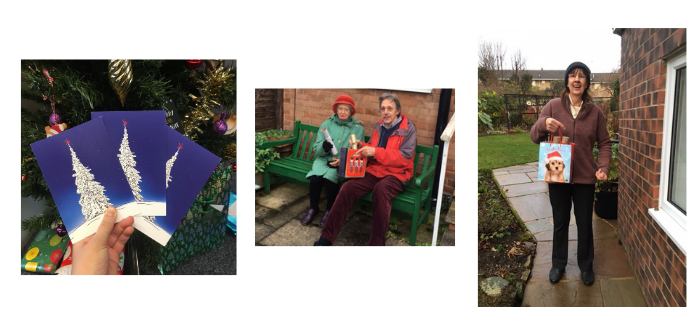 If you're interested in fundraising or donating to help support our charity to support more older people across Sheffield, please do not hesitate to get in touch with us ad let us know! Or take a look at:
Our fundraising page - full of fun and exciting ideas!
Our donations page - detailing the different ways you can donate to help fund our vital services, or
Our volunteering page - Which lists all the amazing ways you can helps us, our volunteers are a hugely important and integral part of the charity and the variety of support we offer.

Thank you to everyone who has helped us through this festive period, and through the whole of this difficult year! We couldn't do what we do, without you.