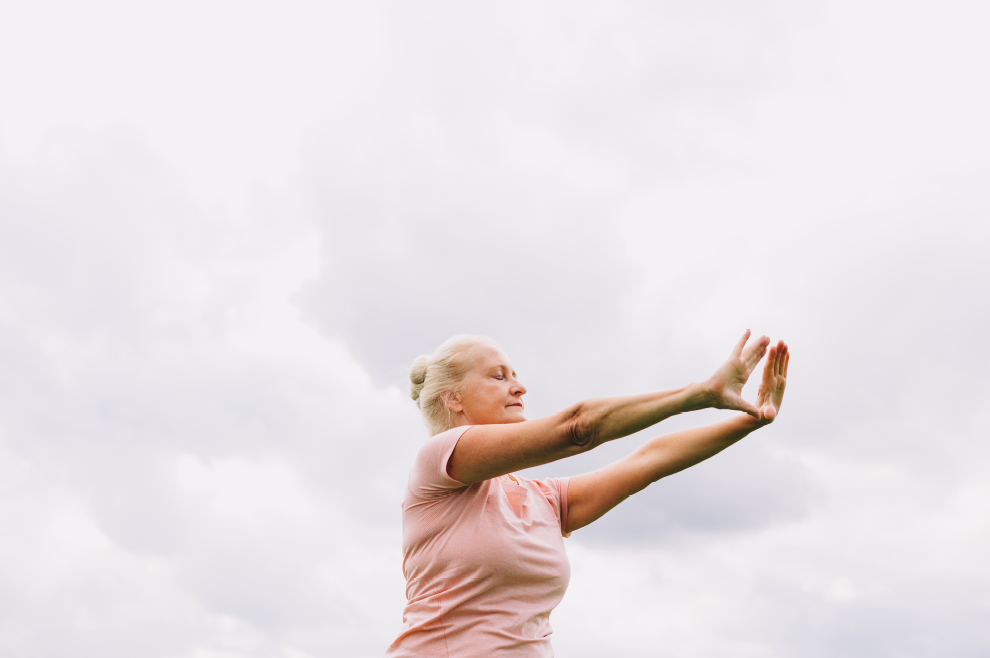 Volunteers needed to teach Tai Chi QiGong
Do you want to feel good inside and out?
If you have an interest in Tai Chi, can spend an hour a week to volunteer with us, and have a passion for improving the health of older people then please contact us to find out more.
Call: 01823 345626
The next course is running on 6th and 20th June 2022.
ESCAPE-pain has arrived in North Somerset!
ESCAPE-pain is a free, group-based rehabilitation program for the management of knee and hip arthritis. The classes are delivered over a six-week period by an exercise professional and each class includes a short education session as well as some physical activity. The program has been clinically proven to reduce pain, increase function, improve mental well-being and self-confidence.
Have you had chronic hip or knee pain for at least 3 months?
Are you aged over 45?
Are you independently mobile and able to carry out individual exercises?
Are you willing to attend the class twice a week for six weeks?
If so, then this programme might be just right for you!
Click the blue button to find out more!
If you would like further information or to discuss self-referral into the service, please contact us.
Call: 01823 345626
Or send us an email:ageingwell@ageuksomerset.org.uk
We look forward to hearing from you!
Let's Move together and improve together!
Many of our community-based exercise classes have restarted and we are looking forward to welcoming you back!
Flexercise Workshops
Age UK Somerset is continuing its campaign to get our older residents moving, more often, by running some workshops to enable people to lead chair based activity sessions called Flexercise. The workshops are aimed at people who work with or have an interest in enhancing the lifestyle of the not so young. They are open to carers from nursing and residential homes, volunteers, helpers in day care centres and officers or 'active' residents from sheltered homes and they will provide all the information and skills necessary for you to run your own activity sessions.
Our Annual Winter Gardens Pavillion Tea Dance
On Thursday 3rd October, Age UK Somerset held their annual fund raising event at the Winter Gardens Pavillion in Weston-super-Mare. More than 150 dancers attended, joined by families, carers and volunteers, whirling round to ballroom, Latin and sequence dance favourites. Music was provided by Mark Helmore.
The Tea Dancing event was organised by Tansin Benn, who is a Trustee and Volunteer of Age UK Somerset. Tansin was joined in the interval by 30 volunteers, who all attend local Age UK Somerset classes, to demonstrate some of the exercises and movements they learn each week. The charity runs more than 150 classes weekly, with 2,700 people regularly attending last year. The classes help keep older people healthy and active and provide important social contact. Nearly £2,000 was raised at the Tea Dance to support the charity's activities in North Somerset.
Dianne Ramsay, Ageing Well's Manager at Age UK Somerset said, "our tea dancing event gets better each year. We are incredibly lucky to have been supported by so many local businesses and organisations, including Avery Healthcare's Acer House and The Hawthorns, as well as St Monica's Trust, Helping Hands and Invest South West.
A special thank you to everyone who helped on the day, including NatWest who sent along some volunteers and local school, Mead Vale Primary, who allowed one of their pupils, Charlie Stevens, to take a day off school!"
World Tai Chi Day
On Saturday 28th April 2018 at The Italian Gardens, Weston Super Mare we celebrated World Tai Chi and Qigong day with over 100 people taking part in a mass Tai Chi session.
Our event was one of hundreds taking place globally and we organised it in conjuction with Cheryl Mountford of Bubbling Springs Tai Chi, to celebrate the benefits of Tai Chi and in a bid to encourage Weston's older residents to become more active.
Tai Chi is just one of the many different types of sessions we organise throughout the area.

Photos courtesy of the Weston Mercury.