Let's Move Together and Improve Together
We deliver a variety of community-based classes in Somerset and North Somerset. They are a great way to become fitter, healthier and to meet people. We are delighted to welcome new clients and would love to see you at our classes.
Staying fit and healthy is important as you get older and finding the right class sometimes challenging. Ageing Well runs some fantastic classes for improving general fitness levels. Mature Movers and Extend, Movement to Music classes can be found all over Somerset and North Somerset. There are different sessions catering for different abilities and some classes are chair-based but all are geared towards having fun and are very sociable.
To find out more, please contact the Ageing Well team on 01823 345626
What people say about our general fitness classes
Here are some wonderful comments about one of our Extend (Movement to Music) teacher's classes….
Thank you Chris, I enjoy Friday morning, it's good for me and I've made new friends, the music makes me feel young again! Keep going Chris and I will too! – Kath
When I first started the Cheddar Friday class I was suffering with polymyalgia, so wasn't sure how I would react but thanks to Chris and going at my pace am reducing the tablets and feeling much better, thanks Gill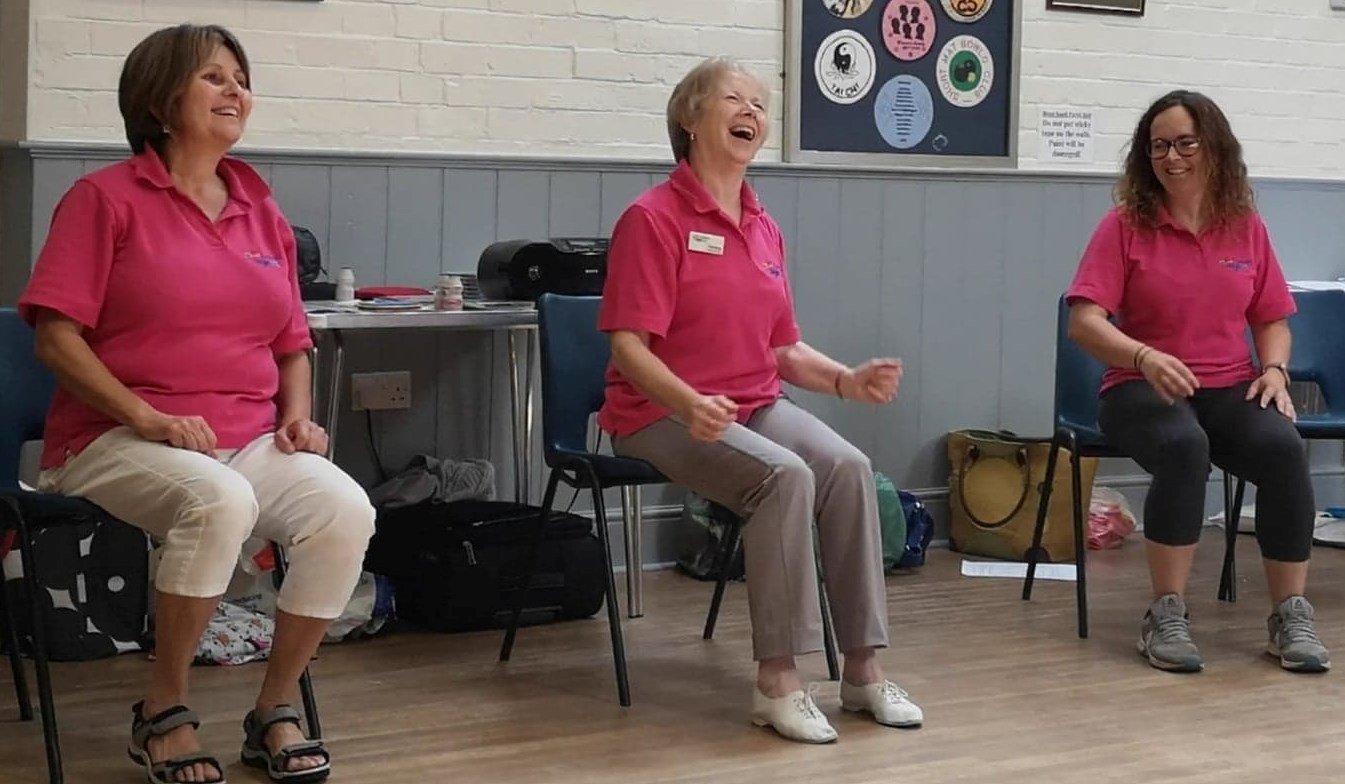 Quite often my dodgy knees ache but after my exercise at Age UK class and this coupled with a nice social environment am much more flexible - almost but not quite like in my teens! Thank you for all the fun and effort you put into our classes. You were a lifesaver when my husband died, as I could not go out and face people, but everyone was so friendly. Sheila
Chris, may I take this opportunity to say, what immense value, I have gained, since joining your exercise and keep fit class. You kindly accepted me in to your already oversubscribed class, 13 weeks ago. I have found the different exercises, balls, bands, ribbons, routines etc, very stimulating for my brain, after losing my sister to Alzheimers 3 years ago, this friendly class was just what I needed. Audrey
And comments about our Mature Movers classes....
I have always been extremely active until I was diagnosed with a brain tumour.
This prevented me from exercising as much, so I wasn't as fit as previously. After my 5 month post op recovery time, I went along to my local "Mature Movers" Class, run by Age UK Somerset.
Coming to this class was a positive easy way to regain my fitness. It is a friendly, well organised class and the experienced teacher ensured that our ability matched the exercises and vice versa!
I enjoyed meeting new people, and the class improved my flexibility and stamina so much that I now have been able to resume another dance class as well and I also walk regularly.
I would recommend this class – it is excellent , affordable and enjoyable for all abilities…. Judi
Maudie's Story
For more information or if you have any questions please contact the Ageing Well team.
Phone: 01823 345626